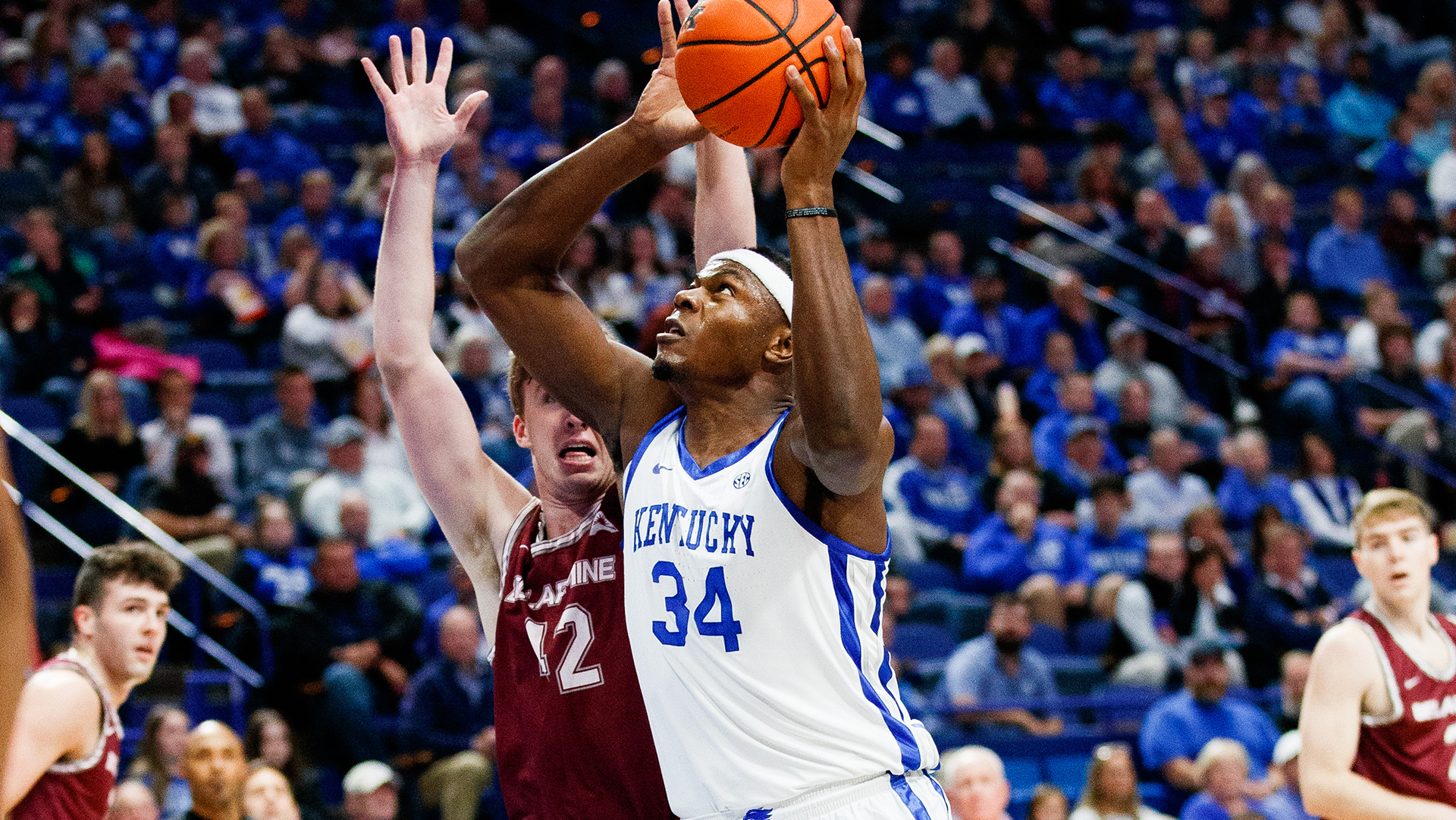 December 20, 2022 - 04:21 PM
Big Blue Preview: Kentucky vs. Florida A&M
Kentucky, Florida A&M Unite for Unity Series
Although Wednesday's game between Kentucky and Florida A&M at Rupp Arena will headline the Unity Series, this week's meeting was about far more than just basketball.
The 7 p.m. game will be the second in five consecutive seasons of matchups between UK and institutions from the Southwestern Athletic Conference, which is made up of historically black colleges and universities. The games will seek to raise awareness of the missions of the HBCUs and to raise funds to provide opportunities for students at their institutions.
The week began with a joint trip the National Underground Railroad Freedom Museum in Cincinnati on Monday. Players, coaches and staff from both UK and Florida A&M met at the Freedom Museum and received a guided tour. The museum was established in 2004 to reveal stories of freedom's heroes – from the era of the Underground Railroad to contemporary times – and to challenge and inspire people to take courageous steps for freedom.
On Monday evening, the UK Healthcare John Calipari Show featured Florida A&M head coach Robert McCullum alongside Calipari.
This season UK and the SWAC will honor Unity Series Legends, honoring a representative of each school who has a history as a trailblazer in diversity, equity and inclusion.
The 2022 Unity Series Legends are Reggie Warford from the University of Kentucky and Clemon Johnson from Florida A&M.
Warford was the first Black men's basketball player to graduate from the University of Kentucky. He played for the Wildcats from 1973-76 and was a member of the NIT Championship squad in 1976 and the 1975 NCAA Tournament's runner-up team. Warford was inducted into the Kentucky High School Athletic Association Hall of Fame in 2019. He played for Drakesboro High School in Muhlenburg County where he was a second-team All-State selection after averaging 27 points per game his senior season. Warford passed away in May of 2022.
Johnson played at Florida A&M from 1974-78 where he earned a bachelor's degree in economics and a master's degree in sports management. He was selected with the 44th pick of the NBA Draft to the Portland Trail Blazers and played for 10 seasons. Johnson won an NBA title with the Philadelphia 76ers in 1983. Following his playing career, Johnson became an economics teacher and high school basketball coach in Tallahassee, Florida, before becoming a collegiate head coach. Johnson coached at both Alaska Fairbanks and Florida A&M. He was his alma matter's head coach from 2007-11.
Johnson helped establish a Boys and Girls Club in his hometown of Monticello, Florida, and is currently creating interest in refurbishing the old high school gymnasium in Monticello with intentions of establishing an after-school program concentrating on reading and writing, sports training and creating a community center in the area.
Streaking at Home
With a victory over Ole Miss in the home finale, Kentucky notched a perfect 18-0 record in Rupp Arena for 2021-22. With its win over Yale, Kentucky extended its home winning streak to 25 games. That mark is the longest current home winning streak in the Southeastern Conference.
• 2021-22 was the 14th perfect season in the 46-year history of Rupp Arena
• It marked the sixth time under Calipari the Cats were perfect at home. Calipari's teams were also spotless in 2009-10, 2010- 11, 2011-12, 2014-15 and 2015-16
• UK is 639-77 (89.2%) in Rupp Arena in program history
• The Cats are 212-17 (92.5%) under Calipari
• Calipari owns the venue's longest winning streak at 54 games
Need to Know …
Need to know facts about the Cats:
• Sahvir Wheeler leads the SEC leads the conference and ranks eighth nationally with 6.4 assists per game
• Since the start of the 2019-20 season, his freshman season at Georgia, Wheeler's 597 total assists rank second nationally, only behind the 678 by Yuri Collins of Saint Louis
• Cason Wallace ranks fifth in the SEC and 22nd nationally with 2.40 steals per game. The 2.40 steals per contest are the most in the country among freshmen
• Oscar Tshiebwe's 22-point, 18-rebound game against Michigan State was the third such contest of his UK career. He now has three of the six 20 or more and at least 18 rebounds in a game by an SEC player in the last 10 seasons. No other player has more than one and the feat had not been accomplished since South Carolina's Sindarius Thornwell did so against Alabama on Feb. 7, 2017
• Tshiebwe also has tallied a pair of 20-point, 15 rebound games so far this season and has five over the last two seasons. He has nine of the 51 20-point, 15-rebound contests by SEC players in the last 10 seasons
• Tshiebwe is one of two players in the NCAA this season averaging more than 15 points and 13 rebounds per game (Zach Edey – Purdue)
• Tshiebwe is second in the country with 13.6 rebounds per game
• He is second in the country with 5.25 offensive rebounds per game and sixth with 8.38 defensive boards per contest
• With 1,144 points and 989 boards, Tshiebwe is one of two players nationally to total at least 1,000 points and 950 rebounds over the last four seasons, joining North Carolina's Armando Bacot (1,492 points, 1,130 rebounds)
• As a team, Kentucky has been one of the best nationally in keeping opponents from blocking their shots. UK is tied for seventh in the country, having only 20 shots blocked through nine games