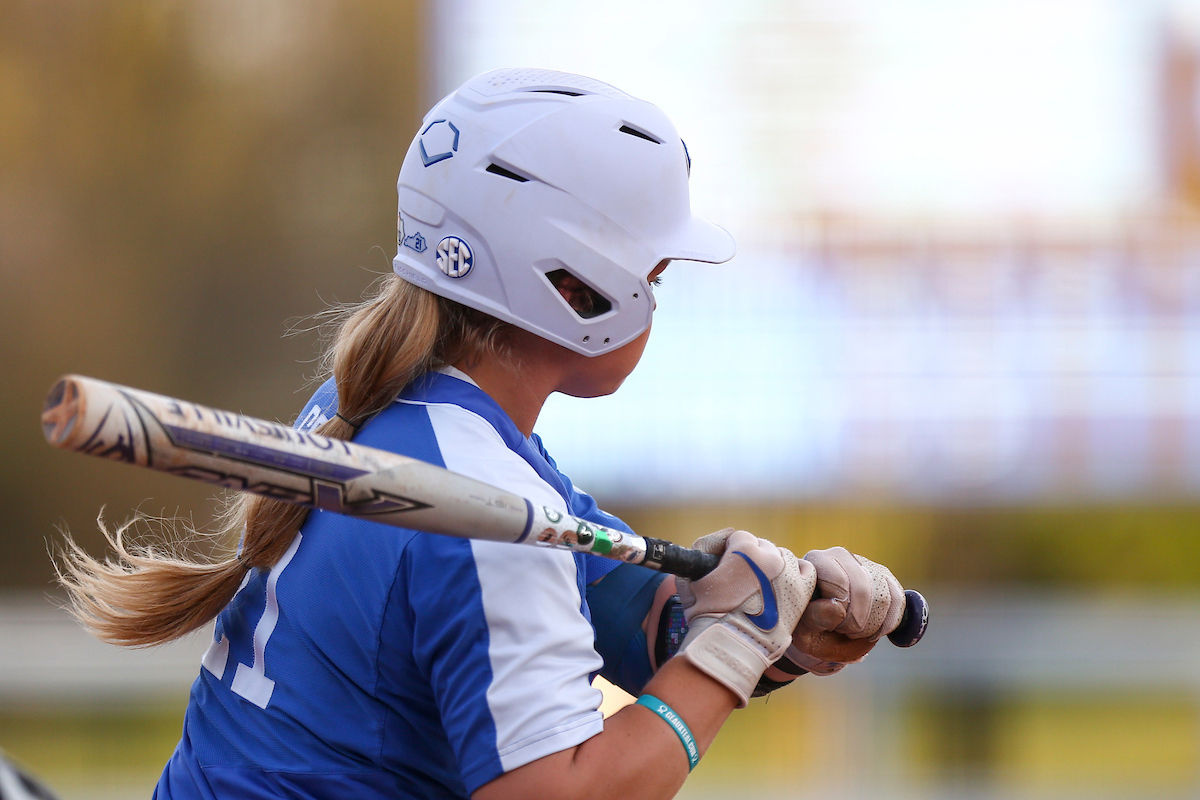 LEXINGTON, Ky. – Kentucky softball head coach Rachel Lawson announced her team's 2023 schedule Thursday evening on BBN Tonight, unveiling a 55-game slate inclusive of 36 games against NCAA Tournament teams from a season ago, eight against World Series teams from 2022 and 20 home games at John Cropp Stadium in Lexington.
The 2023 schedule includes eight games against five different teams that made the 2022 Women's College World Series, 14 games against seven super regional teams from a year ago and five pre-conference tournaments, including the return of the John Cropp Classic to the Bluegrass.
For the second time in four years, Kentucky will open its season at the National Fastpitch Coaches' Association Lead-Off Classic in Clearwater, Florida from Feb. 10-12. UK will play St. John's to open the season on Feb. 10, followed by an early rivalry game on opening day with Louisville to follow in the afternoon. The Wildcats close out the opening weekend against Pitt, Southern and a Sunday match-up with national runner-up Texas at 12:30 p.m. ET on Feb. 12.
Kentucky will then venture to Denton, Texas to play in a tournament hosted by the North Texas Mean Green in a homecoming for fifth-year catcher Kayla Kowalik from Feb. 17-19. UK will play against UT-Arlington, McNeese, South Dakota, North Texas and Sam Houston State.
UK returns to the Mary Nutter Collegiate Classic on Feb. 23-25 in Palm Springs, California, one of the preeminent tournaments in college softball, where the Wildcats will compete after a quick stop in Los Angeles for a Tuesday midweek against Loyola-Marymount. In the Mary Nutter, Kentucky will face Washington, San Diego State, UCLA, Northwestern and UC-Riverside.
Back-to-back national champions, Oklahoma, comes calling for UK in week four of the season as the Wildcats will return the trip to Norman to compete in a tournament the first weekend of March. Kentucky plays the Sooners twice and UIC twice March 3 and 4 to compose the weekend, the final weekend of non-conference action.
March 8 marks the home opener for Kentucky of the 2023 season as Kentucky will host Dayton at John Cropp Stadium for a Wednesday midweek affair with the Flyers.
The 2023 Southeastern Conference schedule begins March 10 in Columbia, Missouri for a three-game series against the Tigers. Mizzou is one of four teams UK will play on the road in the SEC this season, joining Georgia (April 1-3), Ole Miss (April 7-9) and Mississippi State (April 28-30). As was already announced, the home SEC slate features Texas A&M (March 24-26), Tennessee (April 14-16), Arkansas (April 21-23) and Senior Weekend against Florida (May 5-7).
The John Cropp Classic makes a triumphant return in 2023 with Kentucky hosting a two-day event including Michigan under the direction of first-year head coach Bonnie Tholl, Longwood and DePaul. UK will play UM twice, with match-ups with the Wolverines scheduled for March 18 and 19.
The annual rivalry game on-campus with Louisville takes place in Lexington this season on March 29 at John Cropp Stadium. The Wildcats run-ruled the Cards a year ago in the Derby City to extend its winning streak in the series.
Midweek contests for UK this season include home contests with Dayton, Liberty, Louisville and Eastern Kentucky. The Wildcat road midweeks in 2023 will be trips to Saint Louis (SLU), Bellarmine and Northern Kentucky.
The 2023 SEC Tournament will be hosted by Arkansas at Bogle Park from May 9-13 with top-four teams receiving a double-bye and teams seeded 1-11 receiving a single bye. The NCAA Selection Show will be Sunday, May 14 on the ESPN Family of Networks with the regionals taking place May 18-21.
The 2023 Women's College World Series will air on ESPN and ESPN2 live from Oklahoma City from June 1-9.
2023 Schedule By The Numbers
55 scheduled games
8 games vs. WCWS teams from 2023
65 percent of games against NCAA Tournament teams from 2022
20 home games
5 games vs. Kentucky teams, with 3 of those on the road
24 SEC games
For the latest on the Kentucky softball team, follow @UKSoftball on Twitter, Instagram and Facebook, as well as on the web at UKathletics.com.