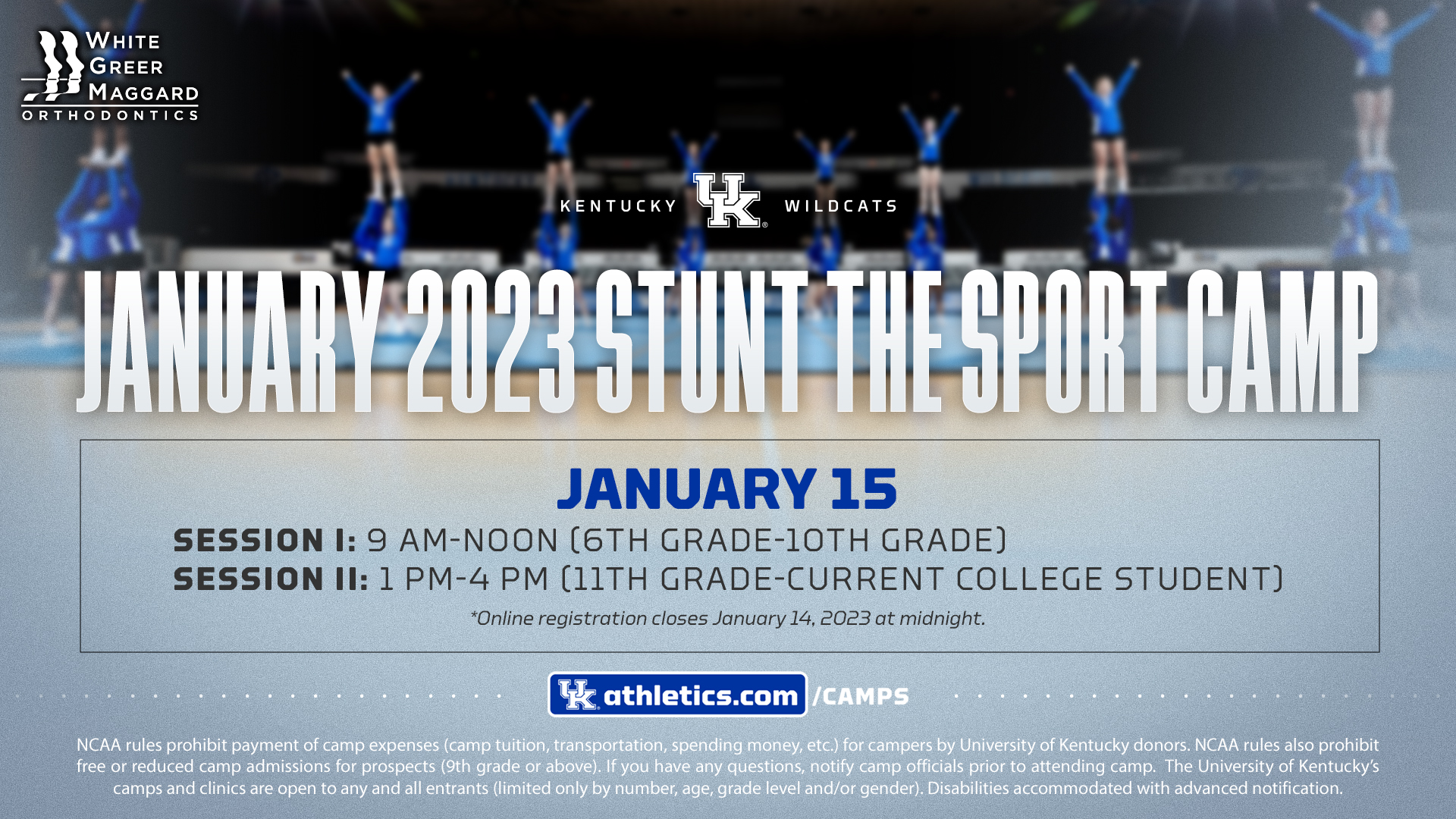 University of Kentucky October STUNT the Sport Clinic
January 15, 2023
COVID-19 requirements and protocol will be followed based on accordance with campus and state regulations at the time of the clinic.
CLINIC DESCRIPTION
The Kentucky STUNT clinic is designed to provide an opportunity for female athletes who are in junior high, high school, or college to learn about STUNT through progressive skill instruction, proper technique training, and formal education about the fundamentals and objectives of the sport. This clinic will allow athletes to showcase their current abilities and work with collegiate STUNT athletes and coaches to further develop and build upon their current skills. Training and instruction provided at this clinic will be focused on stunts, pyramids, jumps and tumbling, motions, technique, and game structure. During the clinic there will be individual evaluations, a mock match, and a Q and A at the end of the clinic.
CLINC DETAILS
Date: Sunday January 15, 2023
Location: Joe Craft Center /Memorial Coliseum
Address: 338 Lexington Ave. Lexington, KY 40506
Time: Session 1 (6th-10th grade):
Check-in: 8:00am-9:00am
Clinic: 9:00am-12:00pm
Time: Session 2 (11th grade-current college students):
Check-in: 12:00pm-1:00pm
Clinic: 1:00pm-4:00pm
CLINIC REGISTRATION AND REFUND POLICY
Space is limited to 150 participants per session and registration is determined on a first come, first serve basis.
Online Registration: $75.00 (Online registration closes January 15, 2023, at 4:00pm)
Once the online registration has closed on Saturday, we ask that any interested participants who have not registered show up early for the check-in time on Sunday with a current physical, medical insurance card, and a cash or check payment for $100.00.
There will be no refunds for this clinic. Refund exceptions may occur in the instance that an athlete has an injury or illness which prevents them from participating in the clinic, in which case documentation should be provided or sent to the coach prior to the start of the clinic.
REQUIRED CLINIC DOCUMENTS
The University of Kentucky requires the following documents for all UK ATHLETICS CAMPS. You will not be able to participate in the clinic until you have submitted a current physical and a copy of your insurance card has been received.  For all camps, disabilities will be accommodated; however, we ask you to provide advanced notice to the clinic.
In order to participate in the clinic, you must upload the following documents to your Active Network Camp Account through the link you received in your clinic confirmation email.
A current physical from the last 12 months that has been signed by a physician.
Front and back copies of your medical insurance card(s)
WHAT TO BRING TO THE CLINIC
Each participant should bring proper athletic clothing. Recommended clothing includes a T-shirt, athletic shorts, compression shorts, cheer shoes, or any other necessary personal items (athletic braces, inhalers, etc.), and your own water bottle.
Jewelry and gum are prohibited
COMMUNICATION
After you have completed and submitted your registration and payment, you will receive an email confirming your spot and registration. This email will also include the link you need to submit your required clinic documents through your Active Network Camp Account.
An additional email will be sent out a few days prior to the date of the clinic with further details and necessary instructions about the upcoming clinic. Please ensure that the email address that you submit in your Active Network Camp Account is correct because this will be the only method to communicate with registered participants prior to the clinic.
CLINIC QUESTIONS
For any questions, please email Coach Catherine Ruslavage at cruslavage@uky.edu