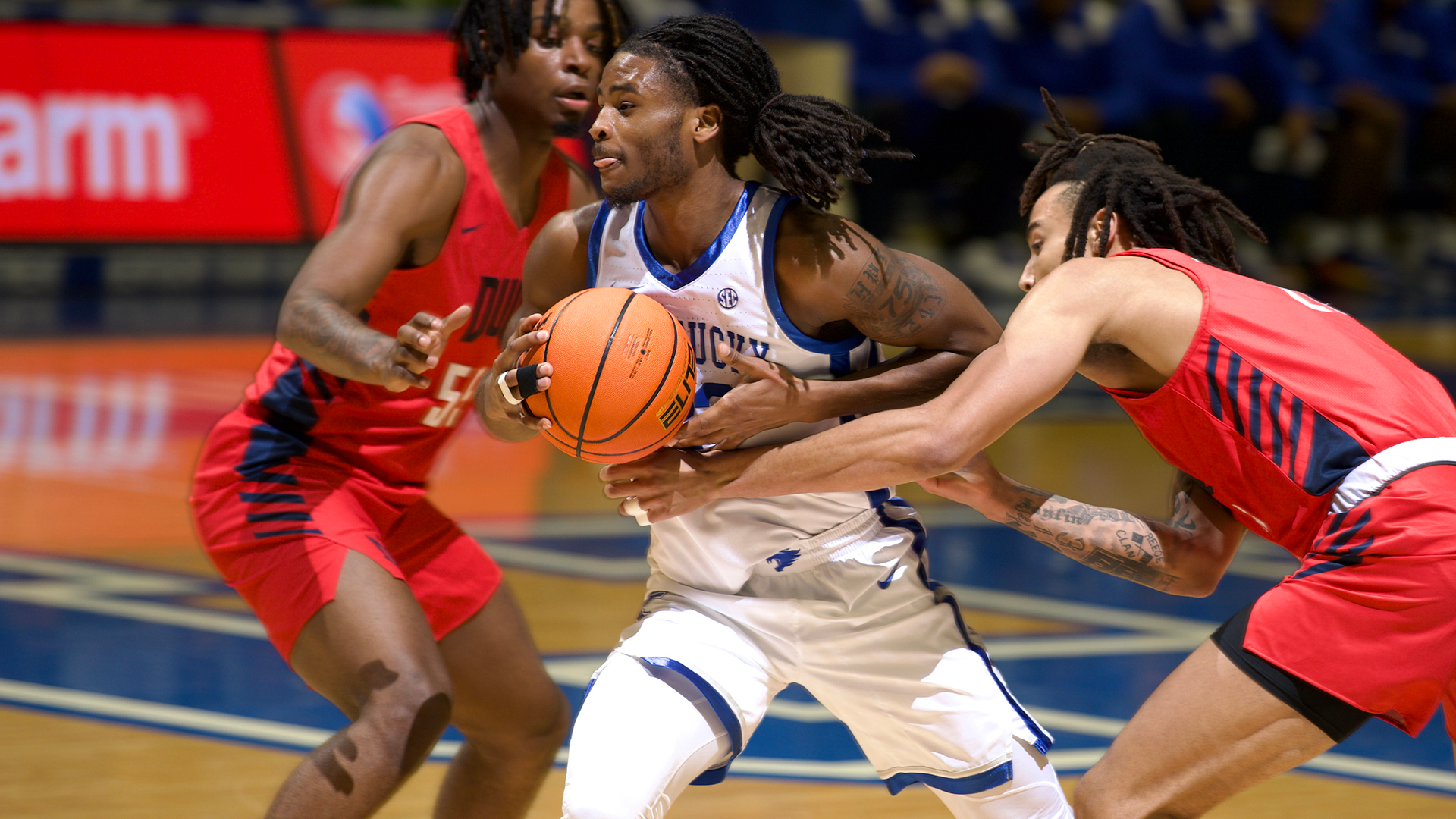 December 9, 2022 - 12:46 PM
Big Blue Preview: Kentucky vs. Yale
It's no secret that No. 16 Kentucky has struggled in late-game situations so far this season. While most of the Cats' early-season games have not been that close, two examples do stand out.
In the Champions Classic, UK led Michigan State late in regulation but Cason Wallace missed a free throw and the Spartans tied the game and sent it to overtime. In the first overtime, the same thing  happened, with Wallace missing one of two again, and again the Spartans tied the game, sending it to double overtime. In that extra stanza, Michigan State was able to pull away for an 86-77 victory.
On Sunday in London, the Cats faced another late game situation. Holding a late lead, the Cats again struggled from the free throw line, making just 10 of 20 for the game. Wallace and Sahvir Wheeler, the guys handling the ball late in the game, combined to go two for eight. However, Wallace nailed a huge three-pointer from the left wing to seal the game as UK beat Michigan 73-69.
The late-game situations, specifically free throws, are something that Kentucky continues to work on, according to Wallace.
"We're starting to shoot one-and-ones instead of 10 free throws in a row," Wallace said. "So, one-and-ones are what I've been struggling with at the line. So, going up there with confidence, knowing that I do it in practice all the time, I should be able to do it in the game. Just getting that mental practice and repetition, hopefully it will help."
Missing free throws is something new to Wallace. And it's not something he likes.
"I'm not used to missing this many free throws myself," Wallace said. "It's nothing that I'm going to get used to or that I want everybody else to get used to. Just practicing on it, making sure I'm still sharp on it. Next game, I plan on not missing free throws."
The late-game experiences that the Cats have gone through so far this season will hopefully help Kentucky as the season moves forward.
"Definitely. It goes with building a basketball IQ," Wallace said. "You've got to be more sharp and more mentally locked in late in games."
Kentucky will be looking to polish up the little things against Yale on Saturday at Rupp Arena. And hopefully all of the work on late-game situations will pay off for the Cats when it matters most.
Need to Know …
Need to know facts about the Cats:
• Sahvir Wheeler leads the league and ranks 21st nationally with a 3.64-to-1 assist-to-turnover ratio. Wheeler leads the SEC and ranks sixth nationally with 7.3 assists per game
• Since the start of the 2019-20 season, his freshman season at Georgia, Wheeler's 590 total assists rank second nationally, only behind the 665 by Yuri Collins of Saint Louis
• Cason Wallace ranks 12th nationally with 2.62 steals per game
• Wallace has totaled 37 assists and 21 steals while shooting 53.1% from the field. The freshman is one of four players nationally with at least 35 assists and 20 steals while shooting better then 50% from the field
• Oscar Tshiebwe's 22-point, 18-rebound game against Michigan State was the third such contest of his UK Career. He now has three of the six 20 or more and at least 18 rebounds in a game by an SEC player in the last 10 seasons. No other player has more than one and the feat had not been accomplished since South Carolina's Sindarius Thornwell did so against Alabama on Feb. 7, 2017
• Tshiebwe also has tallied a pair of 20-point, 15 rebound games so far this season and has five over the last two seasons. He has nine of the 51 20-point, 15-rebound contests by SEC players in the last 10 seasons
• Tshiebwe is one of two players in the NCAA this season averaging more than 14 points and 13 rebounds per game (Zach Edey – Purdue)
• Tshiebwe leads the country with 13.5 rebounds per game while ranking second nationally in both offensive (4.8) and defensive (8.7) boards per contest
• With 1,108 points and 961 boards, Tshiebwe is one of two players nationally to total at least 1,000 points and 950 rebounds over the last four seasons, joining North Carolina's Armando Bacot (1,429 points, 1,091 rebounds)
• As a team, Kentucky has been one of the best nationally in keeping opponents from blocking their shots. UK is tied for sixth in the country, having only 14 shots blocked through eight games
Hold Them to 55 Points, 40%
Defense has always been a recipe for success for the Wildcats under John Calipari. The special ingredient: 55 points. Kentucky is a perfect 85-0 under Calipari when holding the opponent to 55 points or fewer, including 2-0 this season after limiting Duquesne to 52 points and Bellarmine to 41.
The Wildcats are 207-9 (95.8%) under Calipari when limiting the opponent to 63 points or less, including 5-0 this season. Kentucky also fares well when it keeps the competition to 40% or less from the floor. UK is 228-24 (90.5%) vs. opponents under Calipari when its field-goal percentage is 40% or less. Kentucky has held six of its first eight opponents below 40%, including Michigan (39.1%).