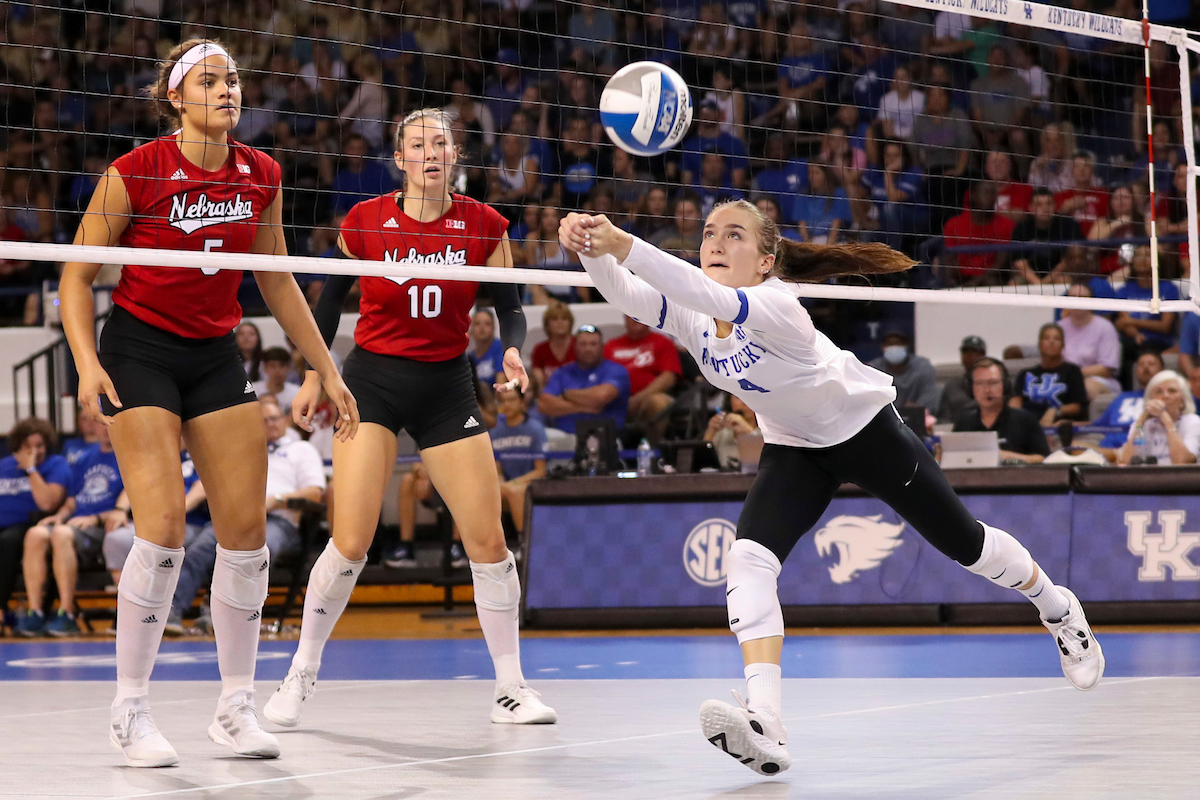 December 7, 2022 - 02:42 PM
Grome, Cats Prepared for Sweet 16 Showdown with San Diego
The No. 12 Kentucky volleyball team will face No. 3 San Diego in the Sweet 16 of the NCAA Volleyball Tournament on Thursday. In the days leading to this match, Emma Grome, the 2022 SEC Player of the Year, reflected on her team's season and explained how the Cats  have confidences and are prepared for this match.
"I definitely think our tough schedule at the beginning of the year has prepared us for this moment," Grome said. "We played three out of the four teams that were in the national (semifinals last season), and they are still the top-rated seeds in the tournament, so I think we know kind of more of what to expect and even though we didn't win those games we were right there with them the whole time we just weren't really able to close it out. I think that's something we have gotten better at throughout the season. Once we get to point 20, we are able to kind of kick it in and finish the set."
The Wildcats have been on a roll for the past five matches and have not dropped a set during that span. It is evident they are playing perhaps their best volleyball of the season. Grome hopes the Cats can carry that momentum into Thursday's contest.
"I feel like part of it is in the earlier parts of the season, we were dealing with a lot of injuries and lineups, so that takes time to get into a good groove," Grome said. "I feel like now things are pretty solid and we have kind of found our flow and I think just continuing to work hard and keep that going is important."
In addition to facing a tough San Diego squad, the Cats also faced having to travel to California. Grome had a positive outlook on enduring the long travel and adjusting to the time change.
"I wouldn't say its necessarily a disadvantage to travel out there, but it will be a little bit tougher," Grome said. "We will be traveling for six hours and that's never fun. But we get to go early so we will be there in plenty of time to get acclimated to the gyms, the time change, and all that. It is helpful that we are going a couple days in advance when normally we would just leave for trips the day before, so now we have two nights to adjust."
As the setter on the team, Grome is the leader and playmaker. She is often responsible for helping the team continue to play their best even when getting down a few points. Her calm nature helps the team bounce back in tense situations.
"I just try to keep people calm," Grome said. "I think by being calm myself that helps, but when things start going wrong and things get chaotic, we always play our worst in those moments. So, I think just staying calm and focusing on the next point is what I try to do."
Grome knows that San Diego is one of the best teams in the country and that the Toreros will pose a big challenge for the Cats.
"They have had a great season so far. I mean any team in D-I that's winning 26 games in a row has got to say something about what you're doing," Grome said. "I think they seem like they are going to be a good hitting and blocking team, but our serve and pass has been really good lately so if we keep serving well and get them out of system that will help and if were in system our offense is so hard to play against just because we have so many hitters who can hit the ball and put it down. When we are in system that definitely makes us toughest."
Additionally, both Kentucky and the San Diego make limited errors which should make this game an even matchup. Grome knows that limiting mistakes, and keying on fundamentals, will be key for both teams.
"Just cutting down unforced errors on our part will be important if they don't make a lot of errors and we don't make a lot of errors then I think serve and pass definitely becomes the game changer there," Grome said. "That's the basics of volleyball right there and I think our serving has been really tough lately and that'll give people a challenge and our passing has been really good lately too. The more we are in system that helps me with being more deceptive. I have all my options and obviously we have a lot of great players that can put the ball down."
Grome, who will be making her first appearance in the Sweet 16, feels more excitement than pressure about Thursday's match.
"I don't feel a lot of pressure I'm just excited. I'm ready to get after it," she said. "I think we're prepared, and I think we can do it, so I'm just excited to get out there and show people what we can do."
Grome and the Cats appear to be peaking at the right time, with a Sweet 16 matchup against San Diego next on the slate.