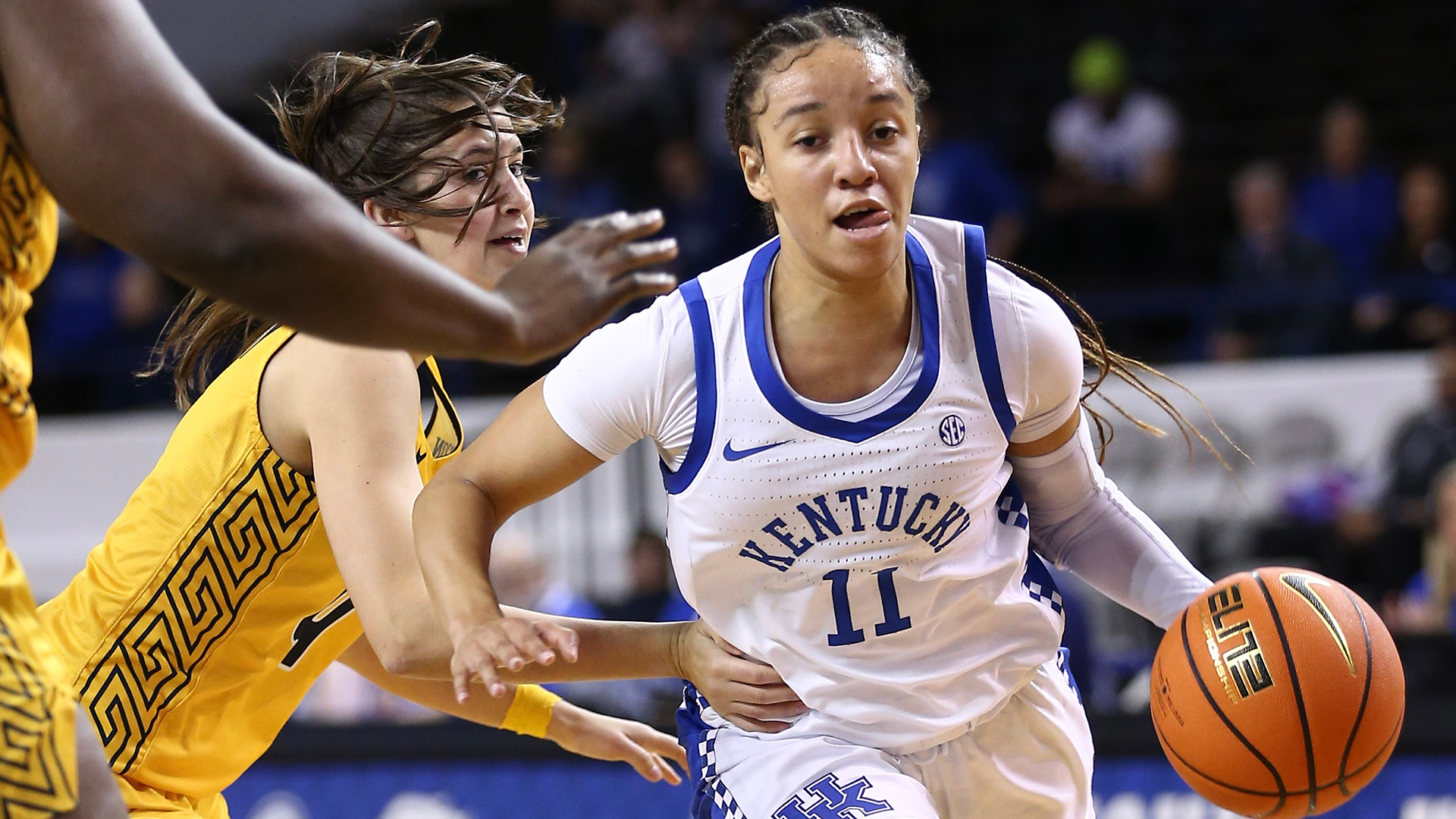 December 4, 2022 - 03:58 PM
Walker Leads Cats Past UNC Greensboro
LEXINGTON, Ky. – The Kentucky women's basketball team had three players in double figures on Sunday as the Cats beat UNC Greensboro 82-56 at Memorial Coliseum. Jada Walker had 20 points and four assists and Robyn Benton had 14 points for the Cats. Ajae Petty recorded a double-double, with 10 points and 12 rebounds.
UK's defense played a major factor during the entire game, as they forced 24 UNCG turnovers – 12 of them being steals. They recorded 29 points off these turnovers. The Cats held the Spartans to 23 of 67 (34.3 percent) from the floor, including four of 14 (28.6 percent) from beyond the arc.
Kentucky had a slow start entering the first period, as UNCG took an early lead of 11-9, but the UK defense was stifling from the start. The Cats came into the game trapping, as they started off with full-court pressure for the duration of the quarter. They forced nine turnovers and scored 13 points off of UNCG's mistakes. UK finished the first quarter with a 13-2 run, sparked by Walker – who tallied 10 points and four assists in the period.
Kentucky opened the second period on a 17-2 run, including 11 straight, to open a 44-17 lead. The Cats would lead by as many as 29 points in the quarter and took a 48-21 lead into the half.
The third period started off with UNCG holding the Cats to no points in the first two minutes of the period. The Spartans attempted to battle back with a 6-0 run in those same two minutes. Kentucky fought back for the momentum of the game with a pair of hustle plays by Amiya Jenkins – scoring a layup off of her own steal, as well as forcing an out-of-bounds turnover. The Cats finished the third quarter with a 11-4 run, recording their biggest lead of the game of 68-36.
The fourth quarter was also competitive, with UNCG outscoring the Cats 17-14 in the stanza.
Kentucky returns to action on Wednesday, as they travel to Minnesota at Williams Arena. Tipoff is set for 8 p.m. and the game can be seen on Big Ten Network Plus.