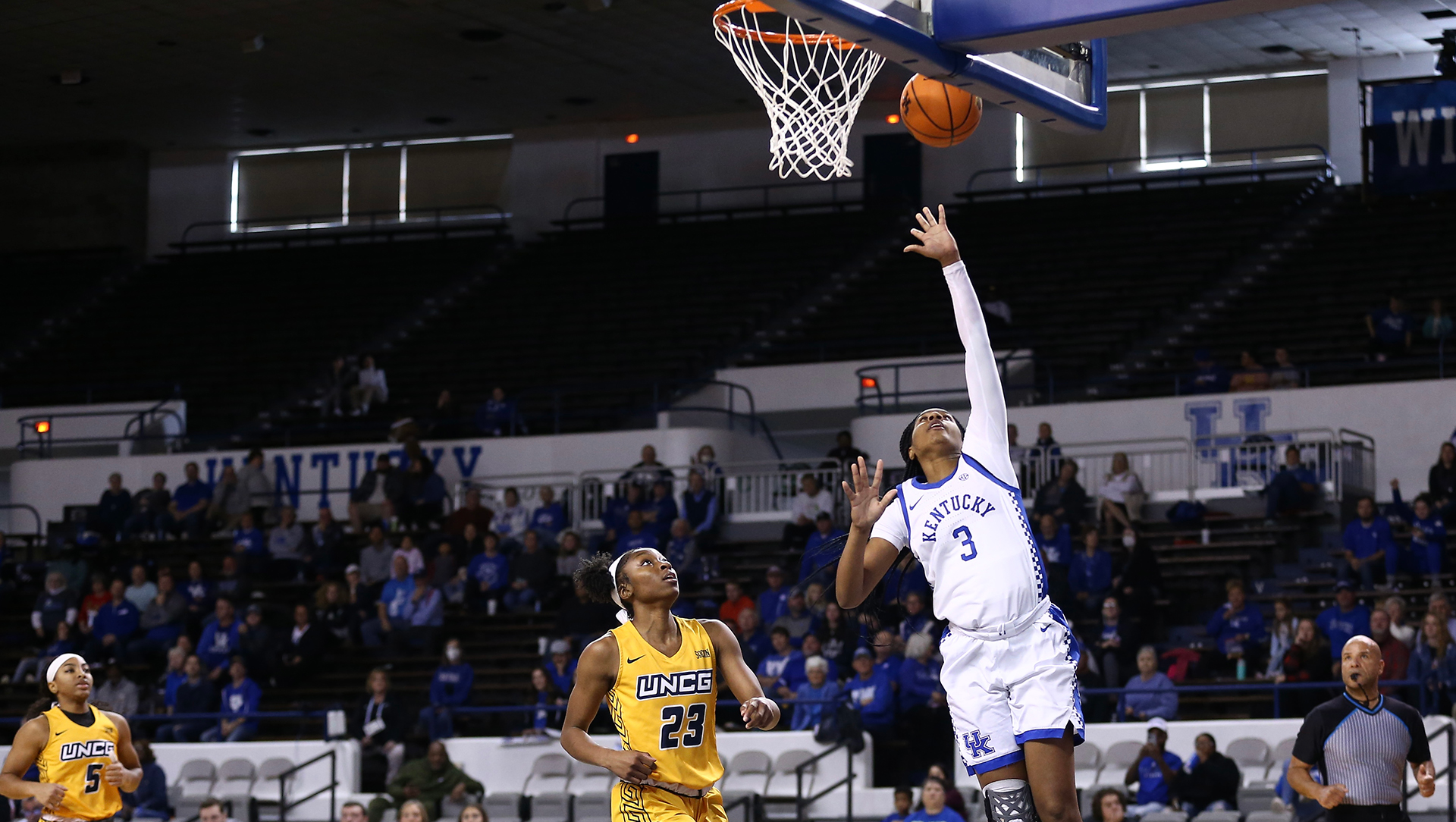 December 4, 2022 - 04:53 PM
Kentucky-UNCG Postgame Quotes
UK ATHLETICS COMMUNICATIONS AND PUBLIC RELATIONS
WOMEN'S BASKETBALL POSTGAME QUOTES 
Kentucky Head Coach Kyra Elzy 
On how Jada Walker has improved from last season to this season… 
"So proud of Jada. I thought she set the tone for us offensively and defensively, you know, asked her to play downhill and she started the game that way. I mean, she attacked the paint, made some big shots for us. I was teasing her, she's been under the weather, and I said, 'Well, maybe you can stay sick a little bit longer if you can't breathe and can score 20 and play defense like that.' But, you know, she's just tough defensively and things that do not show up in the stat sheet. The way that she can bring heat to the basketball is exactly what we need, so, proud of her. How she's grown is, you know, now she can go down the floor, call the plays, understands what we're looking for offensively and has confidence without looking back at me that she can get them in an offense. So, that's where she's improved this year." 
On Kennedy Cambridge's performance… 
"Well, Kennedy makes us different. You know, she was playing really well. Early. She knows how to win and she understands her role. She's in there to make custom plays, defend rebounds and score garbage buckets and she does her role and she does it well. But at the end of the day, she has the dog mentality that we need. She is aggressive and she understands the assignment when she steps on the floor. She knows how to win; she comes from a winning program." 
On the amount of points Kentucky put up today… 
"I know, I was so proud of us, 58.0 percent from the field. You know, I think our ability to share the basketball, push in transition. I think we're taking rhythm shots, sharing the basketball. It is great to see the ball go in the net but 82 points on the board, we'll take it." 
On Ajae Petty's performance? 
"So proud of Ajae, you know, really challenged her before the game and I thought she stepped up to it. We needed her to rebound the basketball. For her to lead us in rebounding with 12, but also her ability to finish in the paint. We need that consistently, and she can do it with ease. I don't think she realizes how talented she is. So, she's a work in progress. And we're going to keep coaching her up, but she definitely makes us different." 
UK Student-Athletes 
#11, Jada Walker, Guard 
On improvements you have made since last year… 
"Probably just my pace and then my shot selections that I've been taking in game are smarter, like, when to shoot and when not to shoot". 
On how the team has been performing since The Bahamas… 
"I feel like our defensive intensity is way better and just being more aggressive. Try not to foul as much and then just doing a better job on the boards trying to rebound. We're going for the rebounds even though we may not get all of them, were showing a better effort going into the boards." 
On how big conditioning is at practice… 
"That is an everyday thing. We push the pace. We do a lot of drills where we had to get the rebound and run, if we don't, we have to run as a consequence. So, just preaching that every day in practice and it's making it easier in games for us to just get them down, push and beat teams and then forcing them to just cough the ball up, speeding them up, instead of the other way around." 
#13, Ajae Petty, Forward 
On what your performance in The Bahamas did for your confidence… 
"I think it just showed what I can do. I already know what I can do, so I think it's just finally putting the pieces together and trying to show my team that they can rely on me to do the job that they brought me here to do." 
On the conditioning in practice… 
"It also helps us lock into details when we're fatigued. A lot of teams aren't going to be in the shape that we're in because of the conditioning that we do in practice."