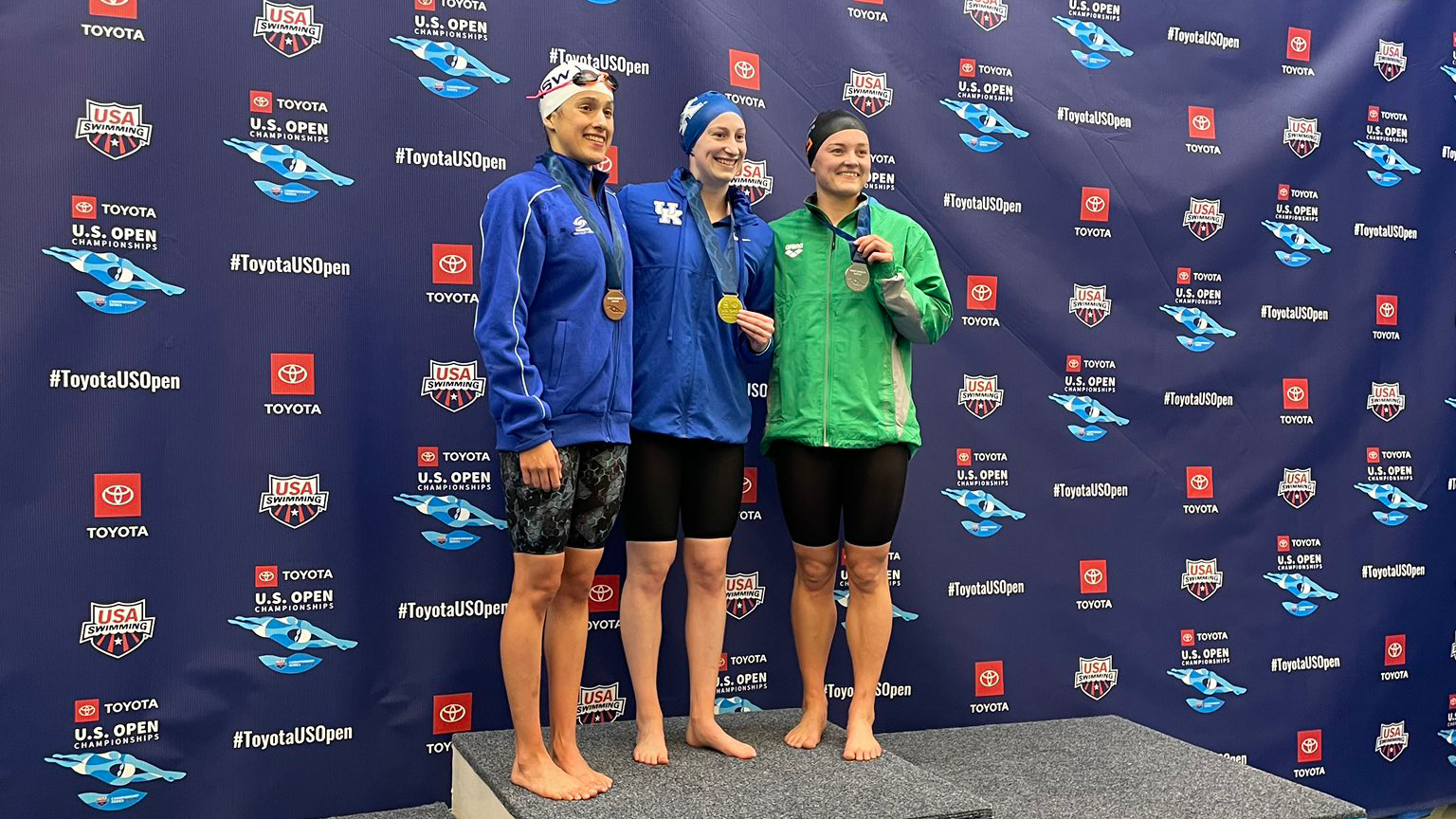 December 3, 2022 - 09:01 PM
Davey, Caruso Qualify for 2024 Olympic Trials at Toyota U.S. Open
GREENSBORO, N.C. – Gillian Davey bested an elite field to win gold in the women's 200m breast, while Nick Caruso also registered an Olympic Trials' qualifying time as Kentucky swimming wrapped up competition at the 2022 Toyota U.S. Open on Saturday night.
Davey and Caruso were two of five UK swimmers in the field for the national championship event held at the Greensboro Aquatic Center, Nov. 30 – Dec. 3. The pair was joined by teammates Levi Sandidge, Torie Buerger and Denise Phelan at a meet which included several USA Swimming stars such as Katie Ledecky, Chase Kalisz, Hunter Armstrong and Regan Smith.
After finishing the morning heats with the top qualifying time in the 200m breast, Davey capped her terrific day with a gold medal swim in the final, posting a time of 2:27.06 to win by more than half a second and punch her ticket to the 2024 U.S. Olympic Trials.
Caruso and Sandidge were both entries in the men's 1500m competition, taking home 7th and 11th, respectively with times of 15:38.28 and 15:50.56. Caruso's mark secured the Kentucky sophomore a berth to Olympic Trials, to be held in Indianapolis in June of 2024.
Buerger, a junior at Kentucky, was yet another A-finalist for the Wildcats, placing eighth in women's 200m backstroke with a time of 2:13.91.
Complete Kentucky results from the meet can be seen below.
Kentucky Results
Men's 400m IM C Final – Levi Sandidge (4th, 4:27.15)
Men's 200m Free C Final – Nick Caruso, (6th, 1:53.61)
Men's 1500m Free – Nick Caruso (7th, 15:38.28), Levi Sandidge (11th, 15:50.56)
Women's 200m Back A Final – Torie Buerger (8th, 2:13.91)
Women's 200m Breast A Final – Gillian Davey (1st, 2:27.06)
Women's 200m Breast Prelims – Denise Phelan (25th, 2:37.86)
The Wildcats are back in Lexington for a dual meet with SEC foe, Georgia on Dec. 19 at Lancaster Aquatic Center. Racing will begin at 11 a.m. with admission free to the public.
For the latest on UK Swim & Dive, follow the Wildcats on Twitter and Instagram at @UKSwimDive, and on Facebook at Kentucky Swimming and Diving.