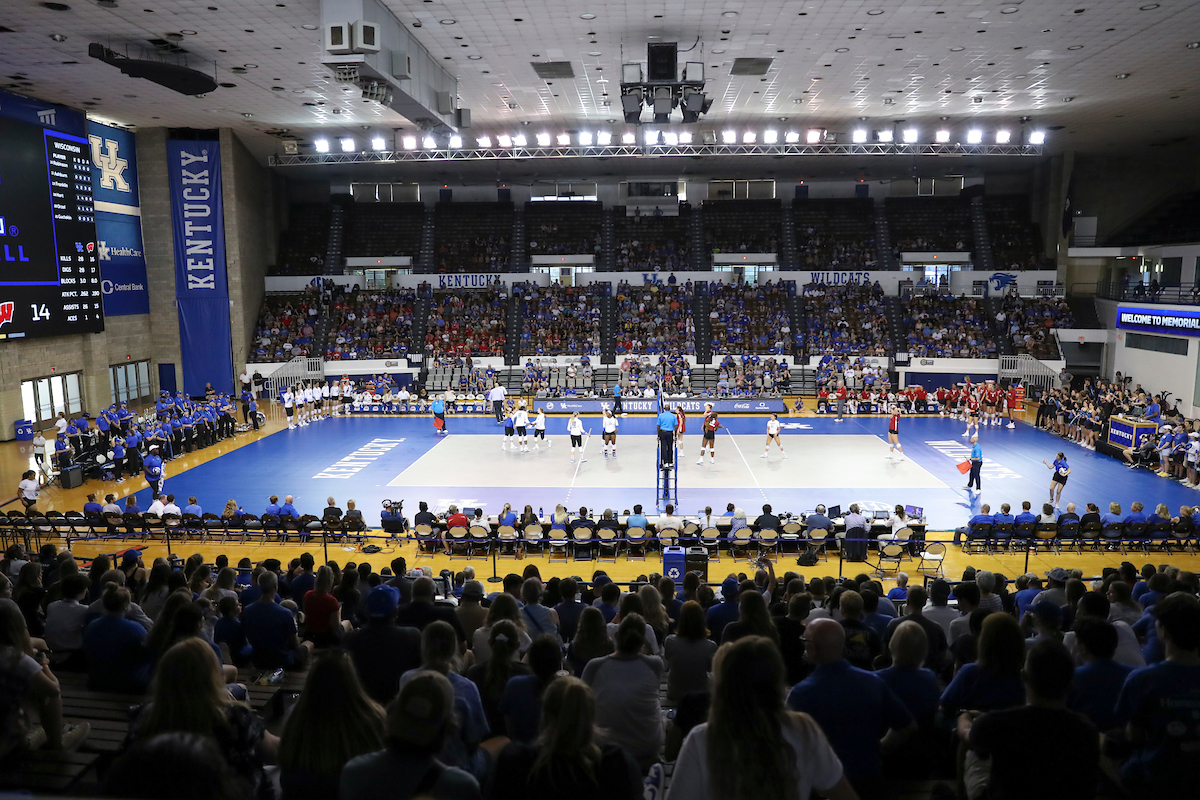 LEXINGTON, Ky. – Western Kentucky and Bowling Green State kicked off the first round of 2022 NCAA Tournament in Memorial Coliseum with the Hilltoppers earning a three-set sweep (25-20, 25-23, 25-20) over the Falcons on Thursday evening.
This is the second matchup for these two teams this season as they played on Sept 2 with WKU pulling out the win 3-1. Offensively, WKU had three players in double digit scoring with 10 kills each, including Paige Briggs, Lauren Matthews and Katie Isenbarger. Matthews and Isenbarger led WKU in kills per set and blocks per set during the match and also recorded that distinction in the regular season.
Bowling Green (22-9) had strong and consistent leaders across the board as well as Lauryn Hovey led in kills per set throughout the regular season and continued to lead this match with 11 total kills on the. Jessica Andrews led in the regular season with solo blocks per set and tonight led the team with four out of the six blocks as a team.
WKU (28-3) will play the winner of tonight's match between the University of Kentucky and Loyola University Chicago tomorrow at 7:00 p.m. EST in Memorial Coliseum.
Set One
The set began with a competitive matchup as both teams hit around .200 in the first set. Bowling Green pulled ahead with one stuff block by Alexis Mettille and three kills by Kat Mandly. WKU struck back with three kills by Matthews and strong defense. Isenbarger led WKU in kills for the set, while Jessica Andrews made a different on the court adding two blocks for BGSU,. WKU jumped ahead as Jennifer Rush swiped a kill down the line making it game point for the Hilltoppers, 24-20. BGSU served strong the next point, but WKU led offensively and took the set 25-20.
Set Two
Bowling Green took an early lead in the second set at 6-3 scoring three points in a row from an ace and two kills by Hovey. Bowling Green's strong offense prompted WKU to take their first timeout of the set. The Hilltoppers found their way back into the game to tie it at 13-13 after Bowling Green led most of the set. WKU and BGSU both worked hard defensively with 17 digs each in the second set. With strong serving by Yelianiz Torres for Bowling Green and a consistent offense for WKU, the teams were tied at 18-18. Isenbarger added another kill, her sixth for the match, which prompted Bowling Green to take their first timeout of the set. Briggs served four straight under pressure bringing the score to 23-19. Bowling Green gave WKU a run for their money as Hovey swiped a cross court kill and helped pick up the team momentum, but WKU closed out the second set 25-23.
Set Three
Bowling Green started off strong with a lead of 3-0 as Katelyn Meyer made her first appearance and added two kills for the Falcons. WKU bounced back as Briggs found the court for two more kills, her ninth for the match, which tied the game 6-6. Both teams continued to battle back and forth for four points in a row with another tie score at 10-10. With five straight steady rallies, the score remained tied at 15-15 with both teams continuing to hit .260 on the night. Mia Tyler helped Bowling Green take the lead at a crucial time of the match with one kill and a block putting the Falcons ahead 17-15. WKU had two back-to-back blocks which caused the Falcons to take their first timeout of the match as the Hilltoppers took the lead 19-18. Defensively, WKU added two more stuff blocks and a service ace leading the set by three at 21-18. WKU continued on their run with two more kills by Callie Bauer and Matthews to finish strong and sweep the Falcons 25-20.
WKU Head Coach Travis Hudson
Opening Statement…
"I'm super proud of our team. I have so much respect for Bowling Green. I've know [BGSU Head Coach] Danijela [Tomic] for a long time and she has done an incredible job in building that program. They are so hard to play against because they are so balanced and do so many things well. This has been a challenging week for us; we've faced as much adversity as you can face in a week. Lauren Matthews had her hand wrapped up out there because she took an injury in practice on Monday. She didn't practice all week and we didn't know if she would be able to play tonight. Then, our libero, Abby Schaefer, suffered a lower back injury in practice yesterday and we didn't know if she would play today. It has been a week filled with adversity and it wasn't the cleanest volleyball we've played, but we found a way. I think our tournament experience paid big dividends today. This is the fourth straight year that we've won a match in the NCAA Tournament so, even when we fell behind, we just stayed steady. I think Katie Isenbarger made plays early to keep us in it, then I think Paige [Briggs] and Lauren [Matthews] were Paige and Lauren late. I'm really proud of our kids. "
On third set blocking …
"Every timeout we had in the match, we talked about blocking. We've been a very good blocking team this year, so it was very frustrating for me on the sideline. I just didn't know they were saving them all for six of the last nine points. They were some big-time blocks to separate in that third set."
On Lauren Matthews …
"You have no idea the kind of week this kid has had. She took an elbow to the top of her hand and it just ballooned. We had no idea if it was broken or what was going on, but she couldn't even come close to practicing this week, so we didn't know if we would have her tonight. In the first two sets, I thought she was very tentative with her swings and blocking, which you can understand after suffering an injury like that. In the third set, she just felt out of sync and out of rhythm, so I said to her ' I know you feel off, but whatever you see, just commit to it and let it fly.' After that, she was a much better player and really took some terminal swings in that third set."
WKU's Jennifer Rush, OH
On how taking a team out of their rhythm can benefit them …
"I mean it makes a huge difference. Paige came in when we needed that run and made a complete difference in that entire set, so really having one great server back there can change the trajectory of the whole game."
On the difference between the last time they played BGSU vs. now …
"I think we've just progressed so much as a team – really had a lot of time to work on what we needed to work on, and I just think we came out and had a really great game. Everyone did their part and it was a really great win.
WKU's Ashley Hoos, DS
On whether or not the short serve was apart of the game plan or a spontaneous decision…
"I feel like kind of both. I think we knew that coming in it was going to be something that we needed to keep apart of our game, but then as the game went on it definitely was amped up, if that makes sense – so yes and yes."
On the difference between the last time they played BGSU vs. now…
"Yeah, I agree. I mean – we're a very different team than we were a couple months ago. We've grown a lot, mentally. Obviously, in skill and stuff too, but I just think we're way more together and just wanted to play our game.
On if they will stay and watch the next match in regard to what the next 24 hours looks like…
"I'm assuming we're going stay and watch, but definitely getting sleep. I mean we're all going need sleep – like he said we've got some injuries and some people hurting a little bit, so making sure we're taking care of our bodies, eating some good food, getting lots of sleep, and just waking up tomorrow … grateful to be playing another day and just taking it for every second that we can with joy.
BGSU Head Coach Danijela Tomic
Opening statement …
"It's always hard to go in the locker room and give that end of the season talk to a group that care so much about each other. We knew that it was a possibility that our season would end today, we were hoping that we could extend it a little bit longer but, it wasn't meant to be, we lost to a very good Western Kentucky team. We knew it was going to be hard. We couldn't find a way to win a few points at the end when it mattered the most and that's what teams who advance do and Western Kentucky did it statistically except the third set, I thought we attacked really well, our efficiency was good. The biggest difference probably was serve and pass. We were too much out of system for our offense. You want to try and be in system a little bit more and that's something that I think they won, definitely. And then third set they just had a block party on us, and we couldn't overcome that. But I'm so proud of our team. We had an unbelievable season, I told them to keep their heads up, if anything just feeling pride- we will be back. I think one advantage that going into this tournament I thought Western Kentucky had was their experience on this stage. And that's something that our team is still learning, and this was a great step forward and I have no doubt that we will be back and eventually advance to the second round."
On how difficult it was to get going when they were facing short serves …
"I turned to Alex, our associate head coach and I said we haven't faced all season long a team that served short serves like this. And we didn't prepare for it, it's something we haven't spent any time in practice. They did do as many short serves the first time we played them so it was little bit surprising for us and as Petra mentioned, they would go short and then they'll change the depth and go long, and we were not ready. That's something I guess in the spring we have another project to do. Learn how to pass short serves or serve some short serves"
BGSU's Petra Indrova, OH
On what made this year so special …
"The group made it special. We care so much for each other, we have so much love between each other, and we overcame some obstacles this season and we did it together. Just that unity made it so special this year."
On how difficult it was to get going when they were facing short serves …
"Well, they were serving short and deep. They were switching their serve up pretty well. We couldn't adjust to it in time, and we just struggled in the serve and pass game."
BGSU's Lauren Hovey, OH
On feeling the nerves of playing in the NCAA tournament …
"I think between all the girls, we were really excited for the game. We just wanted to play hard and see where it would take us. I do think there were nerves. The Kentucky gym is different than the gyms that we play in, this one is bigger. It is such a fun environment and I think it changed the energy that we brought. It took us a bit, I guess, to neutralize our excitement."
On how she sees herself carrying her playing experience into next season…
"I think in the spring there is still work to be done. I'm hoping that will help elevate my playing to another level. I'm just happy I can give to the team and be there when they need me."