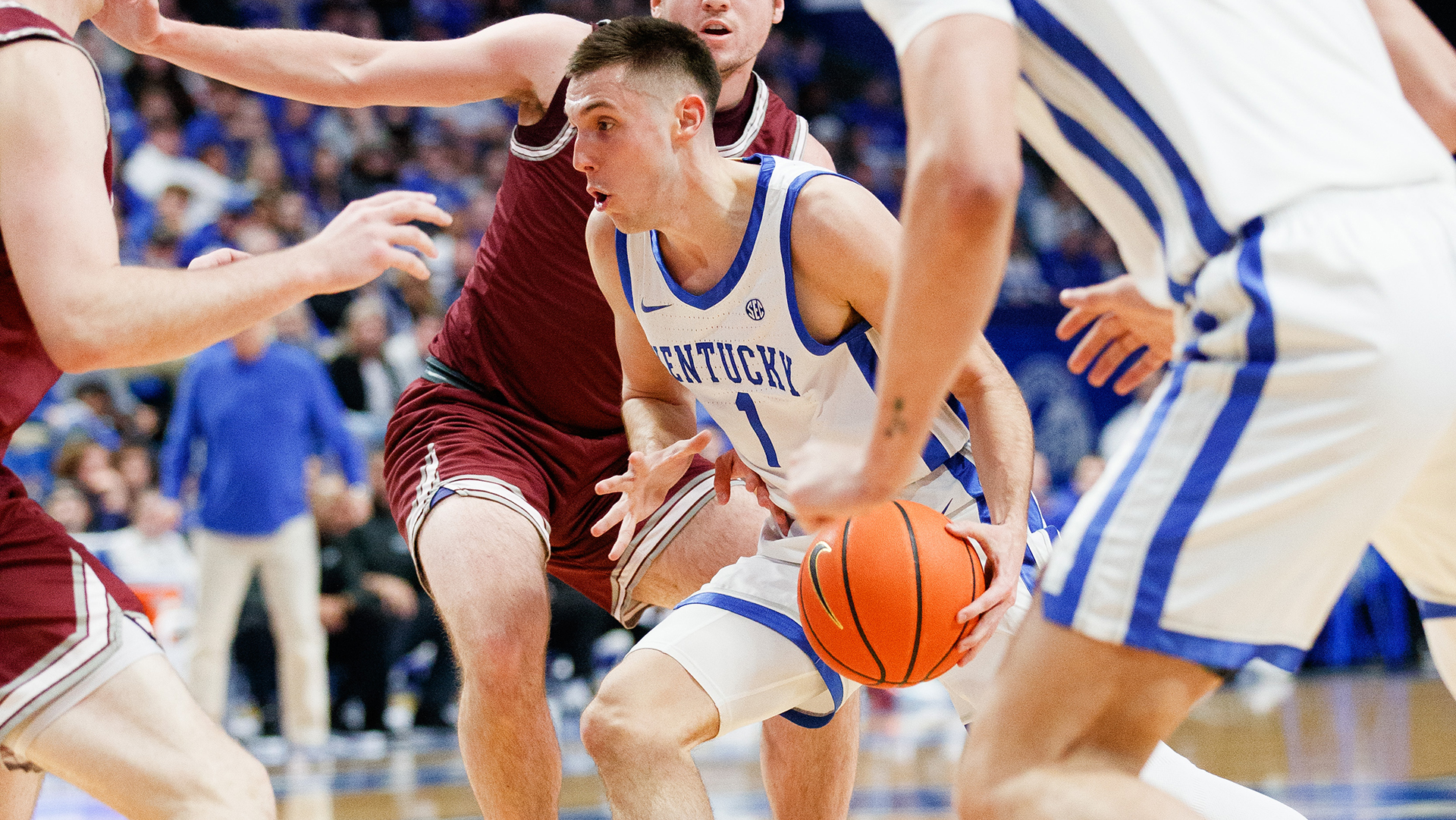 November 29, 2022 - 09:19 PM
Kentucky Gets Past Pesky Bellarmine, 60-41
Kentucky head coach John Calipari knew exactly what he was getting when he scheduled a game against Bellarmine. The UK head man knew he would face a smart, disciplined, tough-minded team led by a coach who has won 400 games in 17 seasons.
"Scotty (Davenport) has done a great job with that program," said UK head coach John Calipari. "They're well-coached, they're great kids."
That's exactly what the Cats got, especially over the first 15 minutes of the game. Kentucky missed its first six shots and had three early turnovers, falling behind 6-0 in the early going. UK was three of its first 10 with seven turnovers through the game's first nine minutes. The good news for the Cats was that the Knights only made four of their first 16 shots from the floor, keeping the score close early.
The Cats would go on to a 60-41 victory on Tuesday night behind 18 points from Antonio Reeves and 12 from Jacob Toppin.
Kentucky had a clear size advantage over Bellarmine, and the Cats' first 12 points came in the paint. A Cason Wallace free throw at 5:27 ended that streak and also gave UK its first lead, 13-12. That lead lasted exactly 14 seconds. But the Cats got the lead back on their first field goal from outside the paint, a three-pointer from Sahvir Wheeler, to lead 16-14 with 4:47 left in the half. That basket sparked an 8-0 run that gave the Cats.
But Bellarmine would fight back. After the Cats took a 21-14 lead, the Knights scored seven in a row to tie the game at 21 apiece with 1:18 left in the half. That would be the score at the break. It was the fewest points in a half for UK since scoring 18 at Missouri on Feb. 3, 2018 at Missouri in the first half.
The Cats were not able to pull away until midway through the second half, when a 18-3 run turned a four-point deficit into an 11-point advantage.
The 39 points was the fewest points by UK opponent since 2014-15 when UK held West Virginia to 39 in the NCAA Tournament regionals in Cleveland. Calipari was impressed with his team's defense on Tuesday.
"Really good. We had about three breakdowns but when you think about it, we were all over and it's hard," Calipari said. "You play defense for 30 seconds and we needed to show some discipline. We also needed to grind it out."
Kentucky returns to action on Sunday, facing Michigan in London, England. Tipoff is set for 1 p.m. and the game can be seen on ABC.