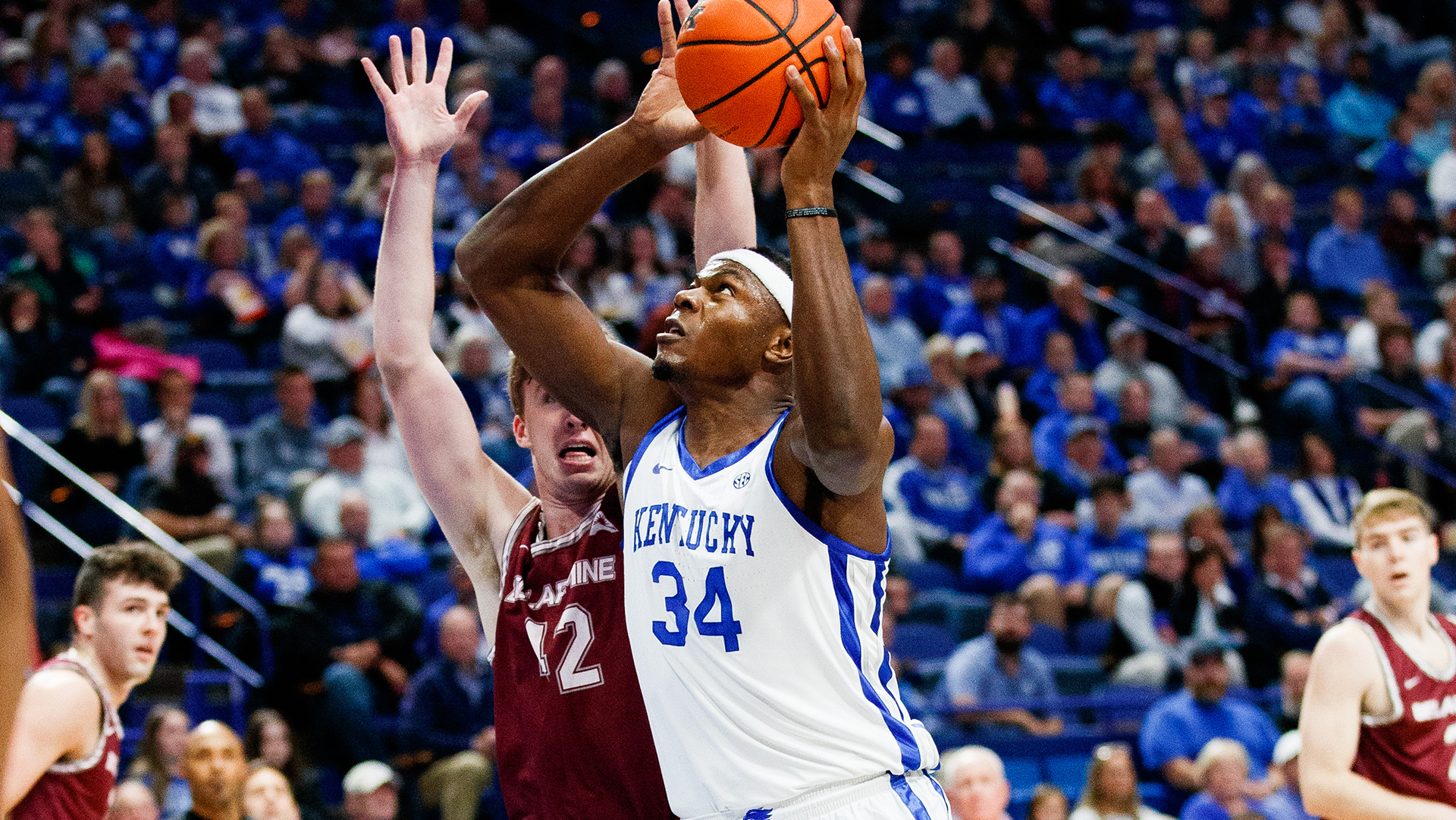 November 29, 2022 - 10:01 PM
Kentucky-Bellarmine Postgame Notes
KENTUCKY MEN'S BASKETBALL POSTGAME NOTES
RUPP ARENA AT CENTRAL BANK CENTER | LEXINGTON, KY
NOV. 29, 2022
ATTENDANCE: 19,092
Final Score: No. 19/18 Kentucky 60, Bellarmine 41
Team Records and Series Notes
Kentucky is now 5-2 on the season, Bellarmine is 2-6.
This was the first meeting between the teams.
Next for UK: on Wednesday, the Wildcats fly to London, England in anticipation of Sunday's Hall of Fame Game vs. Michigan. Game time is 1 p.m. ET and it will be televised by ABC.
Team Notes
Kentucky limited Bellarmine to 41 points, fewest for a UK opponent since the 78-39 win over West Virginia in the 2015 NCAA Tournament.

Bellarmine scored 21 and 20 points in the two halves, which are UK's two best defensive halves of the season.
UK is now 85-0 under Calipari when keeping the opponent to 55 points or less.
UK is 207-9 (95.8%) under Calipari when keeping the opponent to 63 points or less, including 5-0 this season.

Kentucky limited Bellarmine to 30.4% from the field. UK is 226-24 (90.4%) under Calipari when keeping the opponent to 40 percent or less shooting, including 5-0 this season.
Kentucky led by as many as 20 points. UK is 314-13 (96.0%) under Calipari when leading by as many as 10 points at any time in the contest.
UK used its size advantage to dominate the rebounding, 42-21, and points in the paint, 28-8.
Player Notes
Antonio Reeves had 14 of his 18 points in the second half.

He has landed in double-figure scoring in six of the seven games this season.   
He has made at least one 3-pointer in each game this season.

Jacob Toppin scored all 12 of his points in the second half and had five rebounds.
CJ Fredrick tossed in 11 points, eight in the second half.
Oscar Tshiebwe collected eight points and a game-high 12 rebounds, adding three blocked shots and two steals.
Sahvir Wheeler had six points and a game-high six assists.
Coach John Calipari
This was Calipari's first game vs. Bellarmine.
During his time at UK, Calipari has a 23-3 record against in-state foes.
Calipari has an 815-243 all-time on-court record and a 370-103 mark in his 14th season at UK.
UK is 303-58 (83.9%) against unranked competition under Calipari.
Rupp Arena
UK extended its home win streak to 24 games, dating back to the 2020-21 season, and is the longest active home win streak in the Southeastern Conference and (as this is written) tied for second-longest in the nation.
Kentucky is 638-77 (89.2%) in the 47-year history of Rupp Arena.
Kentucky is 211-17 (92.5%) in Rupp Arena under Calipari.
In the First Half
Kentucky started the combination of Sahvir Wheeler, Cason Wallace, Antonio Reeves, Jacob Toppin and Oscar Tshiebwe for the second straight game.
CJ Fredrick, Daimion Collins, Lance Ware and Chris Livingston were UK's first substitutes at the 14:48 mark.
Both teams started slowly on offense, with a pair of Bellarmine 3-pointers the only baskets of the game's first four minutes.
Kentucky got its first score on its seventh possession when Reeves tallied a tip-in at 15:38.
Kentucky got its first lead, 13-12, on a Wallace free throw with 5:27 on the clock.
Kentucky's first 3-pointer of the game, a long ball by Wheeler at the 4:43 mark, shoved the team ahead 16-14, igniting an 8-0 run that gave the Wildcats a 21-14 advantage.
Bellarmine responded with a 7-0 spurt that knotted the count at 21 at halftime. It is UK's best defensive half of the season and also the Wildcats' lowest scoring half of the season.

Tshiebwe led the Cats with six points and six rebounds.
In the Second Half
Kentucky opened the second stanza with the starting lineup.
Trailing 28-26, Bellarmine hit consecutive 3-pointers to go ahead 32-28.
Reeves ended a three-minute drought with a 3-pointer from the left corner, Wheeler tied it with a foul shot, Fredrick put UK ahead two free throws, Toppin added two more and Fredrick put the icing on an 11-0 run with a 3-pointer from the right wing, making the score 39-32 for UK.
Meanwhile, Bellarmine was held scoreless for almost six minutes, from 16:08 to 10:14, before connecting a 3-pointer.
Kentucky added a 12-0 spurt, for a total run of 23-3, to push the count to 51-35. Bellarmine scored only three points over a 10-minute stretch.
UK led by as many as 20 points at 58-38.