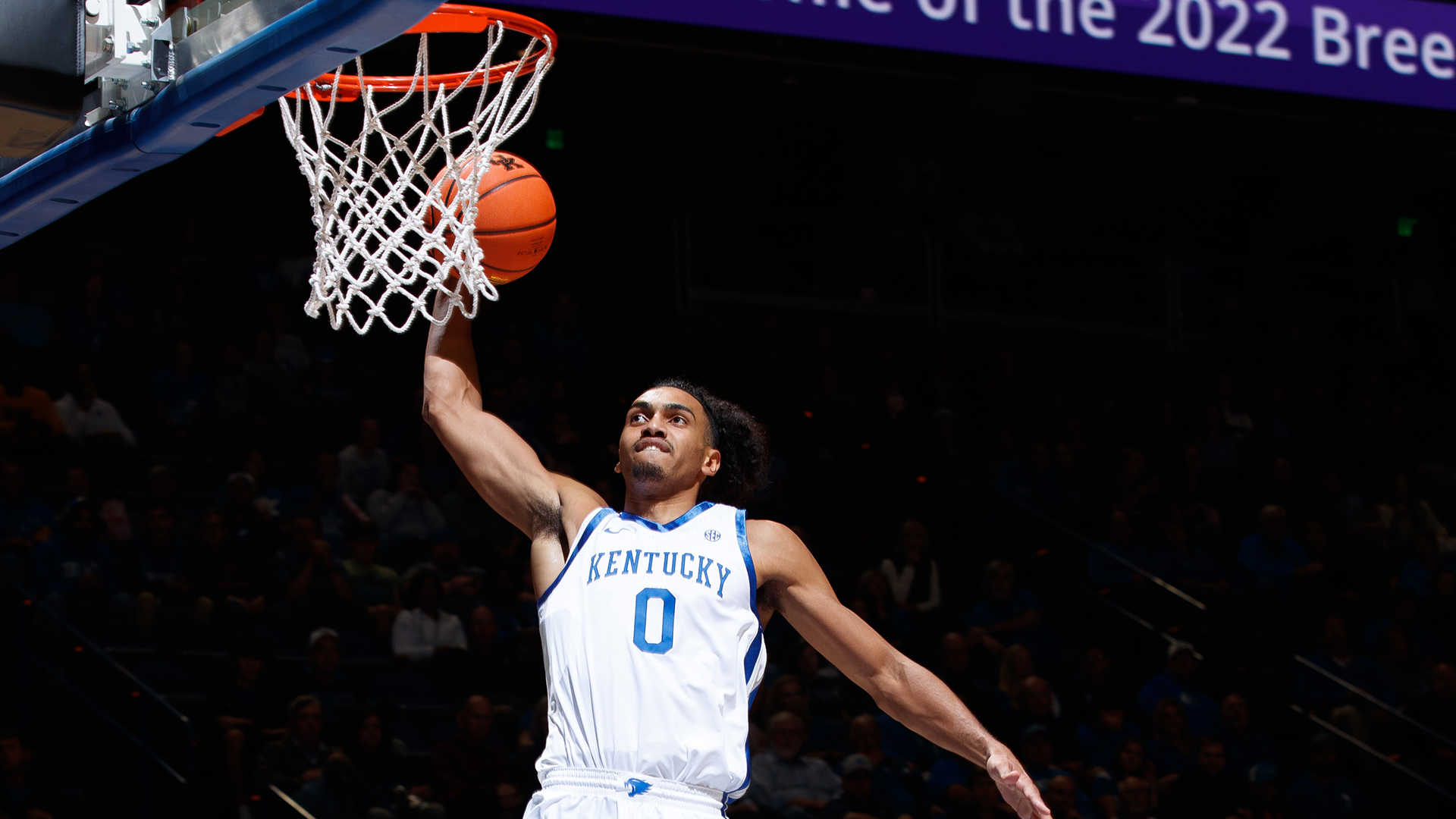 November 22, 2022 - 08:19 PM
Big Blue Preview: Kentucky vs. North Florida
After suffering an 88-72 loss to No. 2 Gonzaga on Sunday, fourth-ranked Kentucky is getting back to basics, according to guard Antonio Reeves.
"Our approach is (watching) film, get back to the game, see what I did wrong. See what I can do better personally and for the team," Reeves said. "And definitely get in the gym. I missed shots that game, so I'm going to get up at least 500 or 1,000 (shots), get back in a rhythm."
The Cats hope to improve, starting with a Wednesday afternoon date against North Florida (4 p.m. ET, SEC Network Plus).
Kentucky struggled out of the gate on Sunday night, falling behind by double digits in the first half. The Cats could not find their shooting touch in the first 20 minutes, making just 25 percent of their shots and none, in 10 tries, from beyond the arc. How did the Cats manage to get behind so quickly?
"It was just a rough start for us," Reeves said. "Guys just weren't making shots. We've got to let that not affect our defense. We definitely picked it up in the second half."
How did the missed shots affect the defense?
"Some things we worked on picking up the ball in transition," Reeves said. "We went under a couple of screens and guys were wide open."
After falling behind by double digits, not making shots and making defensive errors against Gonzaga, the Cats were still achingly close to overcoming the deficit.
"The first half, we did not play well at all," said UK guard CJ Fredrick. "Coach (John Calipari), at halftime, was all about fight. In the second half, we locked in on that and we gave ourselves a chance. The opportunities to cut it to two, cut it to one. We just didn't execute."
That execution is just part of the basics that the Cats hope to return to on Wednesday.
Need to Know …
Need to know facts about the Cats:
• Sahvir Wheeler sits atop the conference and 17th nationally with a 5.5-to-1 assist-to-turnover ratio. Wheeler leads the SEC and ranks fourth nationally with 8.2 assists per game
• Since the start of the 2019-20 season, his freshman season at Georgia, Wheeler's 572 total assists ranks second nationally, only behind the 603 by Yuri Collins of Saint Louis
• Cason Wallace leads the SEC and ranks third nationally with 17 total steals
• Wallace has totaled 23 assists and 17 steals through the first five games of his college career. The freshman is the only player in the country with at least 23 assists and 17 steals
• Wallace is third nationally in field-goal percentage (58.1%) among players with at least 20 total assists
• Oscar Tshiebwe's 22-point, 18-rebound game against Michigan State was the third such contest of his UK Career. He now has three of the six 20 or more and at least 18 rebounds in a game by an SEC player in the last 10 seasons. No other player has more than one and the feat had not been accomplished since South Carolina's Sindarius Thornwell did so against Alabama on Feb. 7, 2017
• Tshiebwe also has tallied a pair of 20-point, 15 rebound games so far this season and has five over the last two seasons. He has nine of the 51 20-point, 15-rebound contests by SEC players in the last 10 seasons
Streaking at Home
With a victory over Ole Miss in the home finale, Kentucky notched a perfect 18-0 record in Rupp Arena for 2021-22. With its win over South Carolina State, Kentucky extended its home winning streak to 22 games. That mark is the longest current home winning streak in the Southeastern Conference.
• 2021-22 was the 14th perfect season in the 46-year history of Rupp Arena
• It marked the sixth time under Calipari the Cats were perfect at home. Calipari's teams were also spotless in 2009-10, 2010-11, 2011-12, 2014-15 and 2015-16
• UK is 636-77 (89.2%) in Rupp Arena in program history
• The Cats are 209-17 (92.5%) under Calipari
• Calipari owns the venue's longest winning streak at 54 games