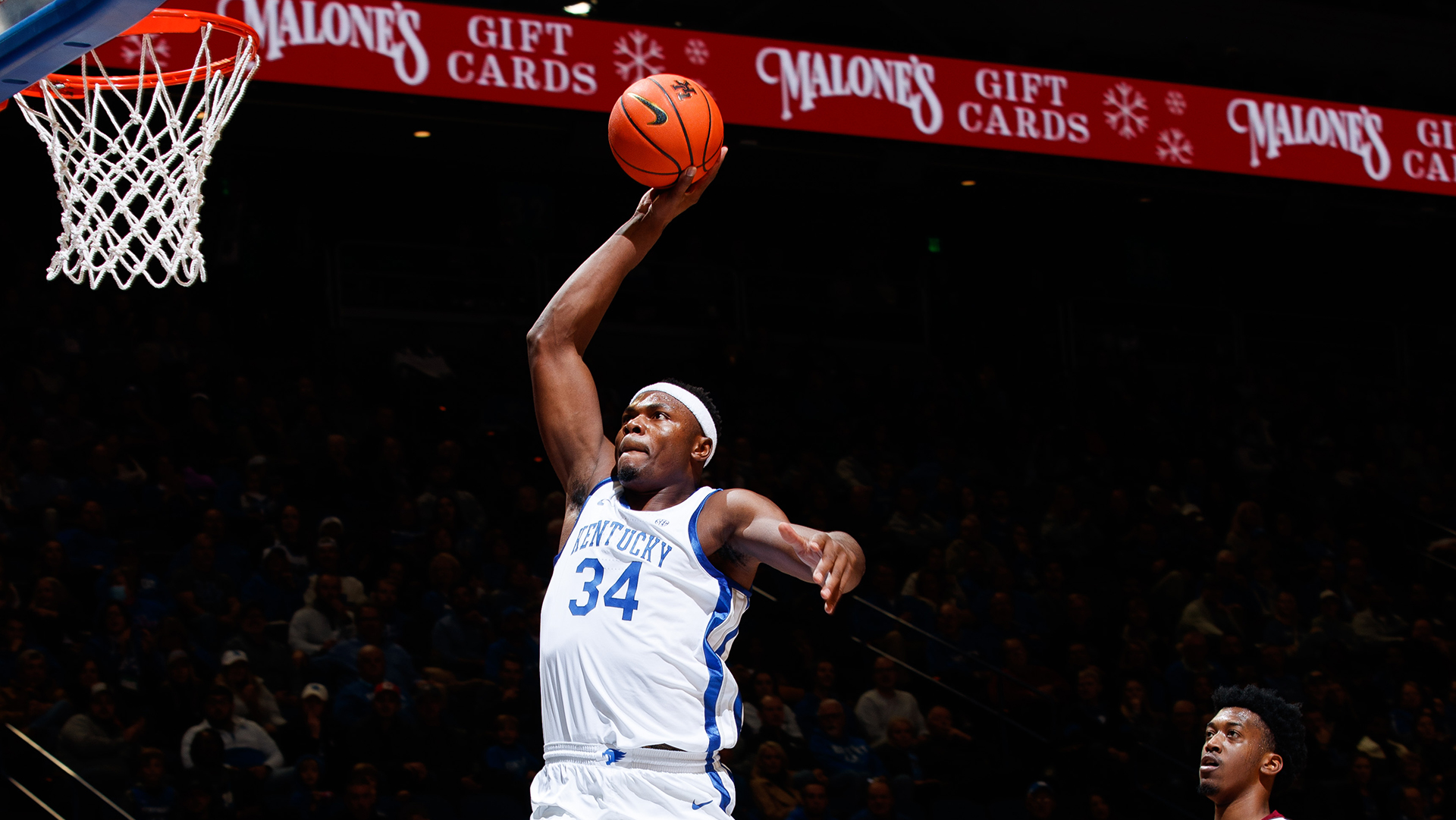 November 20, 2022 - 03:29 PM
Big Blue Preview: Kentucky vs. Gonzaga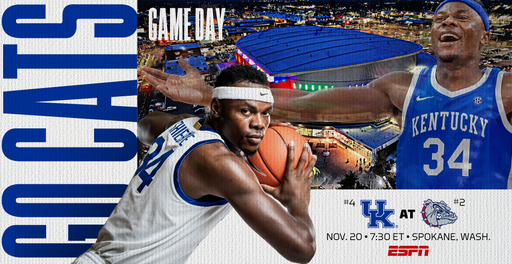 Kentucky head coach John Calipari has seen it before. One could say that he's been there, done that.
Calipari was the head coach at UMass in December of 1995 when his team faced Wake Forest and its All-American big man Tim Duncan. There was plenty of hype surrounding the matchup of two of the nation's best players.
"You would have thought no one else was in the game and there were no coaches. It was one-on-one," Calipari said of that matchup. "It ended up not being — neither one, they played OK," Calipari said. "But the hype of that was ridiculous. So I've been through it."
Camby scored 17 points in that game as the Minutemen topped the Demon Deacons 60-46. Duncan was held to just nine points in the contest.
Now, Calipari will have the chance to experience a similar circumstance when his fourth-ranked Kentucky team battles No. 2 Gonzaga in Spokane, Washington. Defending National Player of the Year Oscar Tshiebwe will go head-to-head with Gonzaga big man Drew Timme, who is a first-team All-American in his own right.
"They like each other," Calipari said of Tsheibwe and Timme. "I've been at events with them. They will both like each other."
As for the larger game, the Wildcats against the Bulldogs, Calipari knows that his team faces a number of obstacles.
"It's going to be a great challenge," Calipari said. "It will be a hard game, in Spokane, 14,000 (fans)."
Gonzaga lost for the first time this season on Wednesday night, falling to Texas 93-74. That was just one night after Kentucky suffered its first loss of the season, an 86-77 double overtime setback to Michigan State in the Champions Classic. Calipari knows that Gonzaga will be hungry after losing earlier in the week.
"They are going to be a lion right now because they just lost at Texas," Calipari said. "So they will be — this will be a hard game for us to win."
Tipoff is set for 7:30 p.m. ET and the game can be seen on ESPN.
Kentucky in AP Top-Five Matchups
Since the inception of the Associated Press Top 25, Sunday will mark Kentucky's 61st appearance in a top-five matchup in program history. The Cats are a combined 38-22 in those meetings.
• UK is 24-12 in regular-season matchups, with the last coming on Nov. 5, 2019 when the No. 2 Wildcats downed top-ranked Michigan State in the Champions Classic by a 69-62 score
• The Cats are 7-3 all-time in road games in top-five meetings. UK last played in a top-five road matchup on Dec. 27, 2014 at Louisville. The Cats were the top-ranked team in the country with the Cards sitting at No. 4. UK won 58-50
• Kentucky is 7-4 under John Calipari in such matchups
Big-Game Cal, Cats
John Calipari's teams aren't just good against the best teams in the country, they're great. Some notes about Cal's teams against the best:
• Not only does Kentucky own a 67-44 record (60.4%) vs. Associated Press Top 25 teams under John Calipari, UK is 7-4 when both teams are ranked in the AP top five
• All-time, Calipari is 13-8 when both teams are ranked in the AP top five
• When both teams are ranked in the AP Top 25, Calipari's alltime record is 89-64, including a 58-36 mark at Kentucky
• When both are ranked in the top 10 he has a 27-21 record, including 16-14 at UK
• By defeating top-ranked Michigan State to start the 2019-20 season, UK knocked off the No. 1 team in consecutive seasons for the first time in school history. Kentucky downed Tennessee on Feb. 19, 2019
• With the win over MSU to begin 2019-20, the Wildcats have nine victories over the No. 1 team in 25 tries in program history
• Calipari improved to 6-4 vs. the No. 1 team in his career with the win vs. Michigan State, including 3-2 at Kentucky. According to ESPN, Calipari is the only coach with a winning (.600) percentage against No. 1 ranked teams with a minimum of 10 games faced against the No. 1
Hold Them to 55 Points, 40%
Defense has always been a recipe for success for the Wildcats under John Calipari. The special ingredient: 55 points. Kentucky is a perfect 84-0 under Calipari when holding the opponent to 55 points or fewer, including 1-0 this season after limiting Duquesne to 52 points.
The Wildcats are 205-9 (95.8%) under Calipari when limiting the opponent to 63 points or less, including 3-0 this season. Kentucky also fares well when it keeps the competition to 40% or less from the floor. UK is 225-24 (90.4%) vs. opponents under Calipari when its field-goal percentage is 40% or less. Kentucky has held three of its first four opponents below 40%.
Calipari Leading the Way in SEC Play
John Calipari leads the way among all current SEC head coaches in 2022-23 in career wins, league victories and titles. He is also ascending the all-time charts in league history:
• Calipari owns 368 victories as UK's head coach, ranking as the fourth-most wins by a coach leading an SEC program in the conference's history. Adolph Rupp (875), Billy Donovan (467) and Dale Brown (448) are the only others who have more
• Calipari ranks seventh all-time in SEC regular-season wins with 173. Rupp (397) has the most. Calipari needs just six more to pass Harry Rabenhorst (178) for sixth place
• Calipari is 24-5 in the SEC Tournament. His 24 victories are tied with Tubby Smith for the third-most in tournament history. Only Donovan (27) and Wimp Anderson (25) have more
• Calipari has won six SEC Tournament titles. Only Alabama (7) has more in program history than Calipari has won in total