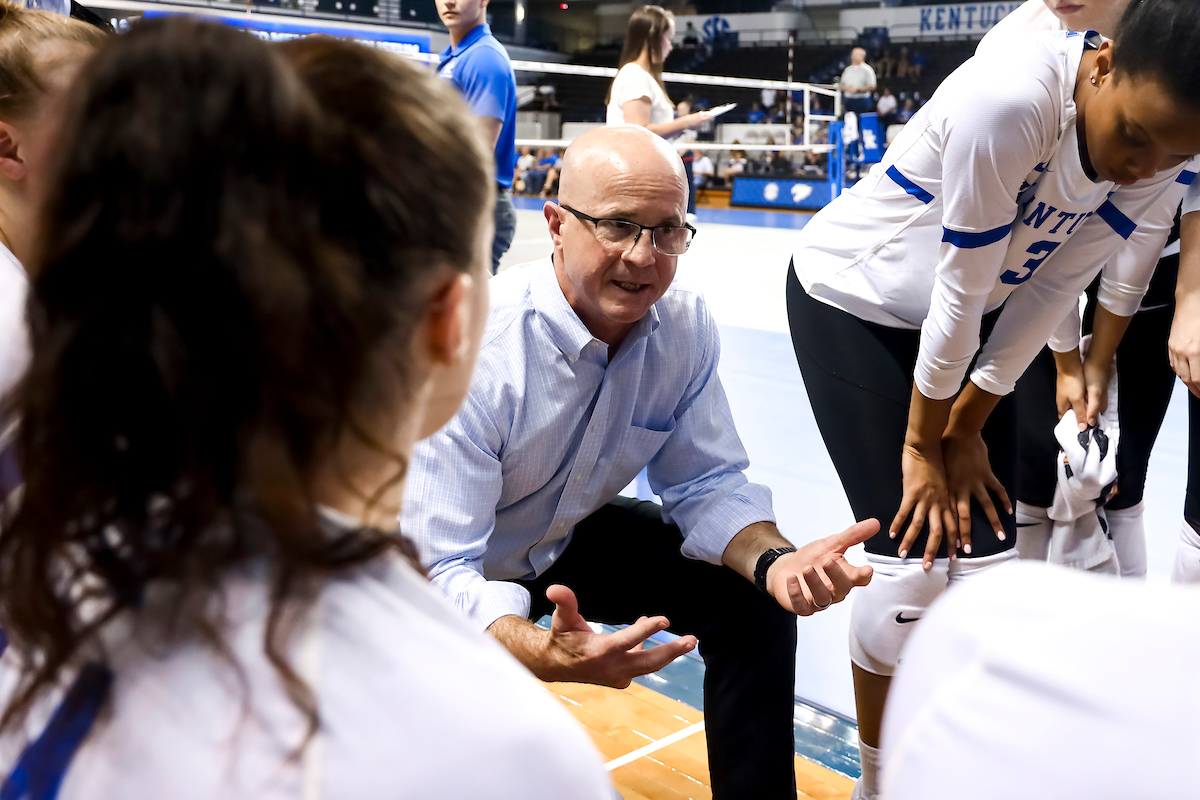 November 19, 2022 - 05:48 PM
No. 10 Florida Sweeps No. 18 Kentucky
GAINESVILLE, Fla. – The No. 10 Florida Gators swept No. 18 Kentucky 3-0 (25-18, 25-21, 25-21) on Saturday afternoon. The two-match Southeastern Conference series concludes Sunday afternoon at 2 p.m. ET live on SEC Network and the ESPN app with Courtney Lyle and Missy Whittemore on the call from Gainesville. Live stats are available through UKathletics.com.
Kentucky was done in by late-set issues, as Kentucky had sets two and three tied at 20-20, but won just one of the remaining six points in each of those sets to drop the sets, 25-21 in both instances. Also serving errors continued to be costly for the Wildcats, who committed eight in the match.
Florida now takes control of the SEC standings as it sits 13-2 in league play and Kentucky falls to 12-3. If Florida were to win Sunday, it would clinch at least a share of the SEC title.
Florida hit .310 for the match led by 13 kills from Sofia Victoria, as she hit .579 in the match with just two errors on 19 swings. Kentucky's offense struggled all match, hitting just .135, the lowest SEC hitting percentage for Kentucky in any match since 2016 (vs. Florida).
Adanna Rollins had 13 kills to lead all Kentucky players with a .237 hitting percentage and seven digs in the contest. She was the only UK player to accumulate double-figure kills in the match, as all other UK players either hit under .190 or were below even.
Emma Grome had 27 assists and Bella Bell had seven blocks to lead UK in those respective categories.
Set One
Kentucky led for a majority of the early going in the opening set, but a 6-1 Florida run put the Gators up 21-16 and Kentucky had to call its final timeout trying to stop a 3-0 Gators run. Kentucky was hitting just .111 in the match to that point with four service errors and only two players with two or more kills. Florida went ahead 22-16 thanks to a kill from Alexis Stucky and sided its way out to an opening-set win that pushed UF ahead 1-0 in the match and taking its first set off of the Wildcats in nine-straight sets spanning over three matches. UK hit only .100 in the opening set with just nine kills and UF hit at a .233 clip with 12 assists on 14 kills.
Set Two
It was choppy waters in the early parts of the second set for Kentucky as well, as the Wildcats fell behind 8-6 thanks to a 5-0 Gator run that prompted an early timeout from UK. Out of the timeout, the UF lead increased to 10-7 and the three-point lead was Florida's largest of the set to that point. After UF took a 14-10 lead, Kentucky finally got going offensively with kills from Bella Bell and Adanna Rollins on the pin to make things 19-18 and Florida had to call its first timeout of the match with UK climbing to within a point. Kentucky tied the set on a Bell kill, her third of the match, at 20-20, but back-to-back blocks by the Gators prompted a quick timeout by the Wildcats and they rode that momentum to a 2-0 lead in the match as UK struggled to point score down the stretch run of the set. Through two sets, UK continued to struggle offensively with just a .147 hitting percentage as a team, and only 22 kills through two frames.
Set Three
For the first time all match, Kentucky got a three-point lead under its belt to start the third set, as Florida had to call a timeout after an ace from Emma Grome as UK led 10-7. Out of the timeout, Florida won four of the next five points to stymie the run and tied things back up in the third as the UK lead was erased quickly. Kentucky won a challenge to get back on the frontfoot with an 18-14 lead, but Florida again quickly erased the lead and took the third set, 25-21. 
Follow along with the Wildcats on Twitter, Facebook and Instagram, and on the web at UKathletics.com.