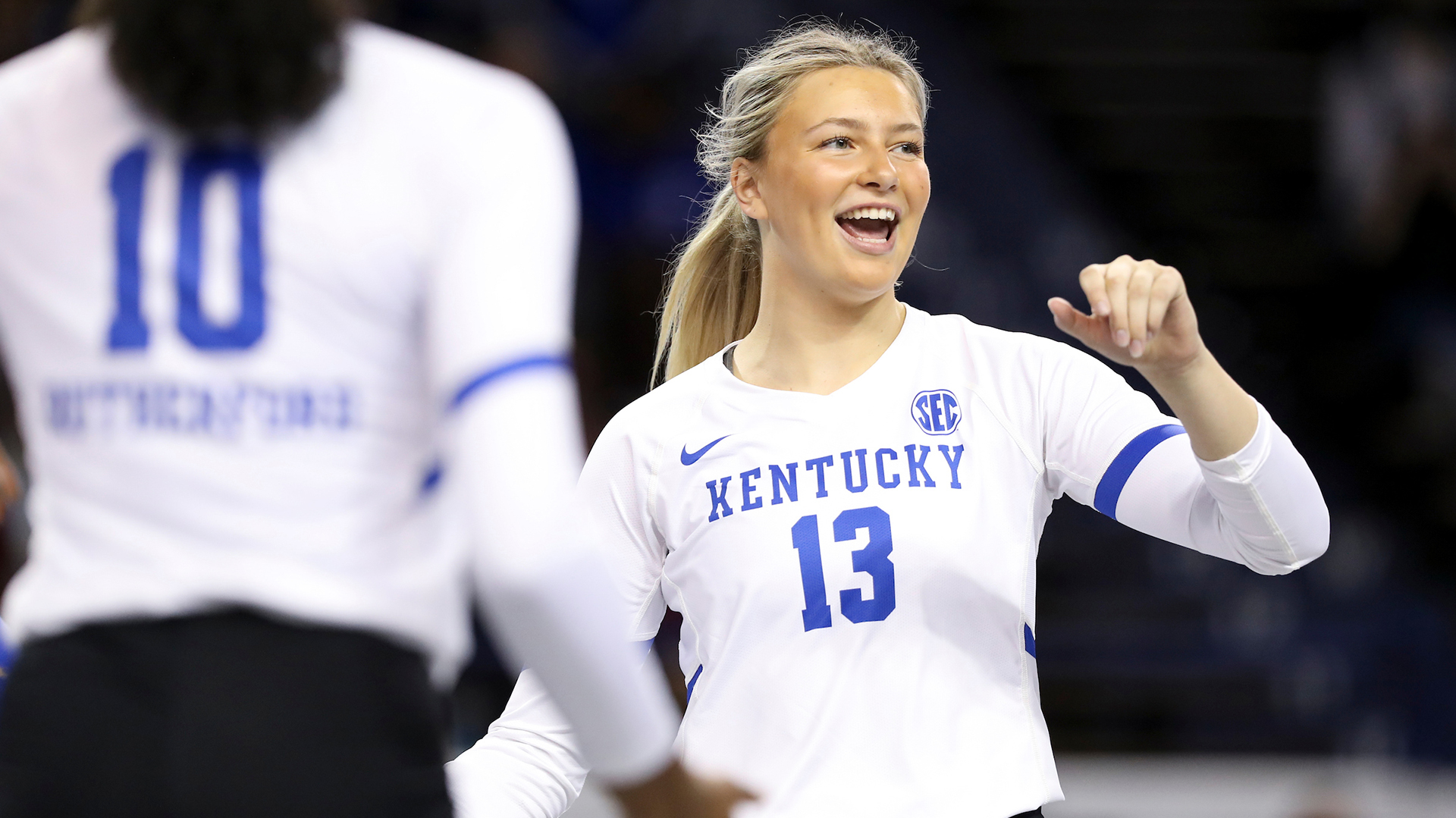 November 16, 2022 - 09:51 PM
Erin Lamb Shines Against Tennessee Again
Many Kentucky fans would tell you that they don't like Tennessee very much. But for Kentucky volleyball player Erin Lamb, she loves Tennessee. Or, at least she loves playing against them.
Lamb came off the bench on Wednesday night to spark the Cats to a four-set win over the Vols inside Memorial Coliseum. The sophomore had nine kills and four errors on 18 swings (.278 hitting percentage). For Lamb, it was the highest number of kills she has had in a match in over a month.
Last season at Tennessee, Lamb was called on to start for the injured Madi Skinner. Lamb not only filled the role, she excelled at it. She recorded 12 kills in three sets, leading the Cats to a shorthanded sweep of the Vols in Knoxville.
Coming into this year's match against the Vols, Lamb has been playing sparingly. In fact, in Kentucky's four matches prior to Wednesday, Lamb had not played at all.
But there's something about that orange that brings out the best in the Stewartville, Minnesota native. Even Lamb struggles to explain it.
"I don't know. I don't really have an answer," Lamb said after Wednesday's match. "The orange? I don't know. But lots of fun."
In Wednesday's match, Lamb was good in all three sets in which she played, but she was outstanding in the third set. In just that set, she had seven kills and a solo block. For Lamb, it was just taking advantage of the opportunity that was given to her.
"I'm just going to stay right for my next opportunity, whenever that is," Lamb said. "It's fun that Haley (Melby) and I can battle it out every day in practice and just make each other better. Makes me better, makes her better. And then, every day in practice going in, giving it all I have for the other side and working for my next opportunity as well."
UK head coach Craig Skinner was not aware that Lamb had seven kills in a set. He also was not surprised to see her excel when given a chance.
"Seven is a lot," Skinner said. "But she has been practicing really well so I knew she would be ready when she got that next chance."
Skinner knows that the Southeastern Conference is much deeper this season, making every match a tough one. Wednesday's win over Tennessee was no exception.
"All good wins in this league this year," Skinner said. "You can never get too comfortable. Pleased with the win. We almost had five players in double digit kills and that's rare. So, good offensive night."
Lamb can be an important cog in the UK attack as the postseason approaches. Especially if she imagines she's playing against Tennessee.