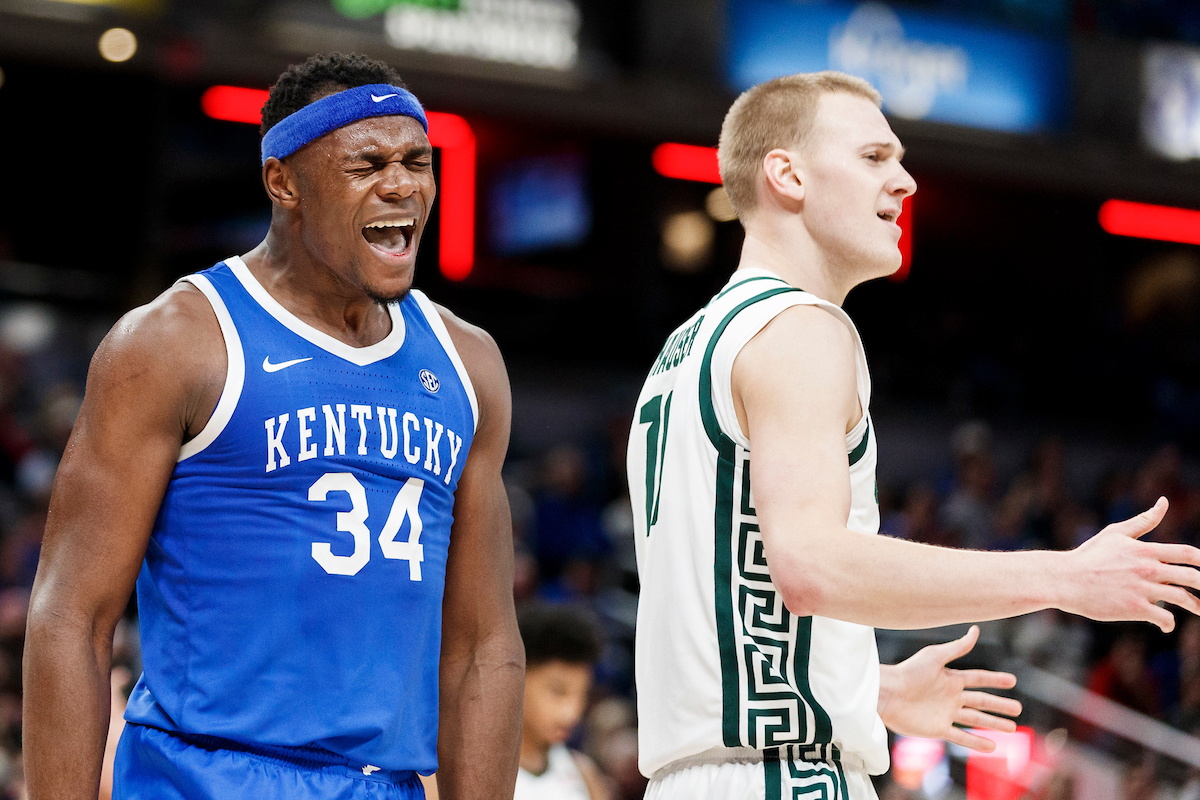 November 16, 2022 - 07:05 PM
Big Blue Preview: Kentucky vs. South Carolina State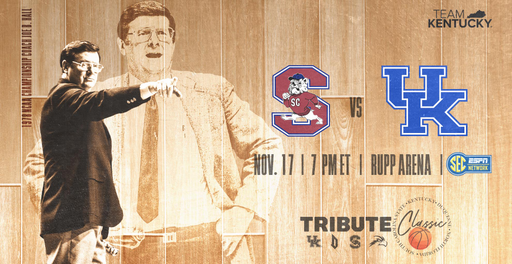 Oscar Tshiebwe won all of the National Player of the Year awards in college basketball last season. His campaign to become the first repeat winner in nearly 40 years (Ralph Sampson won in 1981, '82 and '83) got off to an outstanding start on Tuesday night.
Playing in his first game of the season following an October surgical procedure, Tshiebwe scored 22 points, grabbed 18 rebounds and blocked four shots before fouling out in UK's 86-77 loss to Michigan State in the Champions Classic in Indianapolis.
Last season, Tshiebwe averaged 17.4 points and 15.1 rebounds, so his performance on Tuesday night was no surprise. In fact, it was his 17th consecutive double double, dating to last season.
Freshman guard Cason Wallace had another big game for the Cats on Tuesday. The Dallas native had 14 points, tied a school record with eight steals, and added five rebounds and five assists. For the season, Wallace is averaging 12.3 points, six assists, 5.3 rebounds and four steals per game.
Sahvir Wheeler is scoring 13.5 points per outing, while dishing out 9.5 assists per game through two games, after missing the opener.
The game will be Kentucky's second contest in the 2022 Tribute Classic event.
South Carolina State enters Thursday's contest at 0-3. The Bulldogs opened their season against South Carolina and hung with the Gamecocks before falling 80-77. South Carolina State has since lost to Tennessee State (80-61) and Duquesne (96-71).
Lesown Hallums leads the Bulldogs in scoring, averaging 12.7 points per game. The only other South Carolina State player averaging double figures in scoring is Davion Everett, who posts 12.3 points per game and who also leads the team, averaging 6.3 rebounds per outing.
Tipoff at Rupp Arena is set for 7 p.m. ET and the game can be seen on the SEC Network.
Champions Classic Notes
Kentucky dropped an 86-77 double-overtime game to Michigan State on Tuesday in the annual Champions Classic.
• Cason Wallace tied the UK single-game record with eight steals in the contest. Ashton Hagans (vs. North Carolina on Dec. 22, 2018), Rajon Rondo (vs. Mississippi State on Feb. 19, 2005) and Wayne Turner (vs. George Washington on Nov. 24, 1997) are the others to turn the trick
• Oscar Tshiebwe made his season debut and played 34 minutes in his first action of the season. Tshiebwe had a team-high 22 points and a game-high 18 rebounds
• In two games in the event (including last year vs. Duke), Tshiebwe averaged 19.5 points and 19.0 rebounds per game
• The loss marked the first double-overtime loss for the Wildcats since losing to Michigan State in the 2005 NCAA Tournament
Streaking at Home
With a victory over Ole Miss in the home finale, Kentucky notched a perfect 18-0 record in Rupp Arena for 2021-22. With its win over Duquesne on Friday, Kentucky extended its home winning streak to 21 games. That mark is the longest current home winning streak in the Southeastern Conference.
• 2021-22 was the 14th perfect season in the 46-year history of Rupp Arena
• It marked the sixth time under Calipari the Cats were perfect at home. Calipari's teams were also spotless in 2009-10, 2010-11, 2011-12, 2014-15 and 2015-16
• UK is 634-77 (89.2%) in Rupp Arena in program history
• The Cats are 207-17 (92.4%) under Calipari
• Calipari owns the venue's longest winning streak at 54 games
Wildcats Ink Five for 2023
Kentucky men's basketball head coach John Calipari announced the signing of five standout student-athletes to the program's 2023 signing class on Nov. 14. Aaron Bradshaw, Robert Dillingham, Justin Edwards, Reed Sheppard and D.J. Wagner each inked national letters of intent with UK during the fall signing period.
In every season but one of the Calipari era, the Wildcats have signed a top-three recruiting class according to the Recruiting Services Consensus Index, which tallies major recruiting rankings and plugs them into a formula to calculate a consensus ranking. With the additions, Kentucky has signed 72 top-50 recruits, 57 top-25 players and 33 top-10 players (according to Rivals) in what will now be Calipari's 15 recruiting classes at Kentucky.
• Aaron Bradshaw (Roselle, N.J.): Forward | 7-0, 210 pounts | No. 4 overall by 247Sports, No. 5 by ESPN and No. 8 by Rivals | Averaged 8.9 points, 7.4 rebounds and 3.2 blocks per game as a junior while helping Camden to the NJSIAA Group 2 state championship | Played for NJ Scholars on the EYBL circuit last summer, averaging 12.7 points, 7.3 rebounds and 2.0 blocks | Tallied three double-doubles during Peach Jam in July
• Robert Dillingham (Hickory, N.C.): Guard | 6-2, 160 pounds | No. 6 overall by Rivals, No. 8 by ESPN and No. 13 by 247Sports | Averaged 21.2 points, 4.9 rebounds and 2.1 steals per game as a sophomore at Combine Academy, leading the team to a 29-3 record and a non-association state title | Joined Overtime Elite in November | Charlotte Observer High School Basketball Player of the Year in 2020-21 | 2021 FIBA Americas U16 Championship MVP, averaging 15.7 points and 6.2 assists in more than 20 minutes per game
• Justin Edwards (Philadelphia): Guard | 6-8, 190 pounds | No. 2 overall by Rivals and ESPN and No. 3 by 247Sports | Led Imhotep Charter to the Class 5A state title as a junior last season, averaging 18.3 points and 8.3 rebounds per game | Helped Team Final advance to Peach Jam quarterfinals after shooting 39.5% from deep while averaging 15.3 points and 7.0 rebounds per game
• Reed Sheppard (London, Ky.): Guard | 6-3, 180 pounds | No. 22 overall by Rivals, No. 26 by ESPN and No. 44 by 247Sports | Led North Laurel to the state Sweet 16, averaging 25.2 points, 7.6 assists, 6.8 rebounds and 4.4 steals per game as a junior | 2022 Kentucky Gatorade Player of the Year | Both parents, Jeff and Stacey, played basketball at Kentucky | Jeff was a member of 1996 and 1998 national championship teams, earning Final Four MVP in 1998, while Stacey still sits as the Wildcats' No. 14 all-time scorer
• D.J. Wagner (Camden, N.J.): Guard | 6-3, 175 pounds | No. 1 overall by ESPN, No. 2 by 247Sports and No. 3 by Rivals | Averaged 19.6 points, 4.3 rebounds, 3.3 assists and 3.1 steals per contest as a junior, helping Camden to the NJSIAA Group 2 state championship | Named 2021 and 2022 New Jersey Gatorade Player of the Year | Son of former Memphis and NBA guard Dajuan Wagner and grandson of former Louisville and professional guard Milt Wagner