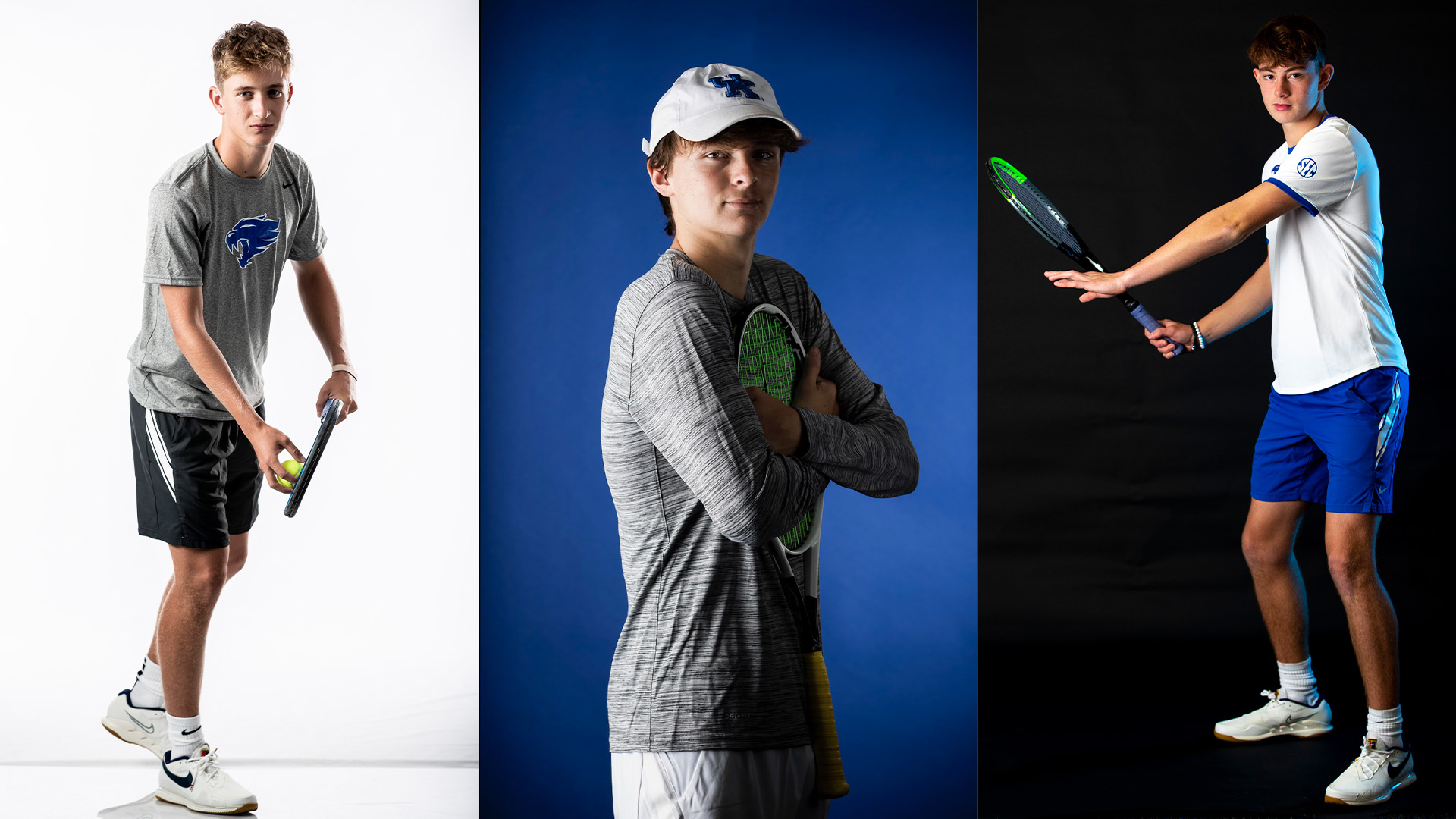 November 11, 2022 - 06:32 AM
Men's Tennis Adds Talented Trio for 2023-24
LEXINGTON, Ky. – University of Kentucky men's tennis head coach Cedric Kauffmann announced the program's 2023-24 signing class on Friday, naming Matt Rankin, Jack Loutit and Eli Stephenson as three student-athletes set to join the defending national runners-up next fall.
The trio inked their National Letters of Intent this week as part of the NCAA's fall signing period.
"I'm really excited about this class," head coach Cedric Kauffman said. "Matt, Jack and Eli are a very special group of guys. They are a talented with a good work ethic and have wonderful families around them that will trust us during this process. We are looking forward to working with them and making them the best student-athletes they can be."
"With Eli, Jack and Matt we have three guys that we believe have the potential to do something special here at Kentucky," assistant coach Matt Gordon added. "These boys are extremely hard workers, have a strong passion for the game and have the character we look for to be successful. We can't wait to get to work with them and are excited that they are a part of the BBN."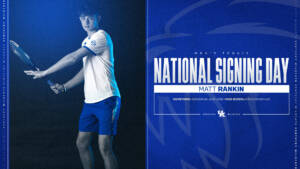 Name: Matt Rankin
Hometown: Edinburgh, Scotland
High School: King's InterHigh
Reached LTA ranking of No. 1 (U18) in Great Britain
ITF Junior career high ranking of No. 68
Currently ranked No. 1382 in ATP doubles ranking
1737 in current ATP Singles rankings
Competed in junior grand slams (Australian Open, Wimbledon, U.S. Open – semifinalist in doubles alongside Loutit)
Represented Team Great Britain in the European Youth Olympics and the Winter Cup
Five-time representative of Scotland at the Four Nations Championship
Winner of four singles and seven doubles Junior ITF titles
Winner of three Tennis Europe titles
16U LTA British National Championship winner (doubles)
Winner of two singles and one doubles title at the Scottish Junior Indoor Championships
Two-time winner of Tennis Scotland's Junior Player of the Year Award
Coach Kauffmann: "Matt is a powerful player and a hard worker. He will be one of the best serve plus one players in the business. I also love how he plays doubles. He plays with passion, moves a lot at the net and is a great teammate. I can't wait to work with him. We are going to put him in a position to be a major impact at Kentucky. He has big goals, and we will help him reach them."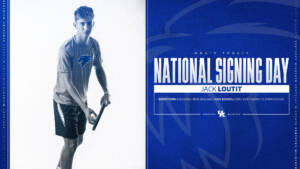 Name: Jack Loutit
Hometown: Auckland, New Zealand
High School: Saint Kentigern / Te Kura School
1199 in the ATP rankings
ITF Junior career high ranking of No. 43
ITF Grade 1 winner – Thailand
Four ITF singles titles, four doubles titles
Junior US Open Doubles semifinalist (alongside Rankin)
Reached the round of 32 in singles at the Junior US Open
Quarterfinalist in doubles at Junior Wimbledon
1 ranked player from New Zealand
16u and 18u New Zealand Nationals winner in 2020
Coach Kauffmann: "Jack is one of the most talented players in this class. He has picked up ATP points already and has been on the big stage in tennis. He is driven and wants to become one of the best in our sport. He is one of those players that can be top 700 in the ATP coming in. A quick lefty with a classy backhand. We will be looking to make his forehand and transition world class."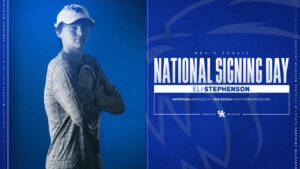 Name: Eli Stephenson
Hometown: Louisville, Ky.
High School: St. Xavier
Blue Chip Recruit ranked No. 18 in the USA
1 ranked player in Kentucky
Two-time Kentucky state champion
Semifinals of J1 Lexington ITF
Easter Bowl Doubles Finalist
492 ITF ranking
Coach Kauffmann: "Eli is a hidden gem. His coach, Alex Gornet, has done a very good job with him and I think this sets him up to be an immediate impact. He has a smooth service motion and will be one of the most improved players in the country his freshman year."
For the latest on UK Men's Tennis, follow the Wildcats on Twitter and Instagram at @UKMensTennis.