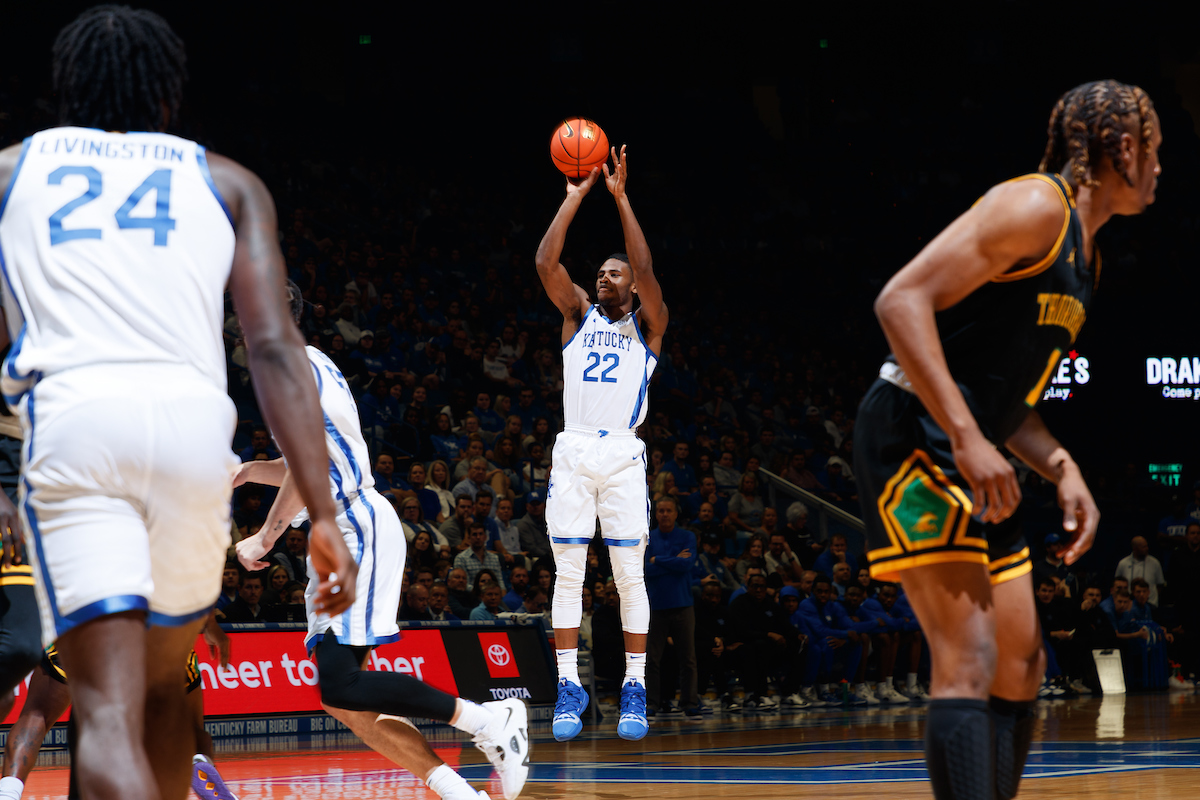 November 10, 2022 - 01:01 PM
Big Blue Preview: Kentucky vs. Duquesne
Preview
In the season opener against Howard, fourth-ranked Kentucky was missing three starters. Both Oscar Tsheibwe and Sahvir Wheeler missed the game due to injury, while Daimion Collins has gone home to Texas following the death of his father.
With those three missing, and only eight scholarship players available, UK head coach John Calipari was forced to play some lineups that might not always play together. Certain players were also asked to play in positions that might not be natural for them.
For freshman Chris Livingston, it was a welcoming situation. Livingston sees himself as a player who can do many things.
"I felt as though my role is to be versatile," Livingston said. "Even when we get the whole team back, it's going to be good for us because we have a lot of guys who are versatile like that."
However, having to play multiple positions does bring its own set of issues.
"It's definitely more of a challenge than being at one position," Livingston said. "The coaches are doing a good job of preparing me, learning the plays from different spots."
Livingston and the Cats beat Howard 95-63 in Monday's season opener. Antonio Reeves led Kentucky with 22 points, while freshman Cason Wallace had 15 points, nine assists and eight rebounds.
Kentucky is now preparing for Duquesne, whom they will meet on Friday, also at Rupp Arena (7 p.m. ET, SEC Network). The Dukes topped Montana 91-63 on Tuesday. Duquesne's Dae Dae Grant made all eight of his field goals, including all six of his three-pointers, on his way to a game-high 25 points.
Cats Open with 95-63 Win over Howard
Antonio Reeves led four Wildcats in double figures with 22 points while Cason Wallace flirted with a triple-double as Kentucky sprinted out to a 49-26 lead at the half before cruising to the 32-point season-opening victory over the Bison Monday night. Some notes on the victory:
• UK improved to 99-21 all-time in season-openers
• UK has won 12 of 14 season openers and is a perfect 14-0 in home openers under John Calipari
• Reeves set a UK-debut record six 3-pointers
• Wallace recorded the second-most assists in a UK freshman debut, while becoming the first UK freshman in school history to have at least 15 points, eight rebounds, and nine assists in a collegiate debut
• Marking his first official game in 595 days, CJ Fredrick showed no rust with 20 points, the sixth 20-point game of his career
• Jacob Toppin notched his first career double-double with 15 points and a career-high 11 rebounds
• Chris Livingston started his first collegiate game, scoring nine points while grabbing four boards
Calipari Receives Jefferson Award
Kentucky men's basketball head coach John Calipari received the Jefferson Award for Outstanding Public Service in Sports by Multiplying Good on Nov. 2. For more than 50 years, Multiplying Good has honored those who put others first. Those receiving the Jefferson Award are empowered to do more, while their stories of extraordinary public service inspire others to action. It is an award that underscores impact.
• Founded over 50 years ago by Jackie Kennedy Onassis, Sen. Bob Taft Jr., and Sam Beard, Multiplying Good is the world's most foremost and highly celebrated organization focused on and honoring public service
• Other recipients of the Jefferson Award include Arthur Ashe, Tom Brokaw, Larry Fitzgerald, Betty Ford, John Glenn, Bob Hope, Steve Jobs, Shaquille O'Neal, General Colin Powell, John D. Rockefeller and Oprah Winfrey
• Calipari is the first men's college basketball coach to receive the honor
Veterans and Depth and Talent – Oh, My!
For the second straight season, John Calipari has constructed his roster with key veterans, an impact transfer and talented newcomers.
• UK is returning seven players from its 26-8 squad that earned a No. 2 overall seed in the NCAA Tournament
• Kentucky returns 58.4% of its rebounding, 51.8% of its assists, 44.3% of its scoring and 42.9% of its minutes
• The Cats welcomed in senior transfer guard Antonio Reeves from Illinois State. Reeves ranked in the top 20 nationally in points per game as a junior, scoring 20.1
• Calipari inked top-10 prospects Cason Wallace and Chris Livingston who were both Gatorade State Players of the Year and McDonald's All Americans
• Adou Thiero and Ugonna Onyenso signed in the late period. Thiero is a fast-rising prospect who led his team to a state runner-up, while Onyenso was a top-25 prospect in the 2023 class and reclassified after helping Putnam Science Academy win the national title