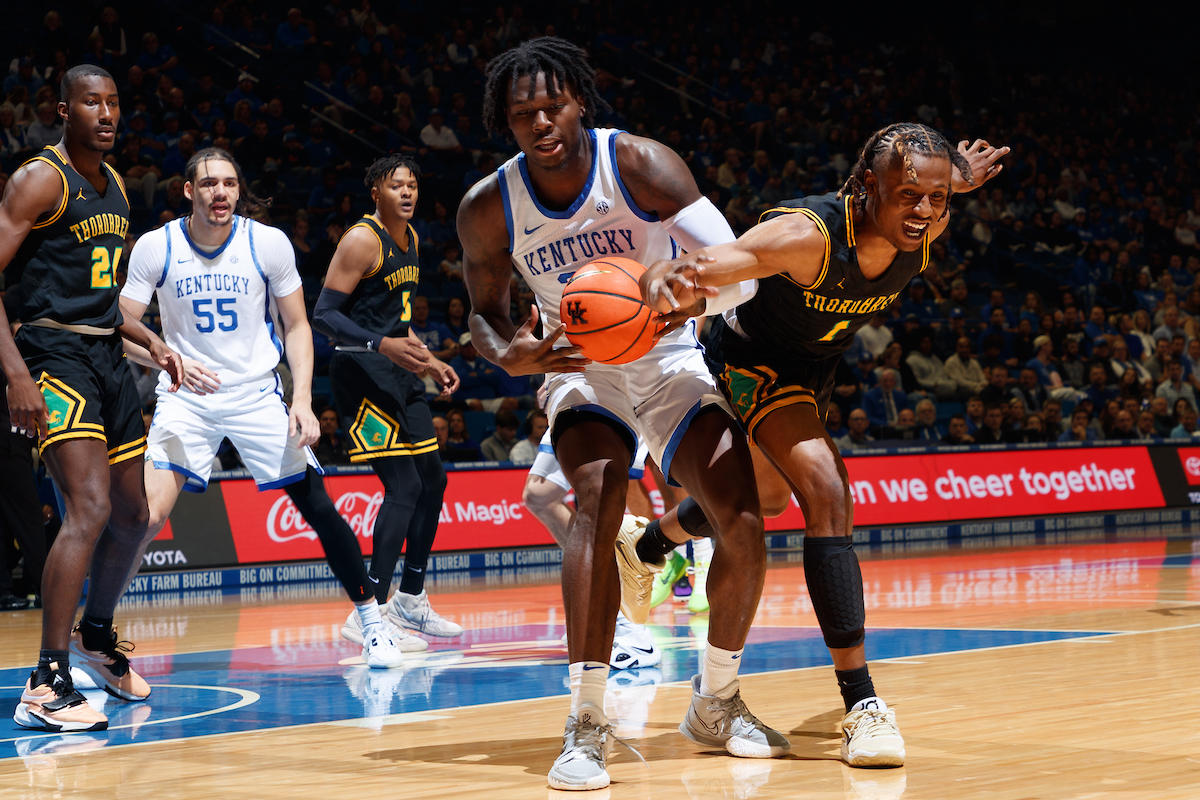 November 6, 2022 - 02:30 PM
Big Blue Preview: Kentucky vs. Howard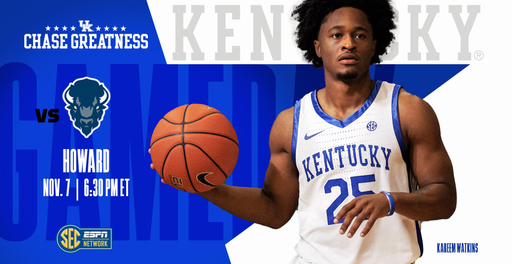 Fourth-ranked Kentucky will begin the 2022-23 regular season on Monday night, hosting Howard at Rupp Arena (6:30 p.m. ET, SEC Network). However, the Cats will not be anywhere near full strength in the season opener.
Kentucky figures to be without as many as three starters in Monday's game. Defending National Player of the Year Oscar Tshiebwe continues to recover from a procedure in October and is not expected to play in this game. Starting point guard, and preseason first-team All-SEC selection Sahvir Wheeler is also dealing with an injury and is a game time decision.
Forward Daimion Collins will not play on Monday. Collins' father Ben passed away last week.
This may seem like a lot to deal with, and it is, but UK associate head coach Orlando Antigua also thinks that it creates opportunities for other players to contribute.
"It's given an opportunity for other guys to step up and show what they can do with those opportunities," Antigua said. "And that's what you want. It's a team. Injuries are part of what happens in the course of a season and that also allows an opportunity for guys to continue to work on their game and now, go out there and demonstrate that they deserve and should use that opportunity for more playing time."
Antigua and the UK staff know what they want to see from the team on Monday.
"We want to see us running, we want to see us flying around," Antigua said. "We want to see us rotate in defending."
As for Monday's opponent, Antigua knows that the Cats need to be prepared.
"Howard brings a different challenge to the table," Antigua said. "They're a really long team, they've got a lot of experience. They have capitalized off the transfer portal. It's a team that's picked to be in the conversation to win their conference. They're really long and athletic and can shoot the ball."
Kentucky in Season Openers
Now in its 121st season of college basketball, Kentucky is 98-21 all-time in season openers entering the 2022-23 season (the Wildcats did not have a schedule in 1952-53 due to NCAA suspension).
• UK has won 11 of 13 season openers under John Calipari
• Kentucky is perfect in home season openers under Calipari
• Included in Kentucky's 98-21 all-time season-opening record was a 34-game winning streak from the 1927-28 season to the 1961-62 season
• Kentucky is 206-17 (92.4%) in Rupp Arena under Calipari
Streaking at Home
With a victory over Ole Miss in the home finale, Kentucky notched a perfect 18-0 record in Rupp Arena for 2021-22. Kentucky will begin 2022-23 on a 19-game home winning streak. That mark is the longest current home winning streak in the Southeastern Conference.
• It was the 14th perfect home season in the 46-year history of Rupp Arena
• It marked the sixth time under Calipari the Cats were perfect at home. Calipari's teams were also spotless in 2009-10, 2010-11, 2011-12, 2014-15 and 2015-16
• UK is 633-77 (89.2%) at home in program history
• The Cats are 206-17 (92.4%) under Calipari
• Calipari owns the venue's longest winning streak at 54 games
Takeaways from the Tune-Ups
Kentucky won both of its exhibition games leading up to regular-season play, defeating Missouri Western State, 56-38, before dominating Kentucky State, 111-53.
• UK improved to 146-12 all-time in exhibition games, including 3-0 vs. Kentucky State
• Kentucky has won its last 25 exhibition games dating back to Nov. 2, 2014, vs. Pikeville. The last loss was Aug. 17, 2014, vs. the Dominican Republic in the final game of the 2014 Big Blue Bahamas exhibition tour
• Jacob Toppin (15.5), CJ Fredrick (14.5), Antonio Reeves (14.0) and Cason Wallace (10.5) all averaged double-digit scoring
• The Cats averaged 9.5 made 3-pointers per game, led by Fredrick who knocked down 7 of 11 (63.6%) in the two games
• Six players logged at least four rebounds per game without reigning National Player of the Year Oscar Tshiebwe appearing in either contest. Ugonna Onyenso (7.0), Wallace (6.0) and Toppin (6.0) led the way
• UK averaged 11.0 blocks per game, with Onyenso accounting for nine in the two games
• Kentucky's defense was stifling once again, holding the two opponents to just 29.3% from the field and 22.9% from 3-point range
• Kentucky was plus-8.5 in turnover margin
• Tshiebwe missed both exhibition games as he recovers from a minor knee procedure performed in October. Sahvir Wheeler missed the Kentucky State game after suffering a right leg injury during the Missouri Western contest. They are both considered day-to-day