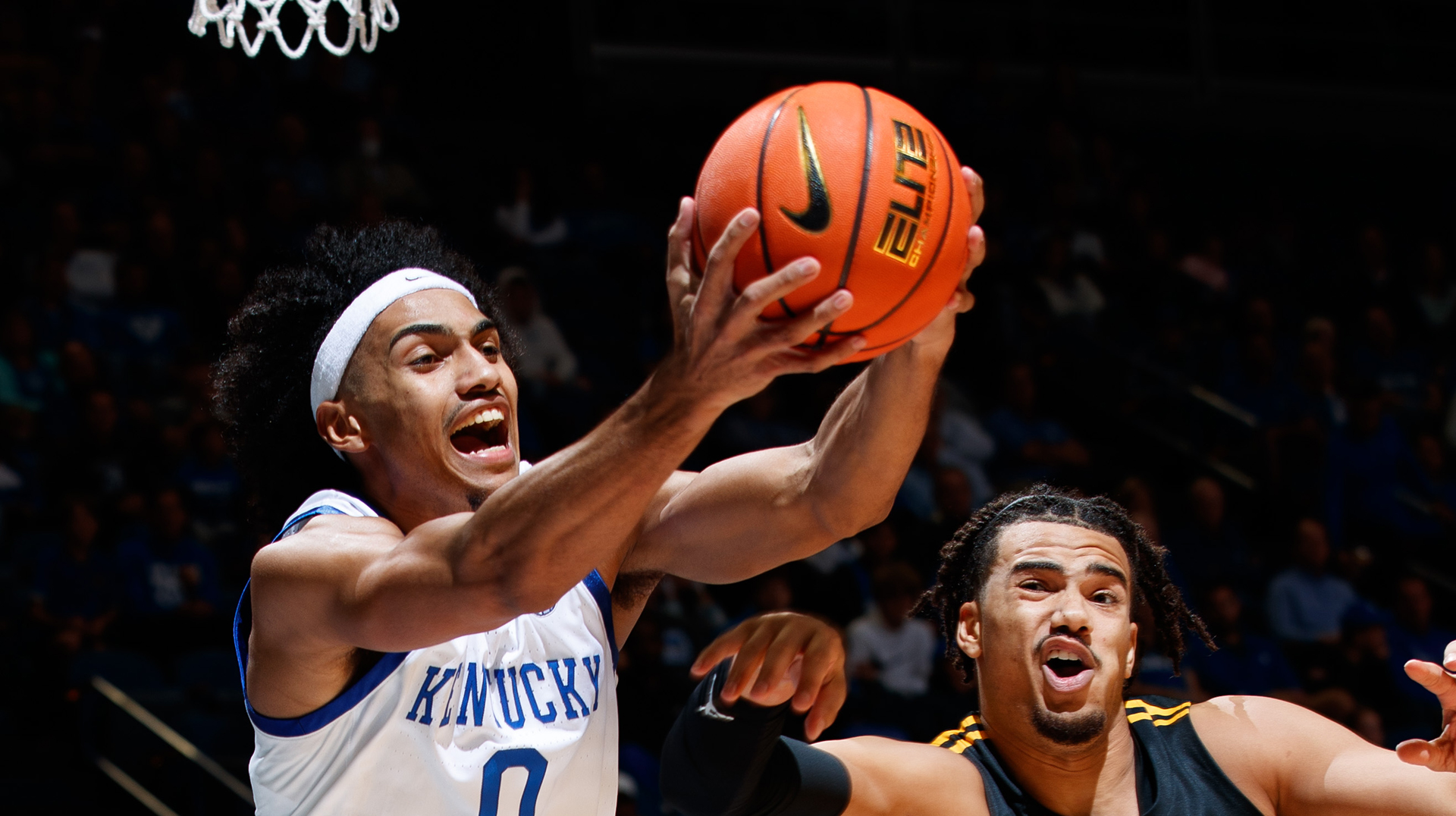 October 30, 2022 - 10:16 PM
Kentucky-Missouri Western State Postgame Notes
UK MEN'S BASKETBALL POSTGAME NOTES
RUPP ARENA AT CENTRAL BANK CENTER | LEXINGTON, KY.
OCT. 30, 2022
ATTENDANCE: 17,735
Final Score: No. 4/4 Kentucky 56, Missouri Western State 38
Team Records and Series Notes
UK improved to 145-12 all-time in exhibition games, including 1-0 vs. Missouri Western.
Kentucky has won its last 24 exhibition games dating back to Nov. 2, 2014, vs. Pikeville. The last loss was Aug. 17, 2014, vs. the Dominican Republic in the final game of the 2014 Big Blue Bahamas exhibition tour.
The Wildcats will play another exhibition game on Nov. 3 vs. Kentucky State at 7 p.m. on SEC Network+ before beginning regular-season play.
The Wildcats begin the 2022-23 regular season on Nov. 7, at home against Howard.
Team Notes
Kentucky limited Missouri Western to 38 points, fewest in an exhibition game since a 74-28 win over Transylvania on Nov. 5, 2012.
MWS shot only 30.8 percent (16 of 52) from the field, including 13.3 percent (2 of 13) from the 3-point line.
Much of the shooting defense was sparked by the Wildcats' 11 blocked shots, led by five rejections from freshman forward Ugonna Onyenso.
UK won the turnover battle, 16-9, leading to a 17-6 advantage in points off turnovers.
UK also won fast break points, 20-4.
Player Notes
CJ Fredrick led all scorers with 15 points, including 4 of 6 from 3-point shooting.
Jacob Toppin also landed in double figures with 10 points, and he added six rebounds.
Leading rebounder for Kentucky tonight was freshman guard Cason Wallace, who came off the bench to score nine points, grab seven boards and add two assists, two steals and two blocks.
Freshman Ugonna Onyenso made an impact on the defensive end with five blocked shots.
Coach John Calipari
UK is 42-1 in exhibition play under John Calipari.
Calipari will enter the season with an 810-241 all-time regular-season record and a 365-101 mark at Kentucky.
In the First Half
Kentucky started Sahvir Wheeler, CJ Fredrick, Antonio Reeves, Daimion Collins and Jacob Toppin.
Fredrick opened the scoring with a jumper-and-one on UK's second possession.
Lance Ware, Cason Wallace and Chris Livingston were UK's first substitutions at 15:03.
With Missouri Western leading 8-7, the Wildcats took control with a 9-0 run.
UK stretched the lead to 24-10 with 4:28 remaining but MWS closed with an 8-2 spurt to make the count 26-18 at halftime.
Toppin's nine points and three rebounds led the UK offense while the Wildcats limited the Griffons to 31 percent from the field (9 of 29).
In the Second Half
Kentucky started the second half with Wheeler, Fredrick, Wallace, Toppin and Ware.
Both teams began the half cold. MWS got the first basket to narrow the count to 26-20 and UK's drought continued until a Toppin steal and fastbreak assist to Fredrick for a 3-pointer with 16:57 remaining.
UK eased out to a 42-28 lead with 10 minutes remaining, but the pesky Griffons replied with five straight points.
UK stretched its largest lead to 20 points at 56-36.