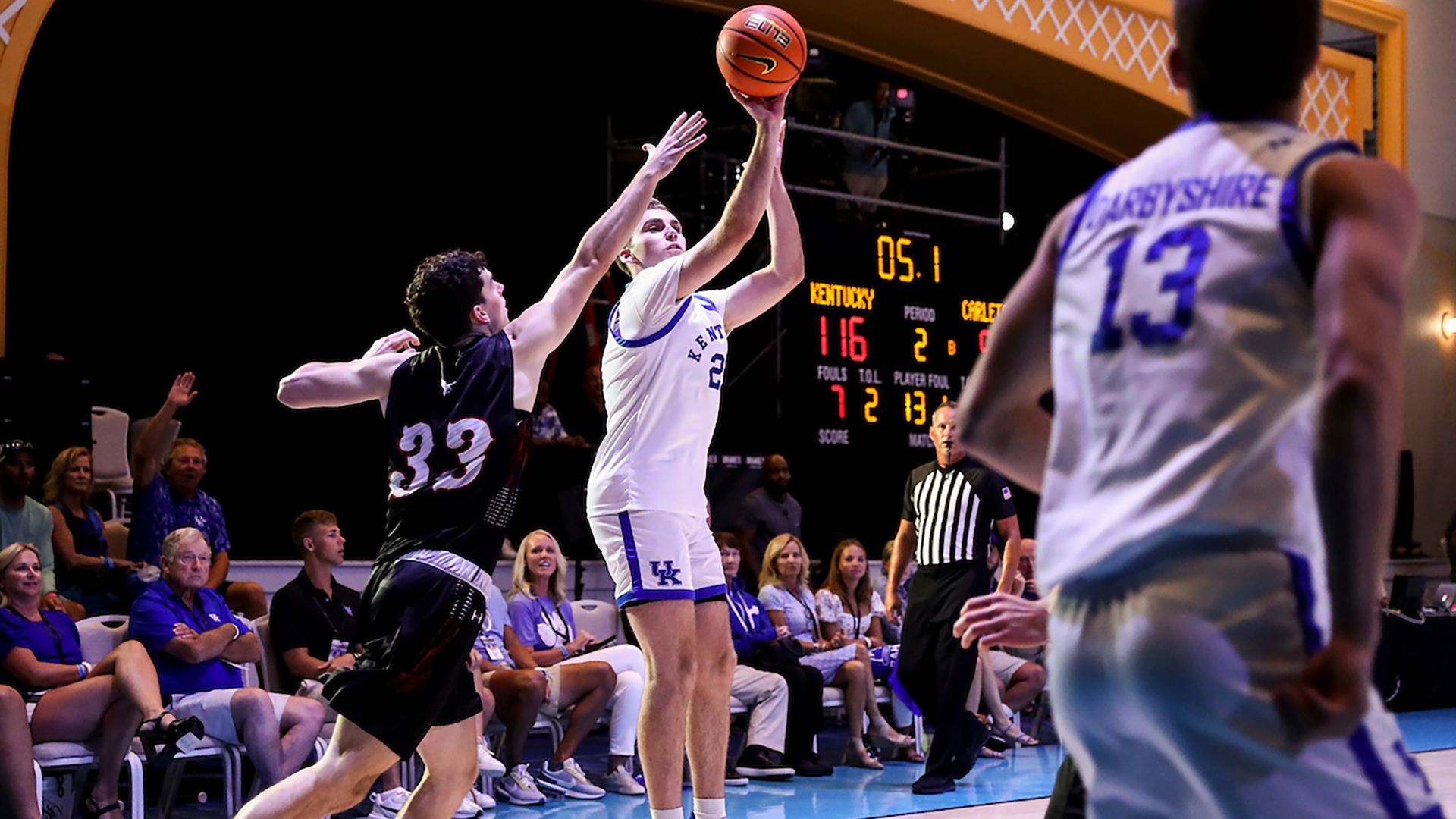 October 29, 2022 - 11:22 PM
Big Blue Preview: Kentucky vs. Missouri Western State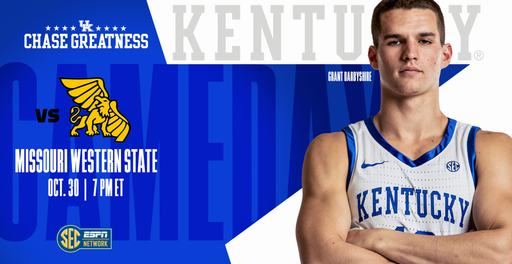 Preview
The Kentucky men's basketball team continues exhibition season on Sunday, hosting Missouri Western State at Rupp Arena.
Kentucky played its Blue-White scrimmage in Pikeville last Saturday, although the Cats were without Oscar Tshiebwe, Lance Ware and Sahvir Wheeler. The status of those three players for Sunday's game are to be determined.
Despite the missing pieces, the Cats had a strong offensive performance, led by senior guard Antonio Reeves. The Illinois State transfer led all scorers with 26 points, hitting five three-pointers and all six of his free throws.
Freshman Adou Theiro had 21 points and 12 rebounds in the game, while senior CJ Fredrick hit four-of-five from long range on his way to 18 points.
The Blue-White came about two months after the Cats completed a four-game tour of the Bahamas. UK went 4-0 on the trip, with no game closer than 24 points. The Cats topped the Dominican Republic Select Team (108-56), Mexico's Tec de Monterrey (102-40), Carleton (Canada) University (118-56) and the Bahamas National Team (98-74).
Reeves led the team in scoring during that four-game tour, averaging 17.0 points per game. Jacob Toppin averaged 16.8 points in the Bahamas, while Wheeler scored 14.5. Tshiebwe posted 11.5 points and 11.3 rebounds per contest, while Cason Wallace (10.5 ppg) and Daimion Collins (10.0 ppg) also averaged double figures in scoring.
Kentucky Connections
Missouri Western State will have a number of faces familiar to Kentucky fans on their bench during Sunday's game. The Griffons are coached by former UK basketball manager Will Martin, who served the team from 2009-12. Martin graduated from UK in 2012.
Two former UK players are on Martin's staff. Jon Hood, who played at Kentucky from 2009-12, and Perry Stevenson, who was a Wildcat from 2010-13, are assistant coaches for MWSU.
MWSU went 14-17 last season and already has one exhibition game under its belt this season. The Griffons rallied in the second half to beat Benedictine 72-67 on Oct. 23. Julius Dixon, a transfer from Morehead State, led MWSU with 18 points in the game. Reese Glover, who is returning to the Griffons after missing much of last season due to injury, added 14 points.
Cats Begin Season Ranked No. 4
For the 13th time in 14 seasons under head coach John Calipari, the Kentucky men's basketball team will begin the season among the preseason top 10 in the Associated Press Top 25. The Wildcats were tabbed No. 4.
• Including this season, Calipari's teams have been ranked inside the top five 11 times
• Eight Kentucky opponents enter the 2022-23 season ranked in the AP Top 25, including four nonconference opponents
• UK will have 10 total matchups in 2022-23 against top-25 opponents
Wildcats Picked to Win SEC
The Kentucky men's basketball team, under the direction of 14th-year head coach John Calipari, was picked by the league's media to win the 2023 Southeastern Conference title. In addition to the preseason poll, senior Oscar Tshiebwe was tabbed the preseason SEC Player of the Year. Tshiebwe was joined on the preseason All-SEC First Team by fellow senior Sahvir Wheeler.
• UK has won the regular-season title 49 times in the history of the program
• Kentucky has captured the SEC Tournament crown 31 times
• It's the 17th time since the 1998-99 season the Wildcats are the SEC preseason favorite
• Calipari has directed his teams to regular-season SEC crowns in 2010, 2012, 2015, 2016, 2017 and 2020
• Kentucky has claimed the SEC Tournament title six times under his direction in 2010, 2011, 2015, 2016, 2017 and 2018
Five Players on National Watch Lists
Five Wildcats — Chris Livingston, Antonio Reeves, Oscar Tshiebwe, Cason Wallace and Sahvir Wheeler — are on major national watch lists to begin the season.
Reeves and Wallace are two of 20 players on the preseason watch list for the Jerry West Award (best shooting guard), while Livingston is on the Julius Erving Award list (best small forward), Tshiebwe is looking to repeat as a winner for the Kareem Abdul-Jabbar honor (best center) and Wheeler was picked as a Bob Cousy Award (best point guard) early-season favorite.
• In its history, Kentucky's Malik Monk (2017) won the West Award, Tyler Ulis (2016) captured the Cousy Award and Tshiebwe (2022) was tabbed the Abdul-Jabbar winner
• Wheeler was a finalist for the honor in 2021-22
• Tshiebwe has been a unanimous selection to preseason All-America teams