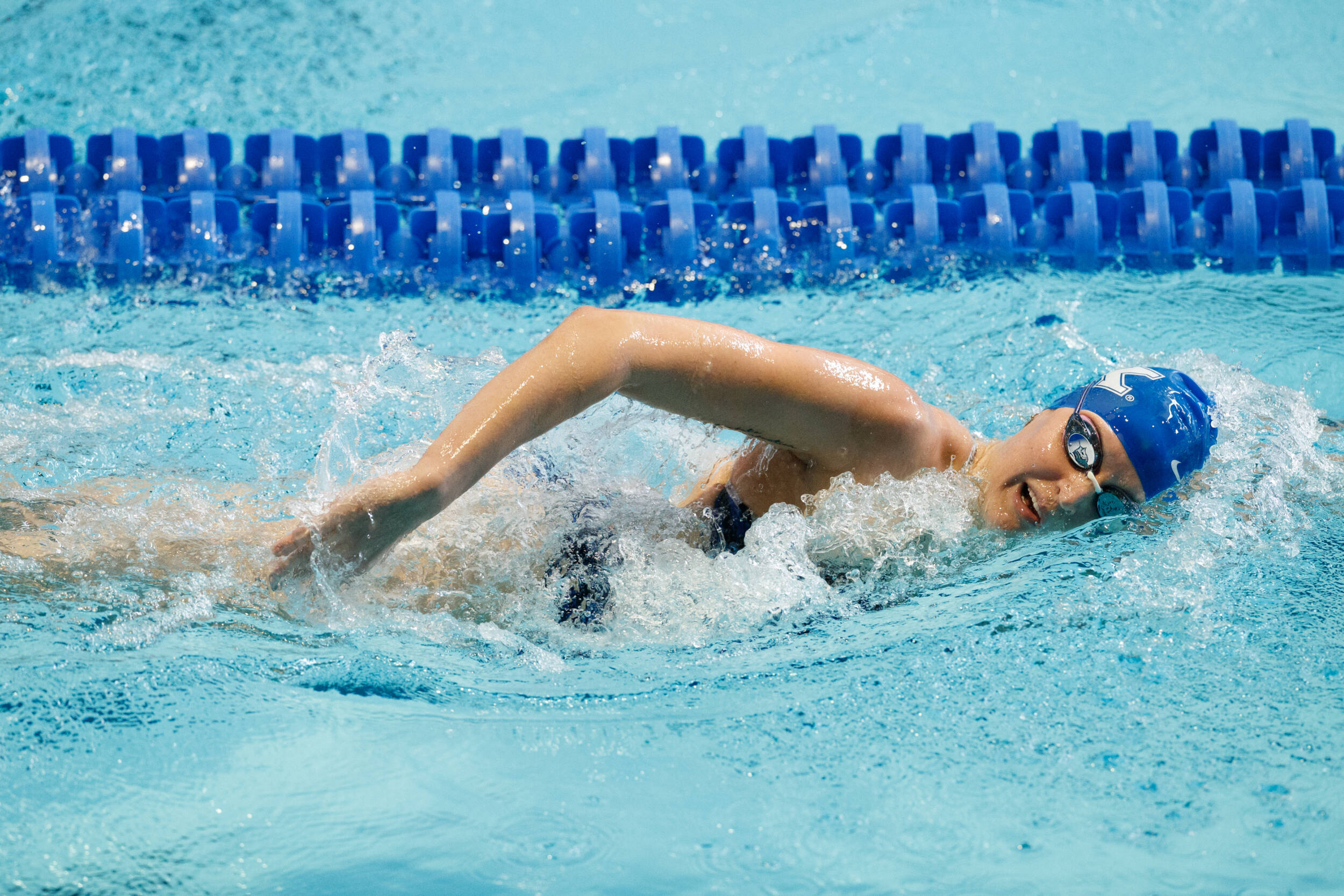 October 21, 2022 - 09:40 PM
Sandidge Sets Program Record, Kentucky Falls at NC State
RALEIGH, N.C. – A program record by freshman Levi Sandidge highlighted Friday's dual-meet action as Kentucky swimming & diving was defeated on the road by NC State at Willis R. Casey Aquatic Center.
On the women's side, the final tally finished at 172-126, while the men's count came out to 188-105. Both NC State squads entered the meet ranked No. 4 in the country in the CSCAA October poll. The Kentucky women also appear in the current rankings at No. 12.
In just the second meet of his collegiate career, Sandidge shattered the UK record in the 1000 freestyle with a time of 8:57.81, almost four seconds better than the previous mark and the second fastest time in the nation this season. The Texas native also came away with the victory in the 500 freestyle, swimming a 4:26.25 to edge the Wolfpack's Will Gallant. Sandidge earned a team-high 18 points for the Wildcat men and has now won all five individual races entered for the 2022-23 season.
Junior diver Sam Duncan also enjoyed a successful day for the Cats, earning 13 points while posting NCAA Zone standards in both the 1-meter and 3-meter competitions.
Kyndal Knight and Izzy Gati were the top Wildcat point earners on the women's side, finishing with 18 and 16 points, respectively. Knight won both diving events for the second consecutive meet with scores of 329.18 and 354.98. Her 1-meter score was the best of her collegiate career and places the fifth-year fourth on the UK all-time top-10. The fifth-year Gati was victorious in the 500 free with a time of 4:50.31, and was joined on the podium by senior Beth McNeese (4:51.92) as the Cats went one-three in the event.
Kentucky managed a clean sweep in 1-meter diving, as Claire McDaniels (288.38) and Morgan Southall (280.58) followed Knight with Zone Standard results. The Wildcats also went one-two in the 3-meter event, with sophomore Abby Devereaux earning a career-best score of 317.03.
Also representing the Wildcat women, Caitlin Brooks (100 back) and Gillian Davey (200 breast) achieved NCAA B standard cut times, swimming their respective races in 53.80 and 2:11.30. Davey's time was good enough for a first-place finish in the 200 breast, as the senior beat out her nearest competitor by nearly a full second.
UK Event Winners: 
Men's 1000 Free – Levi Sandidge (8:57.81)
Women's 200 Breast – Gillian Davey (2:11.30)
Women's 500 Free – Izzy Gati (4:50.31)
Men's 500 Free – Levi Sandidge (4:26.25)
Women's 3-mtr Diving – Kyndal Knight (354.98)
Men's 1-mtr Diving – Sam Duncan (339.98)
Women's 1-mtr Diving – Kyndal Knight (329.18)
Men's 200 IM – Mason Wilby (1:49.18)
Women's 400 Free Relay – Izzy Gati, Grace Frericks, Kaitlynn Wheeler, Lauren Poole (3:24.29)
Men's 400 Free Relay – Victor Martin Roig, Nick Caruso, John Michael Gordon, Brady McInerney (3:05.17)
The Wildcats remain on the road for an SEC dual meet against Texas A&M Thursday, Nov. 3 at 4 p.m.
For the latest on UK Swim & Dive, follow the Wildcats on Twitter and Instagram at @UKSwimDive, and on Facebook at Kentucky Swimming and Diving.