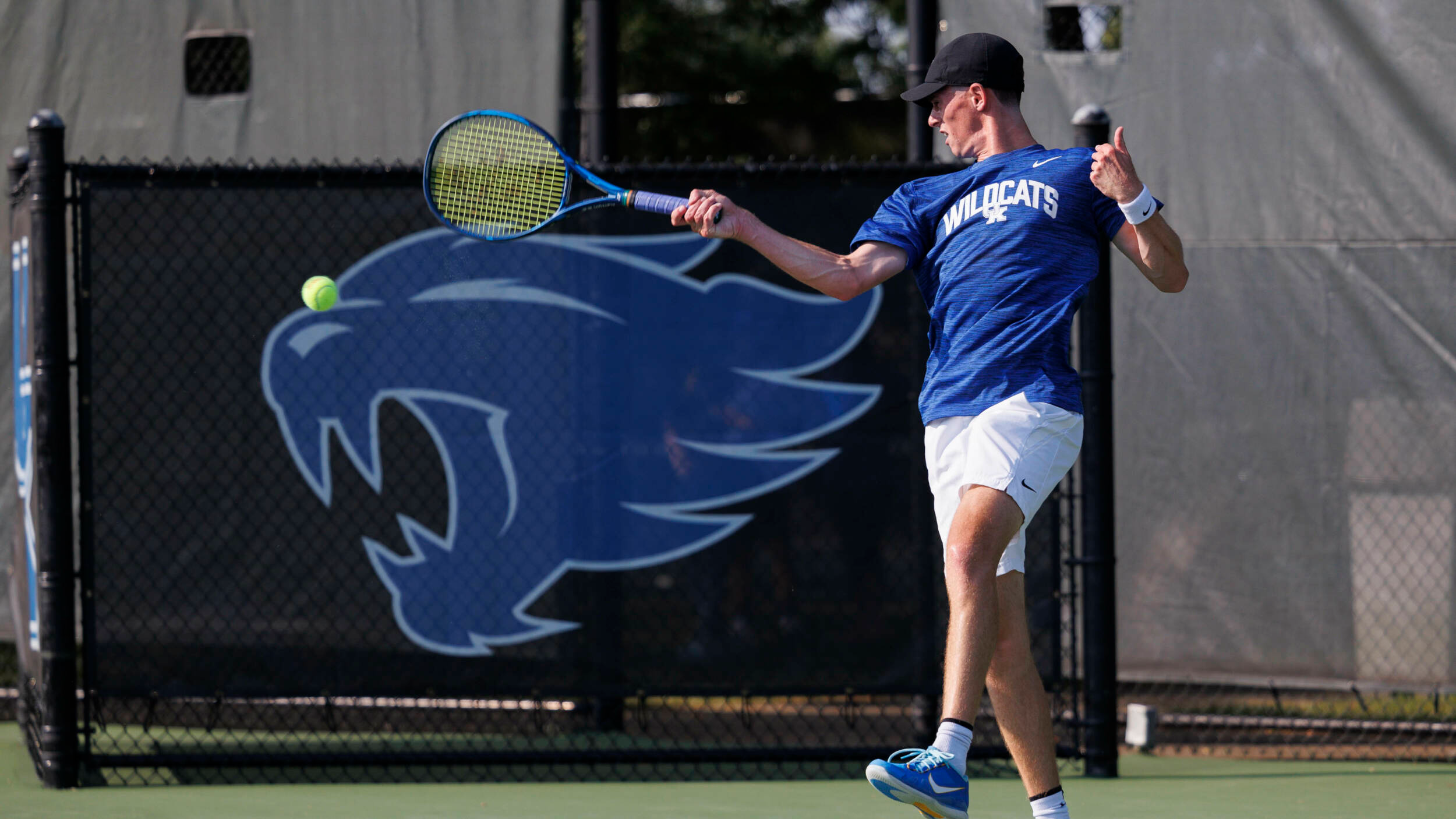 October 12, 2022 - 08:34 PM
Men's Tennis Heads to ITA Ohio Valley Regionals
LOUISVILLE, Ky. – Kentucky men's tennis continues its fall season at the 2022 ITA Ohio Valley Championships, Oct. 12-17. The University of Louisville and Bellarmine University will serve as co-hosts for the tournament, which will feature both singles and doubles competition.
Among the 128 participants in the singles draw are seven Wildcats: Heman Nama, Christophe Clement, Alexandre LeBlanc, Jonathan Sorbo, JJ Mercer, Tate Sandman and Charlelie Cosnet.
UK also has three doubles teams entered in Clement/Cosnet, LeBlanc/Mercer and Sorbo/Nama.
Play kicks off at 9 a.m. on Thursday with first round action. In all, 23 schools are represented at the tournament. Admission is free for those who wish to attend, with streaming of the indoor courts at Louisville also available via Track Tennis.
The singles and doubles finalists from the Ohio Valley Regional will earn automatic bids to the 2022 ITA National Fall Championships, Nov. 2-6 in San Diego.
First round matches:        
Singles
Heman Nama (UK) vs. Patrick Joss (Butler)
Christophe Clement (UK) vs. Ilya Tiraspolsky (Indiana)
Alexandre LeBlanc (UK) vs. Kristoffer Stahlbrand (EKU)
Jonathan Sorbo (UK) vs. Matthew Nice (Bellarmine)
Tate Sandman (UK) vs. Michael Andre (Indiana)
JJ Mercer (UK) vs. Josef Zapletal (N. Kentucky)
Charlelie Cosnet (UK) vs. Trevor Ball (N. Kentucky)
Doubles
Clement/Cosnet (UK) vs. Batchelor/Tang (Bellarmine)
LeBlanc/Mercer (UK) vs. Becchis/Bolton (Austin Peay)
Sorbo/Nama (UK) vs. DeMarco/Bruce (Dayton)
For the latest on UK Men's Tennis, follow the Wildcats on Twitter and Instagram at @UKMensTennis.