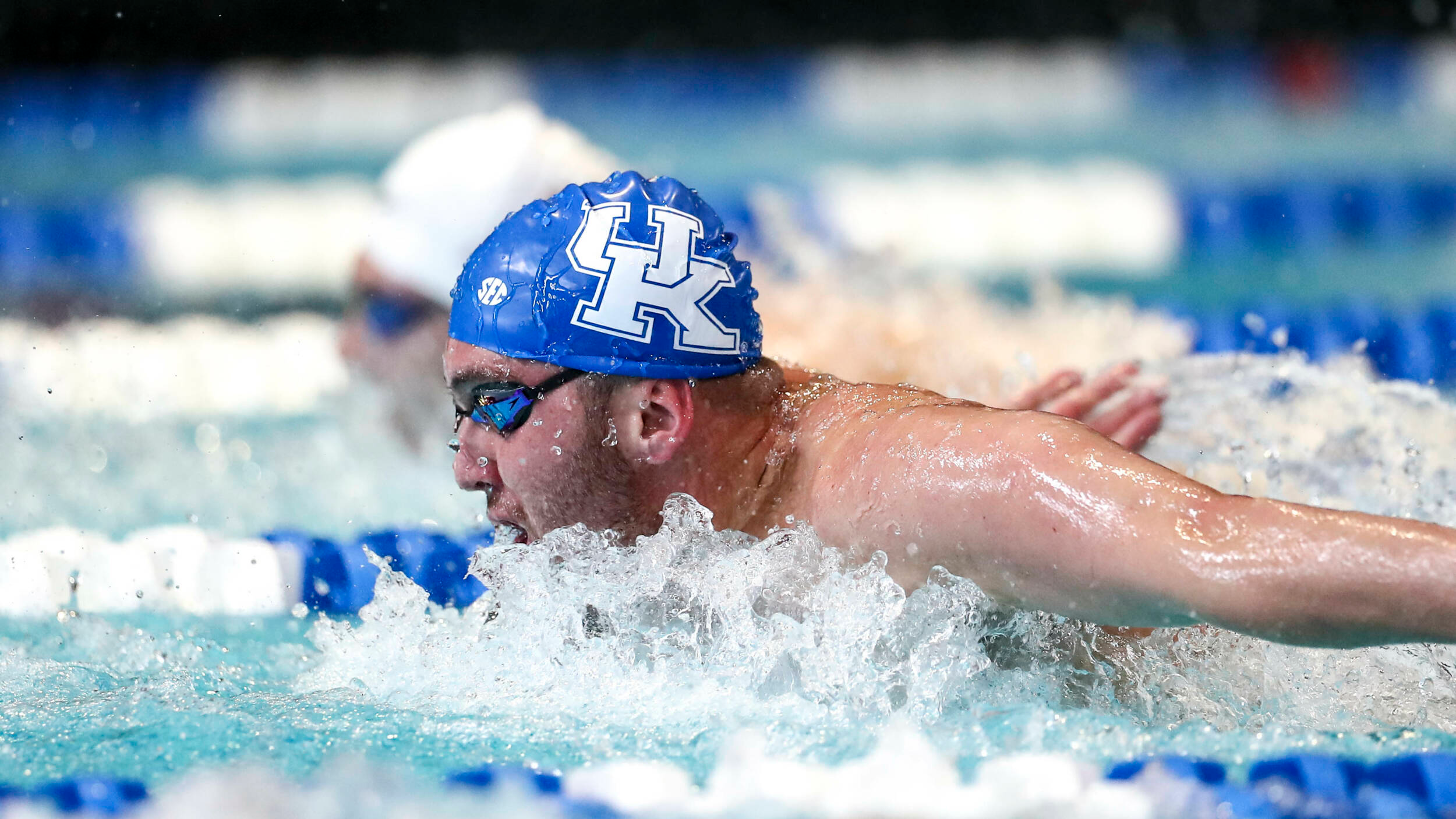 October 5, 2022 - 05:04 PM
Knight, Sandidge Lead Swim & Dive in Loss vs. Indiana
LEXINGTON, Ky. – In its first dual meet of the 2022-23 season, Kentucky swimming & diving fell to Indiana on Thursday at the Lancaster Aquatic Center. A late charge by the UK women was not enough to erase an early deficit as the final score finished in the Hoosiers' favor, 161-139. On the men's side, the Wildcats were topped 201-96 by an IU squad that placed fifth at the NCAA Championship a season ago.
"The team fought hard," head coach Lars Jorgensen said. "Credit to Indiana and their coaching staff for being well prepared. It was our first meet out and we have some things to work on and practice to get ready for the next one."
Despite the loss, several individuals managed noteworthy performances in the season opening meet including freshman Levi Sandidge. The Texas native was victorious in all three individual events he swam in, winning the men's 1000 free, 500 free and 400 IM. Sandidge's time of 9:02.22 in the 1000 freestyle puts the freshman fourth on the UK all-time list in the event.
"I felt good," Sandidge said. "It was solid racing today. I started hurting by the end, but you've got to do what you've got to do and give it all you've got."
The Big Blue men's distance swimmers enjoyed a strong day overall, as the Cats placed first, third and fourth in the 1000 free, 500 free and 400 IM.
Several Wildcat women achieved NCAA B-standard times in the meet including Caitlin Brooks in the 100 back (53.87), Gillian Davey in the 200 breast (2:12.56), Beth McNeese (4:56.03) and Izzy Gati (4:56.09) in the 500 free and Lauren Poole in the 400 IM (4:14.00).
On the diving side, Kentucky senior Kyndal Knight placed first in both the 1-meter and 3-meter competitions as the reigning SEC Co-Diver of the Year reached the zone qualifying threshold in each of the two events.  Claire McDaniels also achieved the zone standard with her score of 268.43 in the 1-meter, as did sophomore Abby Devereaux (268.35). Junior diver Sam Duncan met the zone qualifying marks in the 1-meter and 3-meter dives with scores of 315.60 and 322.13, respectively.
Kentucky returns to action for a road meet at NC State, Friday, Oct. 21 at 5 p.m.
For the latest on UK Swim & Dive, follow the Wildcats on Twitter and Instagram at @UKSwimDive, and on Facebook at Kentucky Swimming and Diving.