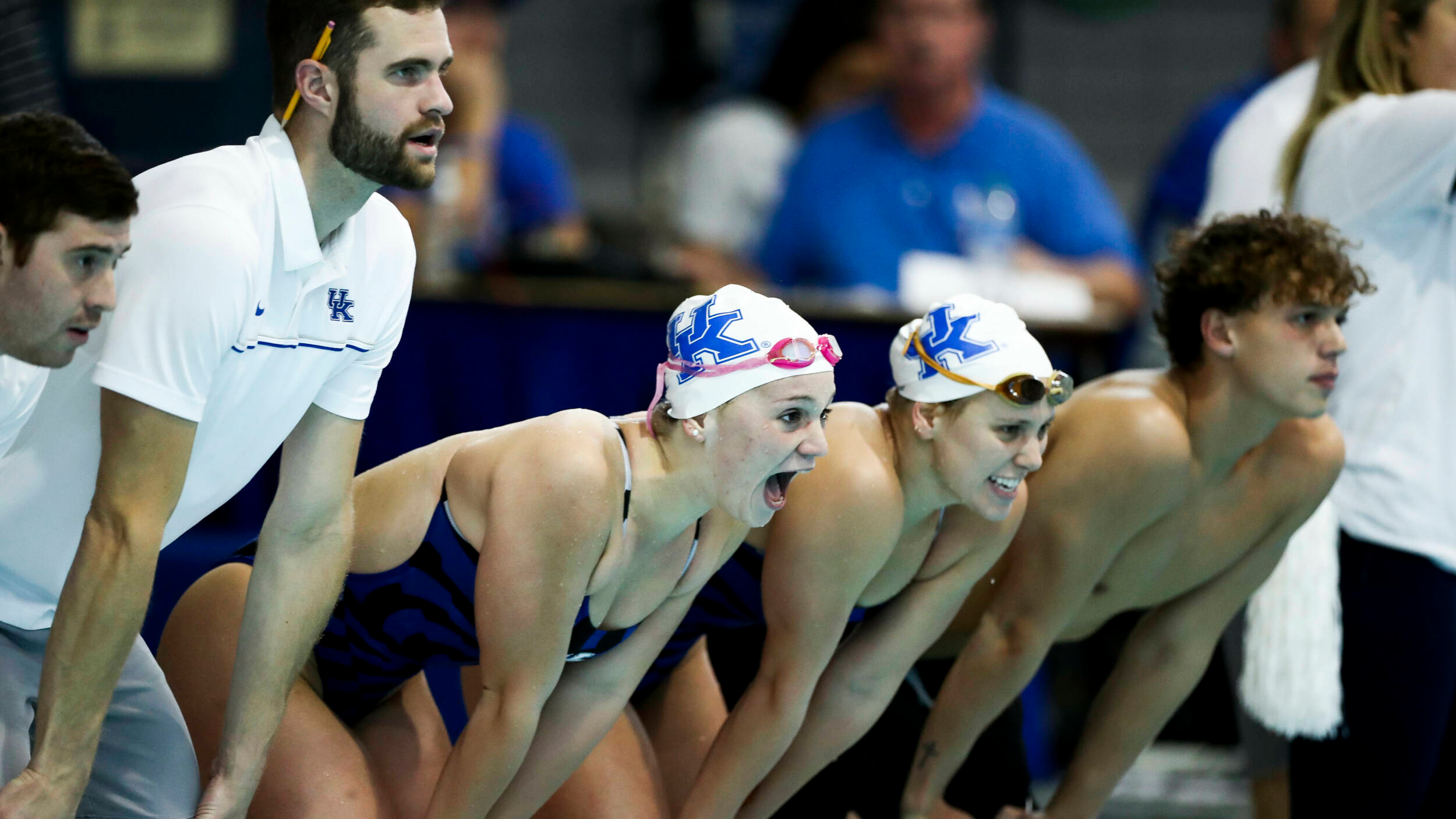 October 4, 2022 - 12:00 PM
Swim & Dive Hosts Indiana for First Dual Meet
LEXINGTON, Ky. – Kentucky swimming & diving is primed for its opening dual meet of the 2022-23 season as the Wildcats welcome Indiana to the Lancaster Aquatic Center this Wednesday at 11 a.m.
The meet is the first of six dual competitions this year for the Wildcats, and pits UK against a formidable IU side which finished fifth and 11th at the men's and women's 2022 NCAA Championships, respectively.
The Kentucky women return seven All-America selections from a team which placed 12th at NCAA's a year ago. Caitlin Brooks, Gillian Davey, Izzy Gati, Kyndal Knight, Lauren Poole, Beth McNeese and Anna Havens-Rice are joined by Swim Swam's No. 15 ranked freshman class, who will look to help UK return to the top of the SEC.
The men's team also brings back several top performers from last season including first-team All-American, Mason Wilby, and second-team All-SEC selections Max Berg, Jakob Clark and Victor Martin Roig. An exciting freshman class, which appeared in Swim Swam's recruiting rankings for the first time in program history at No. 13, is headlined by long distance specialist, Levi Sandidge.
The Hoosiers are poised to be among the top teams in the nation once again, returning a total of 20 All-Americans – 11 women and nine men. Brendan Burns (200 fly) and Tarrin Gilliland (platform diving) are among those back for IU, each coming off individual national titles at NCAA's last season.
Kentucky and Indiana met last October in Bloomington with the Hoosier women earning a 162-138 win, while the IU men claimed a 171-115 victory. Later in the season, UK and IU finished separated by just half a point at the 2022 NCAA Women's National Championship.
Live results for Wednesday's meet will be available on the Meet Mobile app. Admission is free to the public.
Order of Events:
W 200 Medley Relay
M 200 Medley Relay
W 1000 Free
M 1000 Free
W 200 Free
M 200 Free
W 100 Back
M 100 Back
W 100 Breast
M 100 Breast
W 200 Fly
M 200 Fly
W 50 Free
M 50 Free
W 1 mtr Diving
M 3 mtr Diving
W 100 Free
M 100 Free
W 200 Back
M 200 Back
W 200 Breast
M 200 Breast
W 500 Free
M 500 Free
W 100 Fly
M 100 Fly
W 3 mtr Diving
M 1 mtr Diving
W 400 IM
M 400 IM
W 400 Free Relay
M 400 Free Relay
For the latest on UK Swim & Dive, follow the Wildcats on Twitter and Instagram at @UKSwimDive, and on Facebook at Kentucky Swimming and Diving.