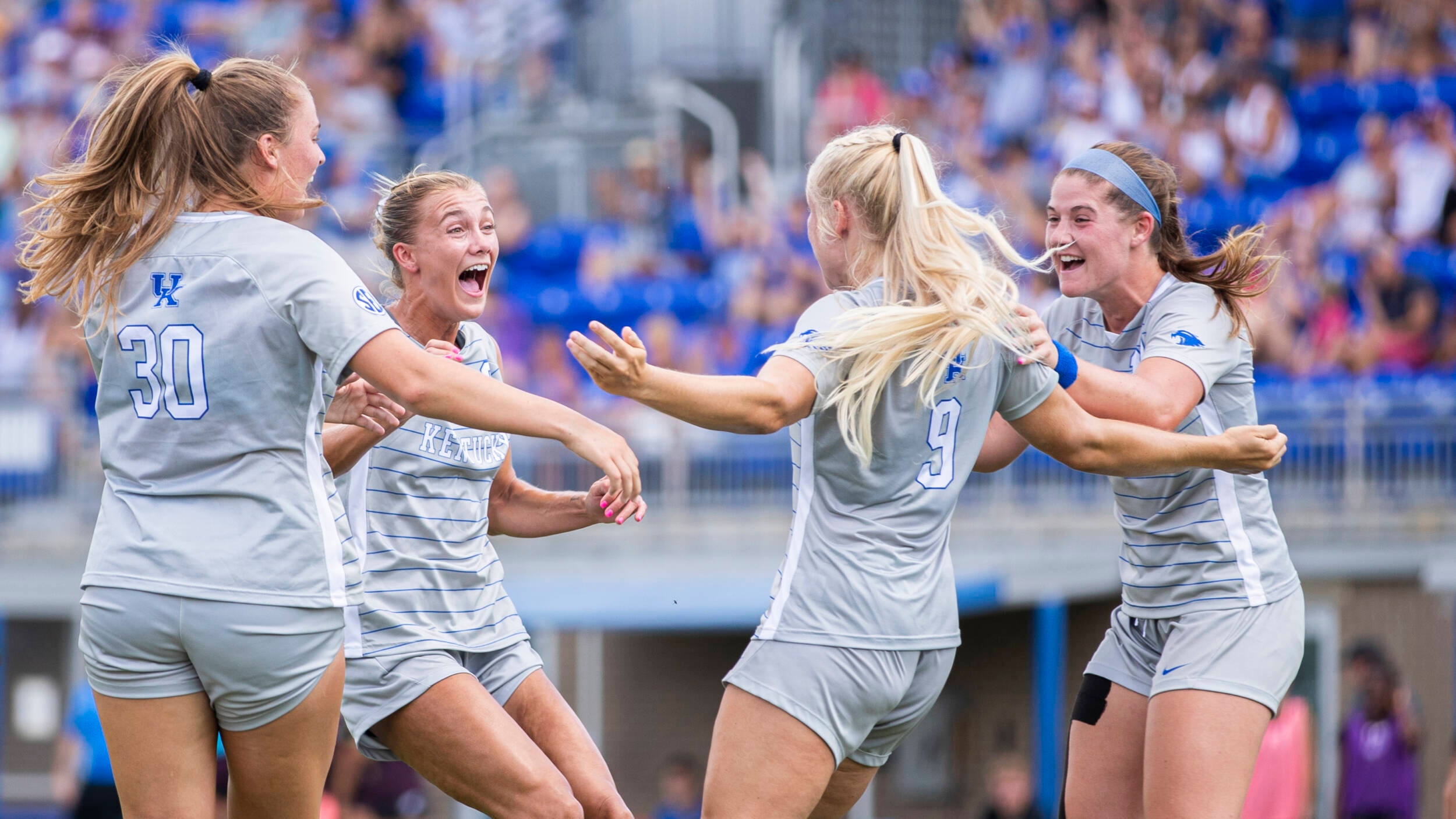 August 28, 2022 - 04:33 PM
Transfers Dazzle as Kentucky Takes Down EKU, 4-0
LEXINGTON, Ky. – The win belonged to Kentucky, but the assist came from Milwaukee, Wisconsin. Three transfers from head coach Troy Fabiano's former school found the back of the net during what was a dominating 4-0 win for UK on a steamy Sunday at the Wendell and Vickie Bell Soccer Complex.
The victory moves the Wildcats to 4-0-0 on the 2022 season, their best start since 2012. The team has scored a whopping 13 goals thus far from a total of 10 different players and is outscoring its opponents by a margin of 13-2.
While Milwaukee certainly would have its time in the limelight, it was a UK returnee who was first on the scoresheet as Jordyn Rhodes scored her team-leading third goal of the season in the 15th minute to make it 1-0. The goal makes it four straight games in which the 'Cats have struck first. The senior made a back post run and used her head to direct a well-placed cross from Hannah Richardson past the Colonels' keeper for what was career goal number 33.
The remainder of the half belonged to former Panthers as Maggy Henschler, Taylor Hattori and Lesley Kiesling all scored their first goals in a Kentucky uniform in a span of just 25 minutes. In the 21st minute, Henschler crept onto the end of a Úlfa Úlfarsdóttir corner, slamming home a volley with her right foot from close range. Then, at 39:39 in the opening half, a failed EKU clearance allowed Hattori to blast a one-timer from just outside the box into the bottom left netting, bringing the Kentucky advantage to three. UK was not done yet, however, as Lesley Kiesling joined the festivities with just seconds remaining in the half, dribbling down the middle of the pitch before making a quick cut around her marker and slotting a right-footed shot past an outstretched Lauren Seedlock in net.
No goals were scored in the second half as both teams made significant substitutions over the course of the 45 minutes. A total of 24 Wildcats saw the field on the day while 27 Colonels made an appearance. For UK, Josie Knight, Paige Archbold and Peyton Rimko all saw action for the first time this season.
Shots finished 17-1 in favor of the Cats, with Kentucky also leading in the shots on goal category, 8-1. Wildcats' goalie Tallulah Miller posted her second shutout of the season in net while earning her fourth win. UK also earned a season-high 10 corners in the match to just one for EKU.
The Wildcats will face another in-state foe on Thursday as the team travels to Western Kentucky to face the Hilltoppers at 8 p.m. EST. The game can be viewed live on ESPN+.
For the latest on UK Women's Soccer, follow the Wildcats on Twitter and Instagram at @UKWomensSoccer, on Facebook and on the web at UKathletics.com.