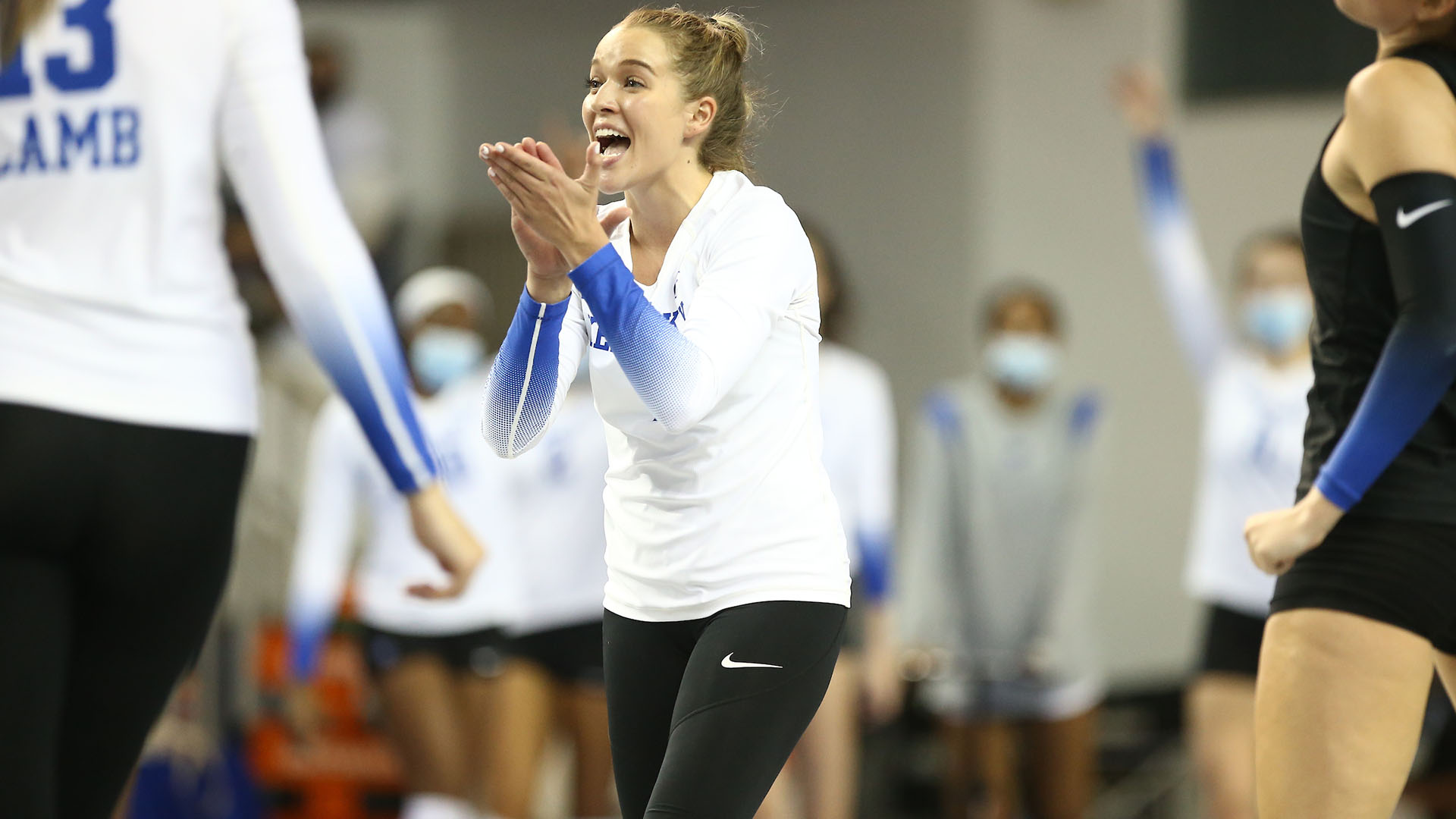 August 22, 2022 - 11:40 AM
Maddie Berezowitz Hopes to Create More Memories This Season
Maddie Berezowitz could have never predicted all of the things that she's experienced during her college volleyball career at Kentucky. Some of it has been good, some of it not as good. But for Berezowitz, it has all been memorable.
Now, as she approaches her senior season, the Wisconsin native is beginning to absorb the roller coaster ride that she has experienced the last three years.
"It's crazy. I literally just feel like yesterday that I got here," Berezowitz said. "It's been a crazy three and a half years. Covid took a year and a half of that. But it's been pretty cool three years."
Of course, one memory – the 2020 NCAA championship – stands out above the rest.
"The time after the national championship," Berezowitz said when asked about her favorite memory so far. "We got back to school and had about two or three weeks when we were the biggest celebrities on campus. Everyone knew who we were and it was really cool. It was just awesome."
Berezowitz has been able to be a leader on the team despite not being a starter. It takes a special person to be able to do that, but Berezowitz has passed that test with flying colors.
"I think I've grown a lot as a leader in terms of understanding what's important and what's not and gaining perspective on things," Berezowitz said. "So, I think it's going to be pretty cool to see how it plays out."
She admits that she got some good advice on leadership from UK head coach Craig Skinner.
"We've had a lot of talks with Craig about what does leadership look like and what kind of leader are you," Berezowitz said. "The best advice I got from him was, you don't need to be Alli (Stumler) or Madison (Lilley) or Gabby (Curry) or Leah Edmond. You need to be an accumulation of the best leaders you have played for. That's kind of the mindset that I'm taking – what piece of leadership did I like the best about each of them and just try to be that for these underclassmen."
Berezowitz credits the players who came before her for setting positive examples for her and her teammates.
"I think that the people before me did such a good job of laying the foundation," Berezowitz said. "So now, it's just a matter of maintaining that and building off of that. I think it's really important to just know the standards that have been set and continue to build on those."
As for this season's team, Berezowitz likes what she has seen so far.
"I think we have a really cool, spunky, fiery group of girls this year and a lot can happen when people want to win," she said. "It's going to be really exciting as long as everyone stays on board and keeps chugging away."
As for her role on this year's team, Berezowitz has been working hard in order to make an even bigger contribution in 2022.
"I had a really good spring. I was probably playing the best I've ever played," she said. "I could work on my game and not worry about the outcome. I am excited to see where this fall is going to go."
Berezowitz will continue to be a positive force for this year's team, while hoping to create more memorable moments in the process.