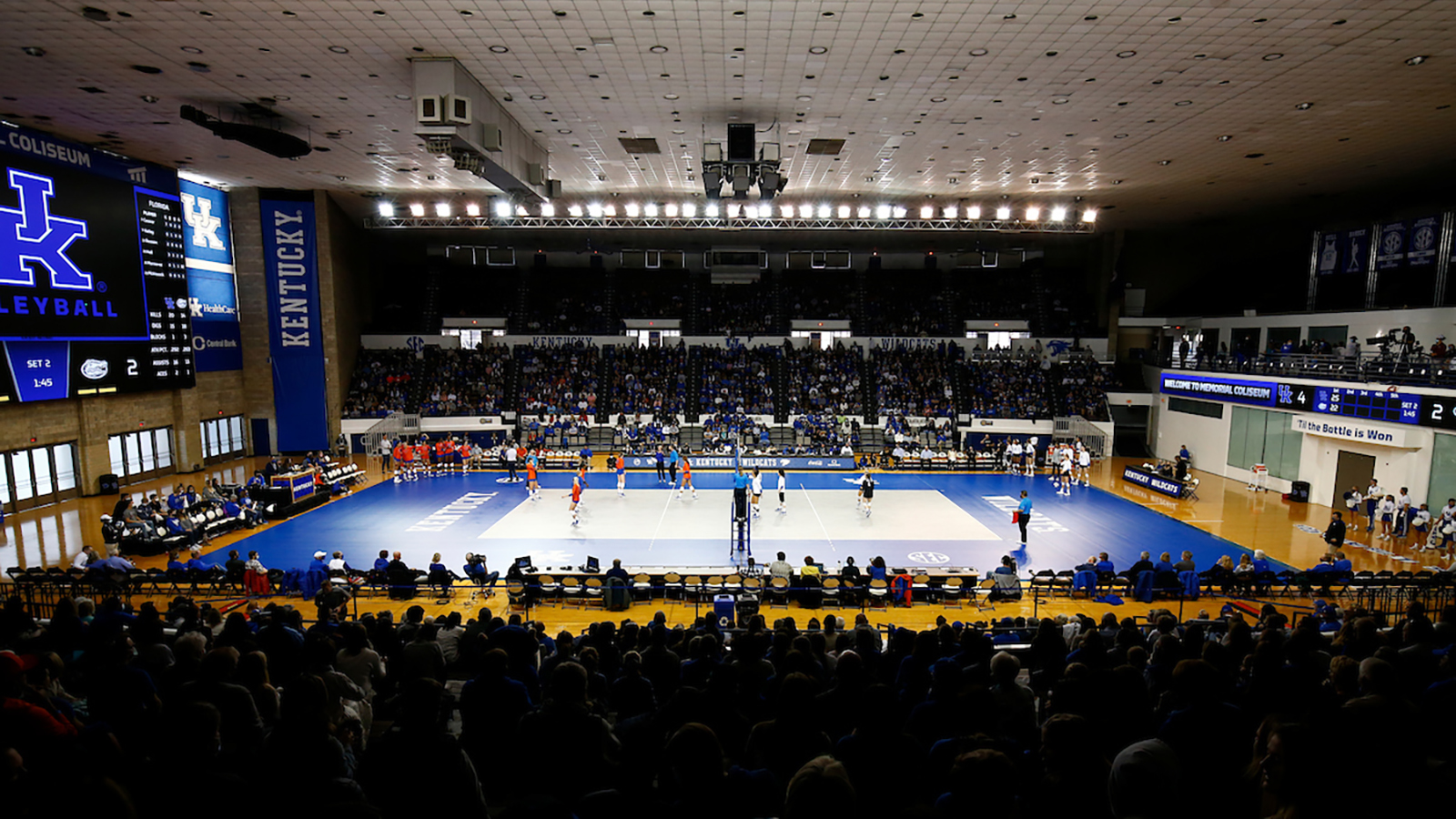 August 15, 2022 - 12:55 PM
Talented Newcomers Ready to Contribute for UK Volleyball
Over the past two years, the Kentucky volleyball team has seen seven familiar faces graduate and move on. The 2020 group that led UK to its first national championship, included Gabby Curry, Madison Lilley, Kendyl Paris and Avery Skinner. Last year, the Cats lost seniors Cameron Scheitzach, Alli Stumler and Lauren Tharp.
So it's no surprise that the 2022 Cats will feature several new faces, including two true freshman, a redshirt freshman and three transfers. Here's a look at each new player on the UK roster.
Kelly Franxman, transfer, Taylor Mill, Ky.
After playing four seasons at Xavier, Franxman had a chance to play for Kentucky and took it. And no one is more excited about that than her father, Mark.
"My dad is a huge Kentucky fan," Franxman said. "They are super excited and can't wait to come down and watch games. It's been a dream."
As for what brought her to UK, Franxman did not hesitate.
"The culture here and the people here," Franxman said. "The people here literally make this place so special. The team has been amazing."
Franxman had 480 career kills at Xavier and knows what she can bring to this year's UK team.
"I'm a little undersized on this team, which is funny because I'm not small," the 6-0 Franxman said. "I'm more of a 'shotty' player, find ways to score points. Gritty."
Franxman has a pair of goals in mind for the season.
"I want a ring. I want two rings (SEC and NCAA), actually," she said. "That's the goal."
Lane Jenkins, transfer, Lexington, Ky.
Jenkins played high school volleyball at Lafayette and went to Loyola (Chicago) for her freshman season but has since transferred back to play for UK. Her love for Lexington brought her home.
"No place is like here," Jenkins said. "I went up to Chicago and the city was nice but it wasn't for me. I love Lexington and being around people that have the same views. It's been super easy coming back. Everyone here has been so welcoming. I'm more than thrilled to be here."
Jenkins played in all 32 of Loyola's matches last season and had a team-high 720 assists. Jenkins hopes that she and Emma Grome can help each other, which in turn will benefit the team.
"I think just communication back and forth in practice," Jenkins said. "Just little feedback here and there because whatever we say to each other is going to benefit us and we want the best for each other."
As for her role on this year's team, Jenkins knows what she can bring to the team.
"A leader, someone to go to if you ever need anything," she said. "Just trying to find a spot where I fit in. Just finding my role in all of it."
Haley Melby, true freshman, Munster, Ind.
Melby is a 6-2 outside hitter who, despite being from Indiana, immediately felt at ease when visiting Kentucky.
"Just the second I got on campus, it felt like home," Melby said. "All of the coaches are amazing. I love spending time with them, talking to them. All of the players were extremely welcoming."
As for the early part of fall practice, Melby knows that it will be a continual learning process. But she also knows that she has talents to offer the team.
"Definitely just working right now to get everything the coaches want. Take a whole lot in," she said. "Something I bring to the table is my energy. I'm very energetic."
Melby would like to follow in the footsteps of those who have brought the UK program to national prominence.
"I want to do the same. National championships. I want to be able to do that for the team," Melby said. "I'll do whatever the team needs me to do to get there."
Adanna Rollins, transfer, Carrolton, Texas
Rollins is expected to contribute right away, as she has done during her previous four years in the college game.
She started her career at Minnesota, where she played three seasons before transferring to Penn State last year. Now, she comes to UK with more than 1,000 kills in her career already. She likes the spirit of the team at UK.
"I think the competitive nature here really drew me to Kentucky. The girls were really great and the coaching staff is unbelievable," Rollins said. "It's been a great decision. I've had a great summer here with the girls. It's been very competitive with in workouts and I'm just very excited for the season."
As for what she brings to the court, Rollins knows exactly the type of player that she is.
"I'm a very calm player. Obviously, the game is very exciting but I think I'm very calm," she said. "I don't get too hot or too cold. I'm just really excited to show what I can do."
Audrey Whitworth, true freshman, Hardinsburg, Ky.
Whitworth joins the Cats and, in doing so, becomes the first Kentucky player who is not from one of the metropolitan areas (Lexington, Louisville, Northern Kentucky) to wear the blue and white. Whitworth is proud to be the player to break that ceiling.
"That's awesome," Whitworth said. "It shows that small town kids can also get a great opportunity."
As with most people in her area, she grew up as a Kentucky fan. Both she and her family are thrilled to have her playing for the Cats.
"My family is die-hard Kentucky," Whitworth said. "It's like a dream, it's amazing. They're so excited. They can't wait. I can't wait."
As for the step up in competition that playing Division I volleyball entails, Whitworth is aware and prepared.
"It's totally the opposite of what I came from," Whitworth said. "To know that they want it just as bad as you do. And the talent is unbelievable."
Jordyn Williams, redshirt freshman, Lantana, Texas

Williams is not technically new to the UK program, having spent last year with the team. However, due to an achilles injury, she missed the entire season and will be seeing her first game action in 2022.
Having to sit on the sidelines all of last year was hard for Williams but she tried to make the most of it.
"It was extremely tough. It's hard watching, especially your first year when you want to be out there with the girls," Williams said. "I learned a lot, even being on the sidelines. I think learning it just as important as playing."
Specifically, Williams kept an eye on the UK middle blockers, which is her position.
"I watched my position group a lot," Williams said. "Seeing what I can work on when I get back because I know that even last year, I knew there were some things I wanted to get better at coming into this season."
So, what can fans expect to see from Williams upon her return to the court?
"You'll see someone stronger, stronger than I was last year," Williams said. "It's nice to have a year under my belt, knowing what the the coaches want, what we do here as a team, how things work. I hope people can see the progress I've made over the past year."
The Big Blue Nation should get to know these names and faces, as all six of these players could play a role for the Cats this season.