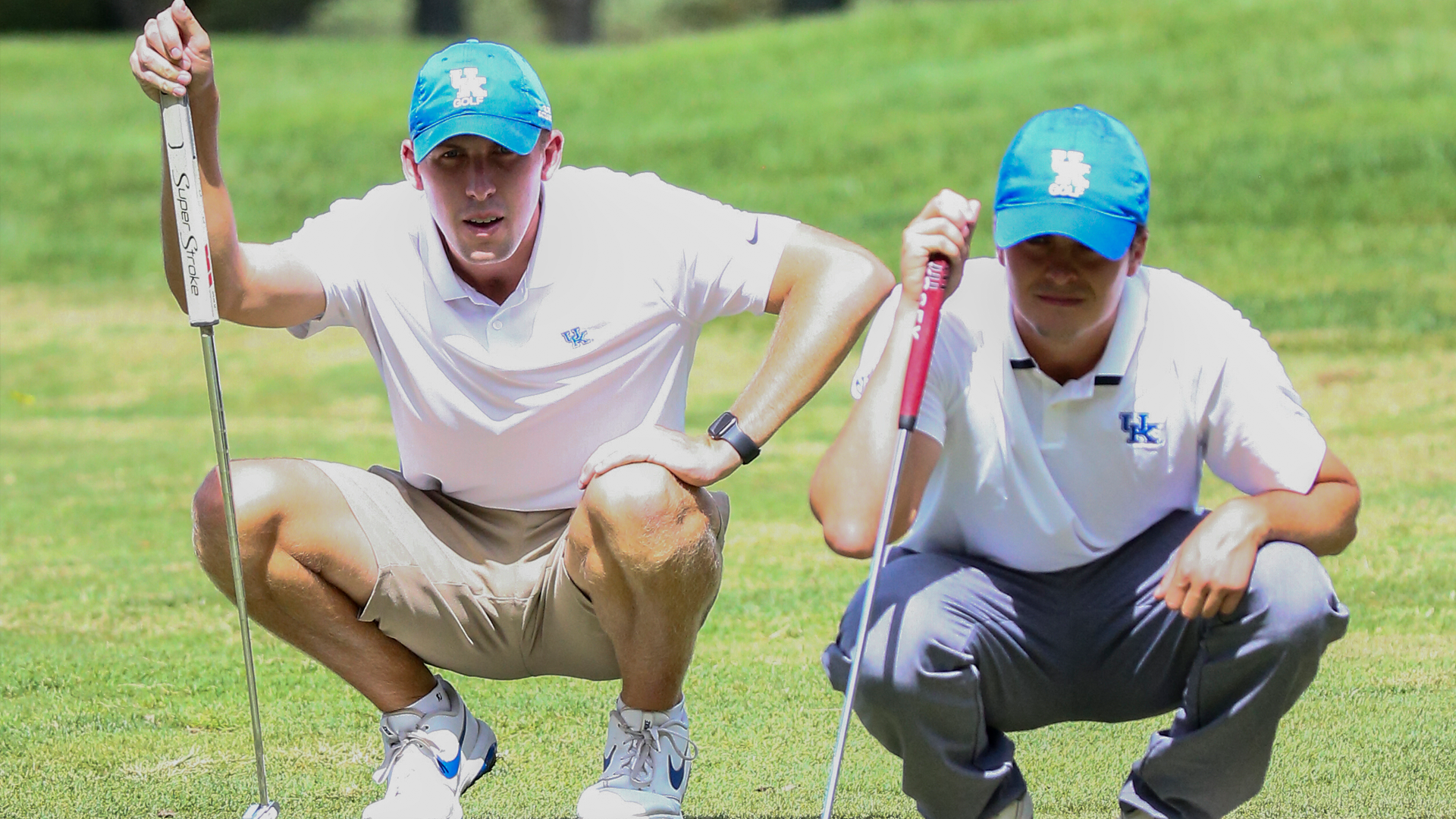 Four Wildcats Honored as Golf All-America Scholars
LEXINGTON, Ky. – Kentucky men's golfers Jacob Cook, Alex Goff, Campbell Kremer and Garrett Wood were named Early Wave Srixon/Cleveland Golf All-America Scholars for their outstanding effort both on and off the course.
UK's four recipients are among 440 players in Division I golf to claim the honor. To be eligible a player must be at least a sophomore academically, participate in at least 50% of the team's competition, have a stroke average under 76.0 and maintain a minimum cumulative grade-point average of 3.2. A recipient must also be of high moral character and be in good standing at his college or university.
Kentucky's program was also selected as an All-Academic Team by the organization with a combined grade-point average of 3.0+.
Cook capped his final season with the Wildcats with the statistically best of his career. He started all 10 events and appeared as an individual in the Genesis Open Collegiate Showcase. The Frankfort, Kentucky native fired a career-low 71.77 stroke average, ranking second on the team. He had a team-high five top-10 finishes and a team-best seven finishes in the top 20. Cook secured a career-low round (66), a career-low 54-hole total (204) and a career-best finish (T4) throughout the season. He was named to the Southeastern Conference Community Service Team for a record fourth time and was an All-SEC Academic Team selection. Cook graduated with a master's degree in Finance in May of 2022.
Goff started all 10 events for the Wildcats and earned a career-low 71.97 stroke average for the season, playing 29 total rounds. He produced four top-20 finishes and had 15 par-or-better rounds. The Kings Mountain, North Carolina native earned a tie for 18th at the SEC Championship, the best finish for any UK player in the event. He also tied for 23rd at the NCAA Columbus Regional, boasting a tournament-best round of 70 during the final round. Goff graduated in December of 2021 with a degree in finance. Goff was also an All-SEC Academic Team selection.
Kremer saw action in nine events and made eight starts, including all seven events during the spring schedule. The Louisville, Kentucky native logged a career-best 72.89 stroke average and generated 12 par-or-better rounds. Kremer produced a pair of top-20 finishes, including a tie for 16th at the Steelwood Collegiate Invitational. He fired a 3-under par 54-hole total, which the score and finish were both career bests. He started both the SEC Championship and NCAA Regional for the first time in his career. Kremer was tabbed to the SEC All-Academic Team at the conclusion of the spring.
Wood started all 10 events and led the team with a 71.55 stroke average and 18 par-or-better rounds. The Mason, Ohio native had four top-10 finishes and six top-20 finishes. He tied for 14th at the Old Town Collegiate Invitational with a 5-under scorecard and a career-low-tying 205 54-hole total. The 205 scorecard ranks as the sixth-lowest tournament score in the Brian Craig era. He also registered a career-low-tying 65 during the final round. His best finish of the season was runner-up at the Steelwood Collegiate Invitational. He tied for seventh at the NCAA Columbus Regional which was the best finish on the squad. Wood was tabbed Academic All-SEC for the second season in a row.
For the latest on the Kentucky men's golf team, follow us on Twitter, Facebook, Instagram and on the web at UKathletics.com.