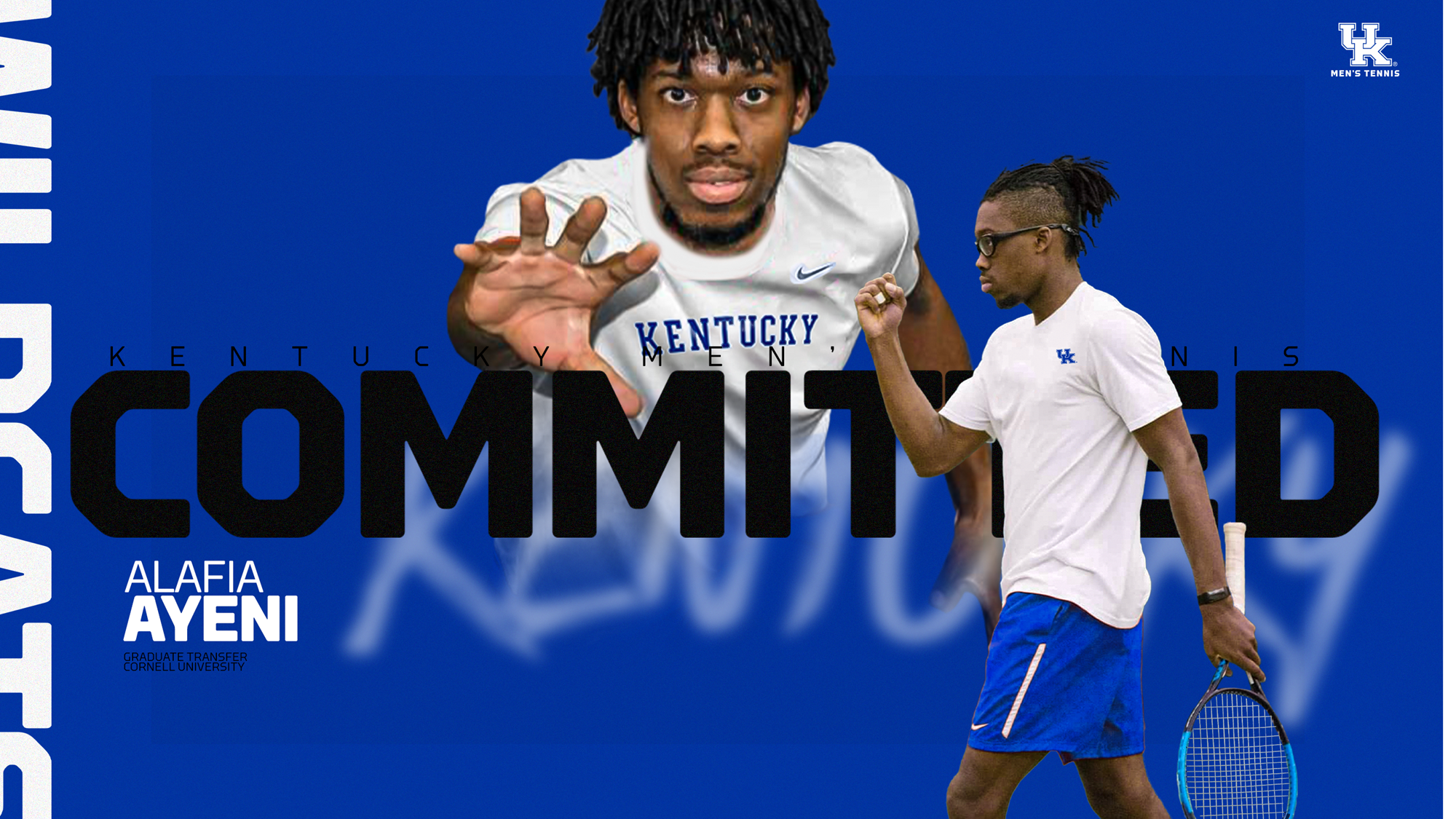 UK Men's Tennis Signs Graduate Transfer Alafia Ayeni
LEXINGTON, Ky. – On the heels of one of the biggest wins in recent program history, the Kentucky men's tennis team continues to celebrate as it has signed graduate transfer Alafia Ayeni, as announced by head coach Cedric Kauffmann on Tuesday. 
 
Ayeni, a San Diego, California native, spent his undergraduate years competing at Cornell University, acquiring 85 career wins across singles and doubles. The 44th-ranked singles player has had an incredibly successful senior season, going 19-6 overall in singles competition to earn an at-large bid to the NCAA Individual Tournament. He was also named to the 2022 All-Ivy League First Team in singles and doubles.
­
"We are really excited to have Alafia join us. He has already established himself as one of the best players in college," said assistant coach Matthew Gordon. "I think we can help take his game to the next level, and as far as our program, he's going to have a major impact on it from the get-go. He's a character, on and off the court. He's a very good athlete, a very good player and Big Blue Nation is going to absolutely love him."
 
At the time of his enrollment at Cornell, Ayeni was No. 27 in the International Tennis Federation Junior World Rankings. The right-hander is currently No. 203 in the ITF singles rankings and peaked at No. 133 on April 18. Further, Ayeni is currently the 814th-ranked singles player according to the Association of Tennis Professionals. He peaked in the ATP Singles Rankings on July 22, 2019, at No. 436.
 
Ayeni has enjoyed a successful collegiate career, being named the Ivy League Rookie of the Year and All-Ivy League Second Team in singles in 2018, as well as All-Ivy League First Team in singles after his sophomore campaign in 2019. After the spring season was cut short in 2020 due to the COVID-19 pandemic, the Ivy League did not have a tennis season in 2020-21. 
 
Ayeni chose to finish his collegiate tennis career at Kentucky because of how well the coaching staff has been able to develop their recruits to reach a new level in a short amount of time. 
 
"Gabriel [Diallo] wasn't the highest recruit in the world when he first came into Kentucky," said Ayeni. "The coaches turned him from that into a force to be reckoned with in about two years. He's only played in two professional tournaments, and he's made to the finals in both of those, and that's really tough to do."
 
Prior to joining the Cornell Big Red, Ayeni was a highly touted recruit out of Westview High School. He was the No. 3 recruit in the nation in his high school class, winning three California state titles in 2015, 2016 and 2017. 
 
Ayeni also started his own brand called 3x, designed to foster excellence in minorities and promote the sport of tennis as a viable option. They hope to be seen as the company that promotes these sports for young athletes who may not see others who look like them on the courts on TV.
 
Ayeni recently graduated from Cornell with a Bachelor of Science in Interactive Technology. He will be taking classes at UK to receive a certificate in business. 
 
For the latest on the Kentucky men's tennis team, follow @UKMensTennis on Twitter and Facebook, @kentuckymenstennis on Instagram, and on the web at UKAthletics.com.
 
– GO CATS –
For more information contact:
Ryan Cullinane (rrcu222@uky.edu) – (859) 257-8309