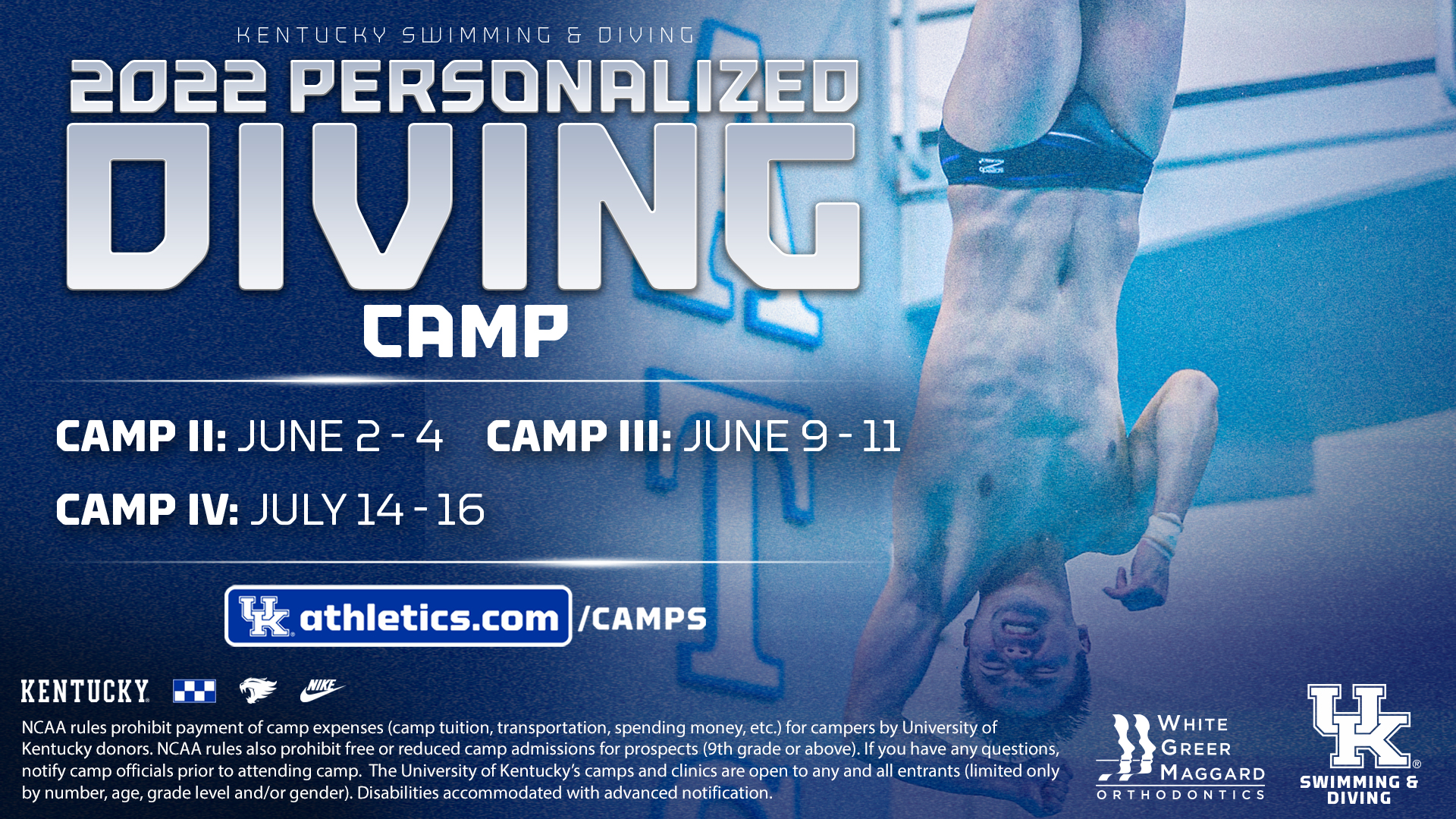 2022 Kentucky Diving Camps
The 2022 Kentucky Diving Summer Personalized Dive Camps are now available!
 
The 2022 Kentucky Diving Personalized Dive Camps are here.  We are excited to offer three camps this summer.  Each camp will be set up with a limited number of spots for to keep the ratio between diver and coach small and focused.  We will personalize these camps utilizing input from the parent, diver, (if available) the diver's home coach to identify primary learning goals for the camp.  Once the primary goals are identified we will build a lesson plan for the 3 days to maximize learning.
Campers will get personalized training with UK Head Diving Coach and 2015 and 2021 SEC Diving Coach of the Year, Ted Hautau and NCAA All-American Divers.
Dive Camps will utilize the University of Kentucky's state-of the-art spotting equipment, video feedback, dry-land and aquatic facilities to teach in a safe and productive atmosphere.
Max 5:1 Camper to Coach ratio
                                                            PERSONALIZED DIVE CAMP ITINERARY
                                                                          
2022 summer cancellation policy: 
See COVID-19 Cancellation/Refund Policy at UKathletics.com/camps.
All non-Covid-19 Cancellations see below:
Campers will receive a full refund with doctor's note in case of injury or illness (non-COVID related). Without a doctor's note, full refunds will be issued minus a $75.00 cancellation fee if more than 7 days advance notice. Any cancellations non-COVID related within 7 days of camp result in no refund, unless a doctor's note is presented.
THURSDAY
 
8:30AM                REGISTRATION
9:00AM                GREET/INTRODUCTION/FACILITY AND RULES OVERVIEW
9:10AM                OVERVIEW OF MORNING SESSION LESSON PLAN
9:20AM                DRY LAND TRAINING
10:00AM              WATER TRAINING
11-12:00                             LUNCH BREAK
12:OO                  OVERVIEW OF 2ND SESSION LESSON PLAN
12:10                    DRY LAND TRAINING
12:45                    WATER TRAINING
2:00PM                DISMISSAL FOR DAY       
 
FRIDAY
9:00                      GREET PARTICIPANTS
9:05                      OVERVIEW OF MORNING SESSION LESSON PLAN
9:10                      DRY LAND TRAINING
10:00                    WATER TRAINING
11-12:00                             LUNCH BREAK
12:OO                  OVERVIEW OF 2ND SESSION LESSON PLAN
12:10                    DRY LAND TRAINING
12:45                    WATER TRAINING
2:00PM                DISMISSAL FOR DAY       
 
 
 
SATURDAY
10:00                    GREET PARTICIPANTS
10:05                    OVERVIEW OF MORNING SESSION LESSON PLAN
10:10                    DRY LAND TRAINING
12:00                    WATER TRAINING
1:00-2:00                            LUNCH BREAK
2:OO                     OVERVIEW OF 2ND SESSTION LESSON PLAN
2:10                      DRY LAND TRAINING
3:00                      WATER TRAINING
5:00PM                DISMISSAL FOR DAY