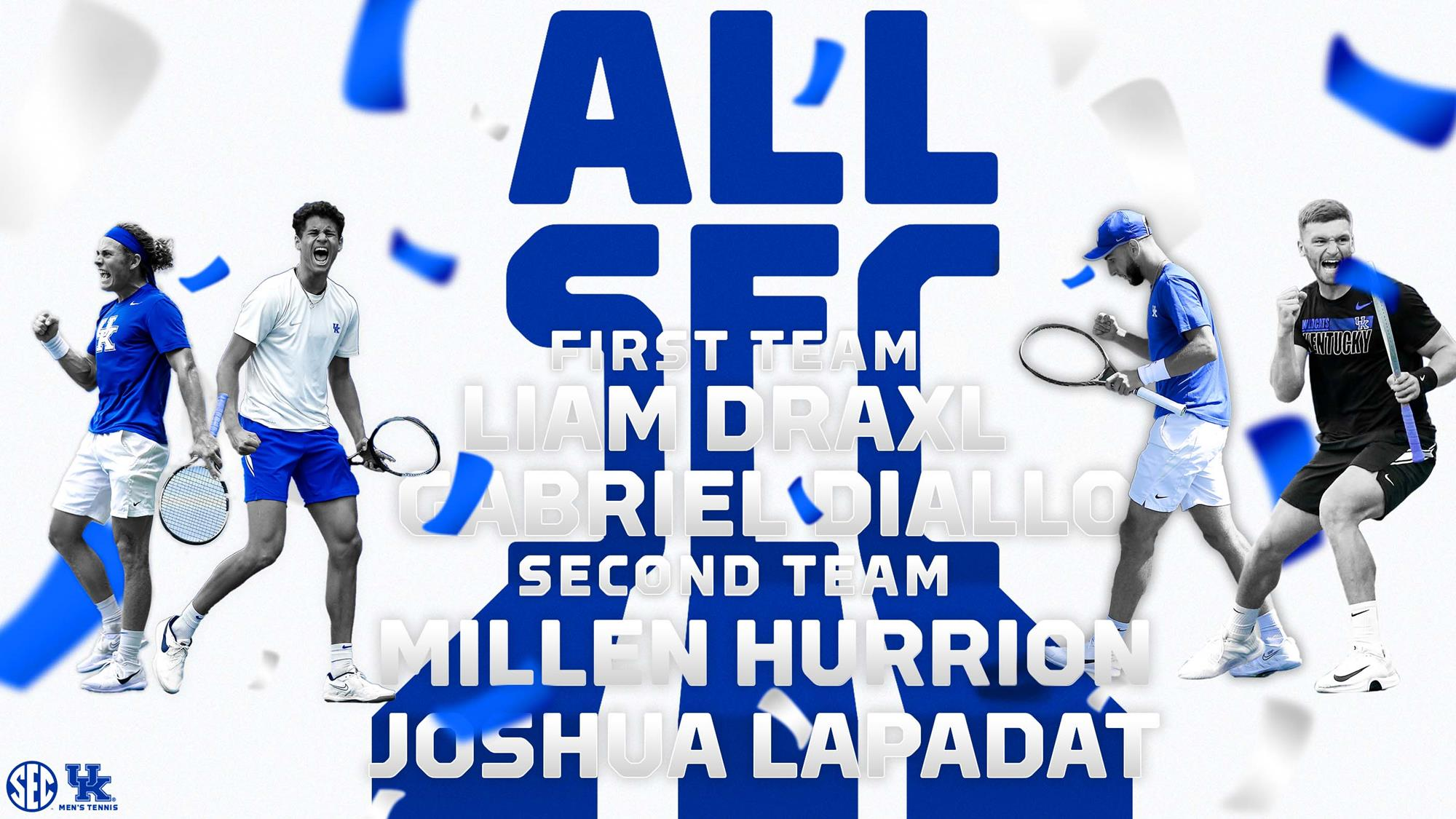 April 29, 2022 - 04:11 PM
Four Wildcats Earn All-SEC Honors
LEXINGTON, Ky. – Four Kentucky men's tennis players were named to 2022 All-Southeastern Conference teams, the league announced Friday. Juniors Gabriel Diallo and Liam Draxl were listed on the All-SEC First Team, while Millen Hurrion and Joshua Lapadat were named to the All-SEC Second Team. 
 
Diallo earned his second career first team selection after a 30-6 record, the most wins on the team, including 16-3 in dual meets and 9-1 against SEC opponents. The Montreal native peaked in the singles rankings at No. 4 on Dec. 8, 2021. He held a 10-1 record at the three spot before moving up to the two mid-season, with his best win from court two coming against No. 5 Johannus Monday of Tennessee in dominant fashion by a 6-0, 6-1 result. Diallo picked up consecutive match-clinching wins in the SEC Tournament en route to the team's run to the title match. He led the team in match-deciding victories with six. 
 
The list of accolades continues to pile up for Draxl, who earned the second All-SEC First Team honor of his career. The reigning Intercollegiate Tennis Association Player of the Year had another stellar season, picking up 13 wins from the top spot. Currently the No. 8 singles player in the country, Draxl led the team in ranked wins and held a three-match win streak against top-40 opponents. He defeated UGA's No. 11 Hanish Stewart, LSU's No. 40 Ronald Hohmann and Mississippi State's No. 27 Florian Broska to finish with eight wins in 12 SEC matches. 
 
Hurrion garnered his second career All-SEC Second Team nod after another standout year, serving as the captain for the team that picked up its most conference wins since 2014. The fifth year finished with an 11-4 record at the two spot and a perfect 5-0 from court three. With a 17-7 record, Hurrion's best win came against Tennessee's No. 45 Emile Hudd in straight sets. He comprised half of the doubles tandem that peaked at No. 22, playing with partner Draxl. Their most prolific win together came against Duke's No. 45 Garrett Johns and Sean Sculley on Feb. 13.
 
Lapadat picked up the first all-conference bid of his career, being named to the second team after finishing with a perfect 11-0 record during singles competition in SEC play. The sophomore finished with a 19-2 record in dual matches, good for the most wins on the team, and was undefeated against ranked opponents in singles. His 6-3, 7-6(3) win against USC's No. 59 Lodewijk Weststrate on Feb. 19 put UK in the Elite Eight of the ITA Indoor Championship in Seattle. He peaked in the singles rankings at No. 37 twice, reaching the spot on both Feb. 9 and March 9, and reached No. 22 in the doubles poll with partner JJ Mercer. His best win in doubles competition came with partner Diallo when they defeated Georgia's No. 14 Trent Bryde and Philip Henning by a 6-4 score. 
 
The Wildcats finished with a 21-7 overall record and were 10-2 in conference play, finishing as the runner up in the SEC Tournament this past weekend. Kentucky awaits its postseason fate until the NCAA Selection Show on Monday at 6 p.m. ET on NCAA.com.
 
For the latest on the Kentucky men's tennis team, follow @UKMensTennis on Twitter and Facebook, @kentuckymenstennis on Instagram, and on the web at UKAthletics.com.
 
– GO CATS –
For more information contact:
Ryan Cullinane (rrcu222@uky.edu) – (859) 257-8309