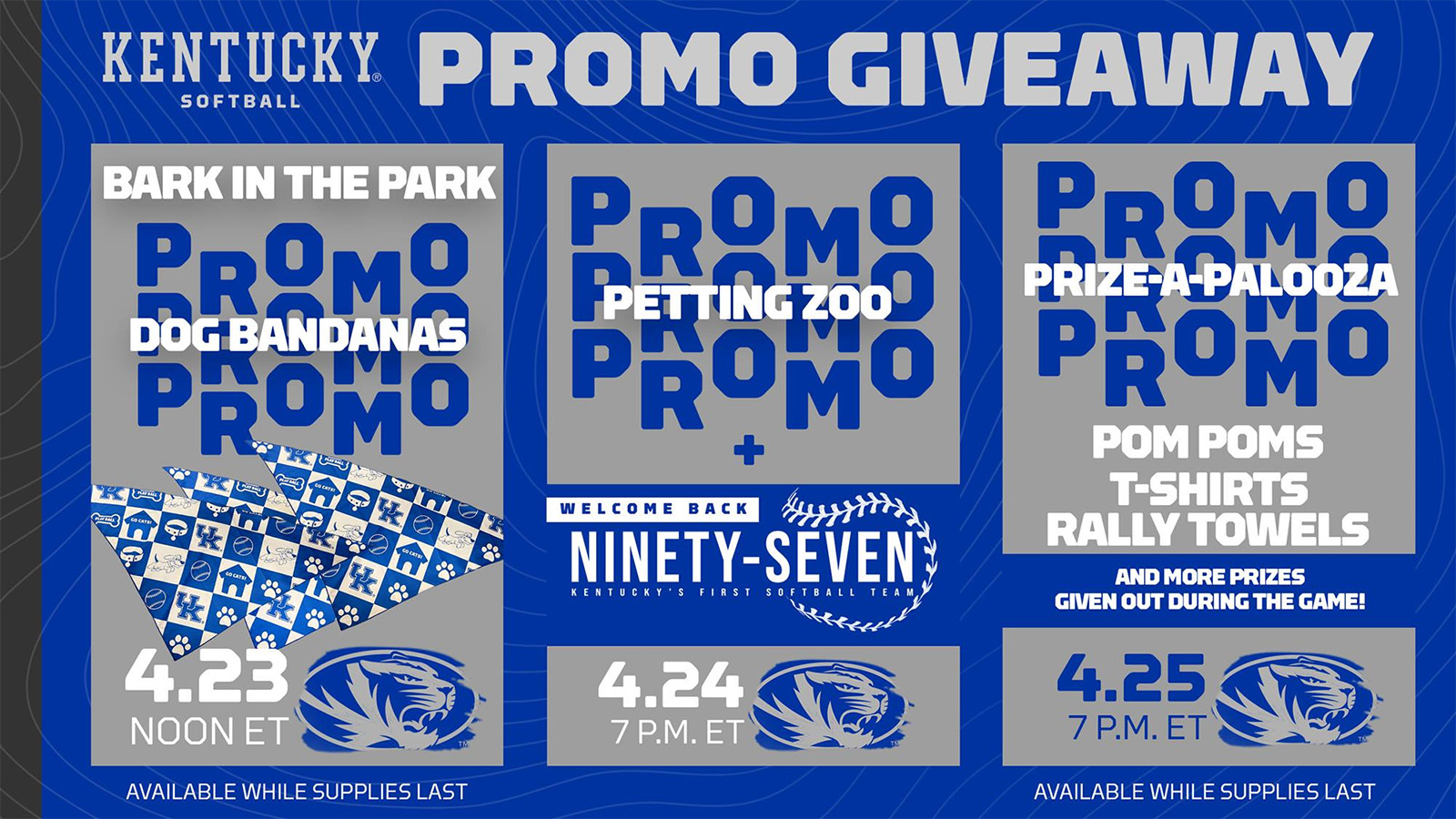 LEXINGTON, Ky. – Following a dramatic comeback win in the midweek against Eastern Kentucky on Wednesday night, the No. 9 Kentucky Softball team will enter the homestretch of the season, kicking off a seven-game homestand with a three-game series against the Missouri Tigers on Saturday afternoon at Noon ET and running through Monday night with a 7 p.m. ET first pitch.
 
Saturday's Noon ET game will be broadcasted live on the SEC Network+ with Dave Baker and former Arizona All-American, Jenny-Dalton-Hill on the call from Lexington. Sunday and Monday night's games will be shown on the SEC Network with Pam Ward and Dalton-Hill calling the action from John Cropp Stadium. All three games will be available on ESPN+ and the ESPN app, as well.
 
Saturday's game is UK's annual "Bark in the Park" where fans will be able to bring their four-legged friends with them into John Cropp Stadium, where the berm will be turned into K-9 central for the afternoon. Sunday night's game will be a reunion of UK's first-ever softball team in 1997 as part of Kentucky's celebration of the passing of Title Nine.
 
Monday night, head coach Rachel Lawson will take center stage as she will be mic'd up for SEC Network's feature "Mic'd Up Monday" where viewers can catch insight into the Wildcats' 15th-year head coach.
 
Kentucky is 30-11 on the year and will be looking to build upon a 9-6 record in Southeastern Conference play. The Tigers come in at 25-17 and 5-9 in league action. Both teams lost two out of three last weekend in SEC series with the Wildcats dropping a series to No. 6 Arkansas and the Tigers dropping two out of three on the road to No. 16 Georgia.
 
Kentucky will be looking for its first win over Missouri since 2017.
 
The Tigers are 25-17 on the year with a 5-9 record in Southeastern Conference play. Missouri sits 26th in the latest RPI and is led by fourth-year head coach Larissa Anderson who is 117-62 in her time in Columbia.
 
Tuesday night, the four games in four day whirlwind closes with Kentucky's final non-conference game of the season against the Northern Kentucky Norse. The game will be at 7 p.m. ET and broadcasted live on the SEC Network+, ESPN+ and the ESPN app with Dave Baker and Carol Bruggeman on the call.
 
For the latest on UK Softball, follow the Wildcats on Twitter and Instagram at @UKSoftball.