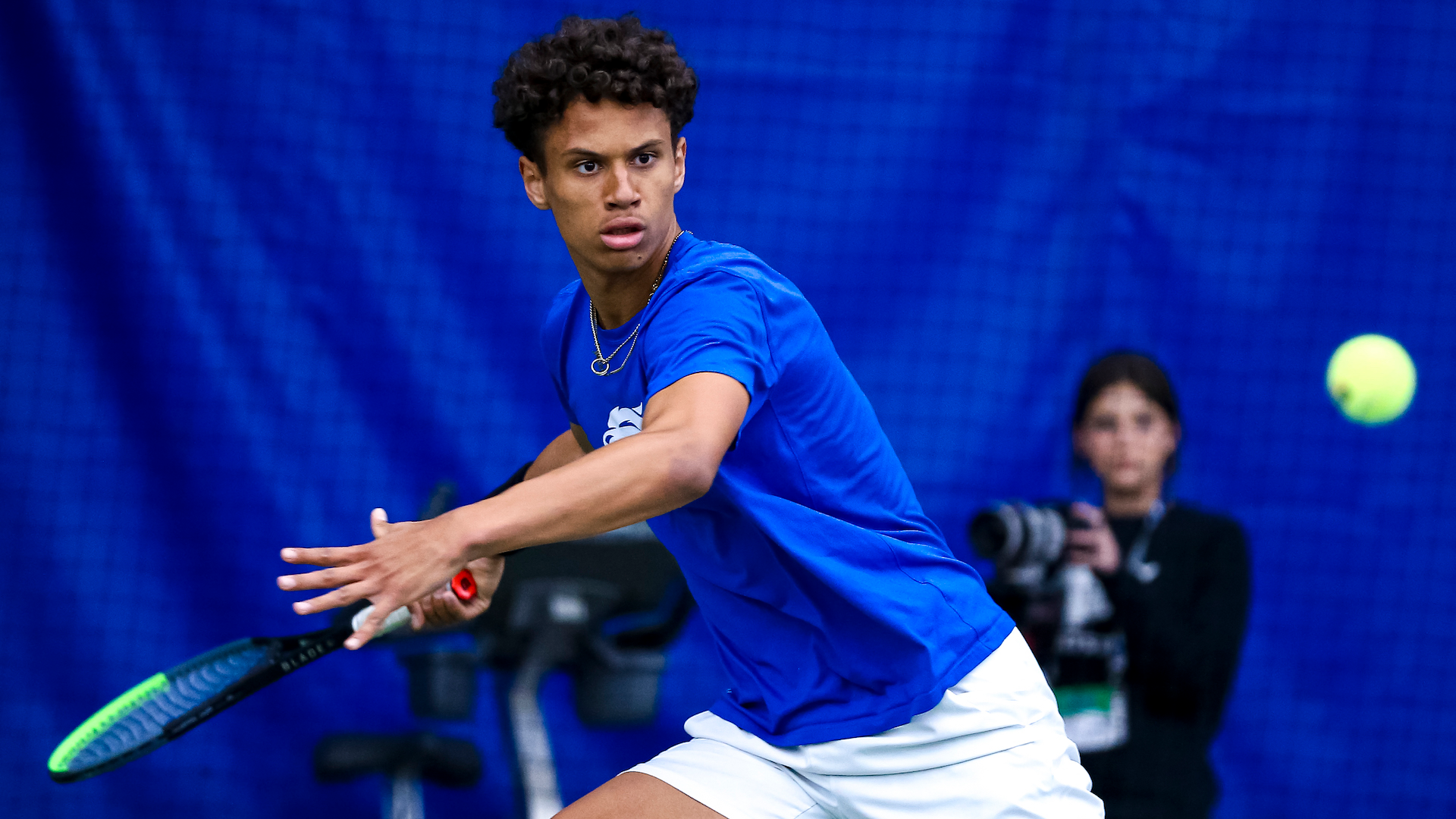 April 21, 2022 - 02:18 PM
Kentucky Men's Tennis Starts Postseason at SEC Tournament
LEXINGTON, Ky. – The Kentucky Wildcats will head to Athens, Georgia, for the Southeastern Conference Tournament and play its first match on Friday at 11 a.m. ET against No. 11 Arkansas. With a 10-2 conference record, UK earned the No. 3 seed and will play its first match in the quarterfinal round.
 
More information, including stats and live stream, can be found on the tournament central page here.
 
Scouting the Razorbacks
After dropping matches last week to Ole Miss and LSU both by a narrow 4-3 result, Arkansas dropped seven spots and is now at No. 51. The team has played in eight matches that finished 4-3, going 4-4 on those occasions. The Razorbacks finished their regular season campaign with a 14-13 overall record and a 3-9 SEC finish. 
 
Arkansas enters the quarterfinals after upsetting No. 6 Texas A&M, 4-1. The Razorbacks claimed the doubles point and won in singles competition on courts three, four and six to advance in the tournament.
 
UK previously played UA in Fayetteville, on March 13, with the Wildcats pulling out a gritty 4-3 win.
 
Alexandre Reco leads the Razorbacks in the rankings, slotting as the 26th-best player in singles competition. Reco, who holds a 12-12 record this year, was defeated by Liam Draxl in the match-clinching point in a 6-2, 5-7, 6-4 affair. No. 107 Aleksa Bucan is also ranked in singles with a 19-10 overall record.
 
No. 83 Alexandre Reco and Nicolas Rousset are the only tandem ranked in doubles for Arkansas. When the Razorbacks pair played Francois Musitelli and Millen Hurrion, they were victorious by a 7-5 result. 
 
Last time out
Kentucky concluded its regular season with two road wins against No. 41 LSU and No. 35 Mississippi State. 
 
Diallo, Draxl and Hurrion all picked up two singles wins over the weekend, including Diallo concluding the trip with a win over No. 74 Nemanja Malesevic by a 6-2, 7-6(4) result.
 
Recapping the spring
Kentucky ended the regular season at 19-6, which included 10 wins against nationally ranked opponents. The team's highest-ranked win was against then-No. 5 Tennessee by a 4-3 result on April 8. UK held at least a four-match win streak three different times throughout the season.
 
The Wildcats also advanced to the Elite Eight of the Intercollegiate Tennis Association National Indoor Championship in Seattle on February 18 by taking down USC, 4-0. 
 
#UKRising in the rankings
Seven different players have been ranked in singles throughout the year, with four inside the top 50 and two peaking in the top 10. Gabriel Diallo has been the team's highest ranked player so far when he peaked at No. 4 in the nation on Dec. 8, 2021. The Wildcats also had four doubles tandems appear in the rankings during the season. 
 
While the team stayed put at No. 10 in this week's ITA rankings, Kentucky has had plenty of movement in singles in doubles. 
 
Reigning ITA Player of the Year Liam Draxl reached his highest ranking of the year so far as the eighth ranked player in singles. He enters the top 10 for the first time this season following three straight wins against top-50 competition. 
 
Diallo once again reached No. 16 in the latest rankings as he holds the most wins on the team this year with a record of 28-5. Rounding out those ranked in singles for the Wildcats is captain No. 102 Millen Hurrion and No. 108 Joshua Lapadat.
 
In doubles, No. 55 Draxl and Hurrion made the rankings for the eighth straight week with a 5-2 record. Making their debut is No. 75 Francois Musitelli and Hurrion, who are 4-4 together. 
 
Athlete spotlight
Draxl was recognized this week as the SEC Player of the Week on Monday. The junior was victorious in. both of his singles matches against top-40 opponents in LSU's No. 40 Ronald Hohmann and Mississippi State's No. 27 Florian Broska. 
 
This marked the fifth weekly award that the Newmarket, Ontario native has won in his career. Draxl is now 13-5 on the season with seven ranked wins.
 
Last week, Tate Sandman was named to the 2022 SEC Men's Tennis Community Service Team for his contributions to community. The community service team looks to highlight a student-athlete from each school who gives back to their community in superior service efforts.
 
Sandman has 64 community service hours this school year, split between Acing Autism, which helps teaches tennis to children with autism, and God's Pantry, packing lunches for homeless shelters.
 
For the latest on the Kentucky men's tennis team, follow @UKMensTennis on Twitter and Facebook, @kentuckymenstennis on Instagram, and on the web at UKAthletics.com.
 
– GO CATS –
For more information contact:
Ryan Cullinane (rrcu222@uky.edu) – (859) 257-8309