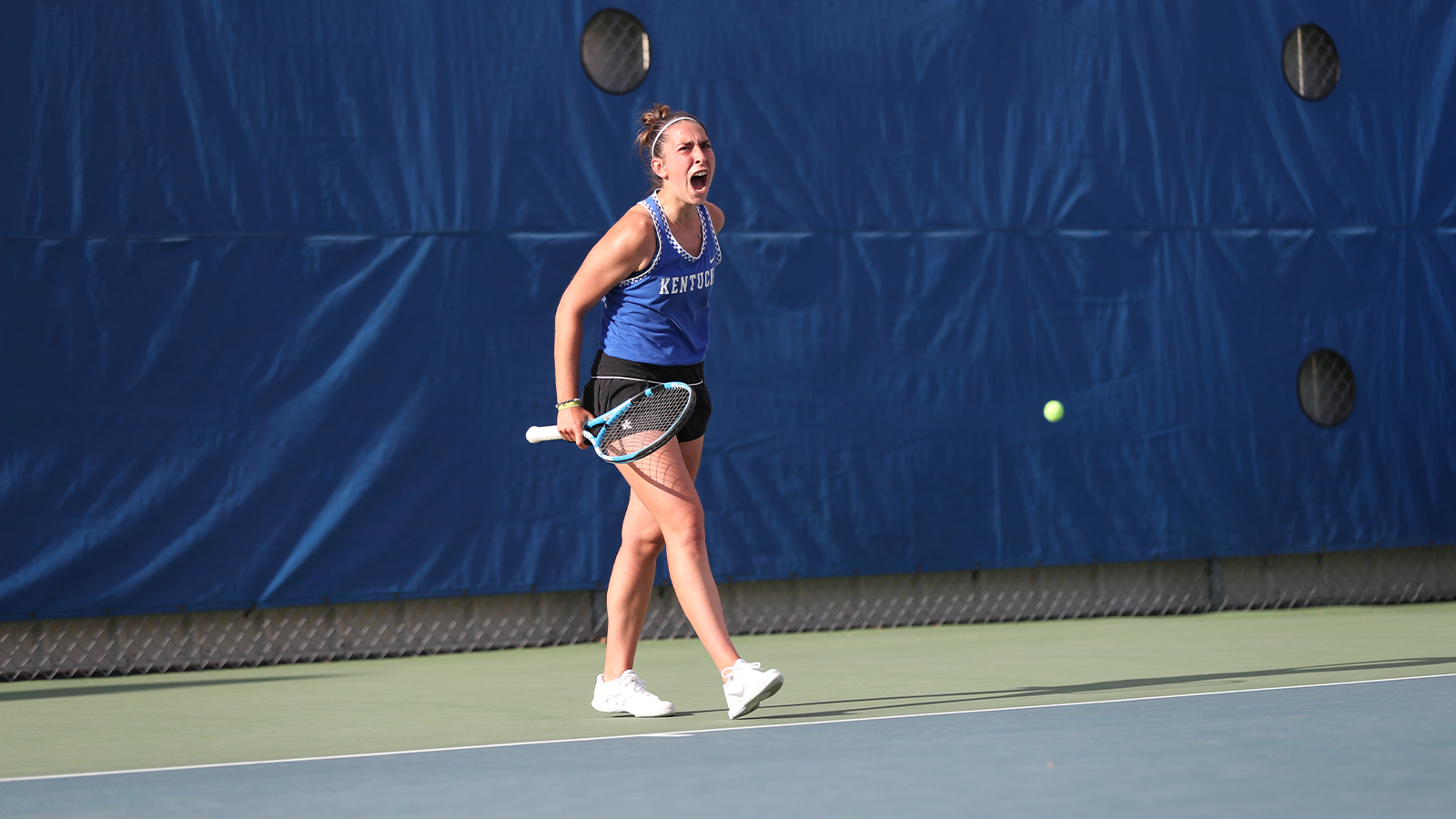 April 20, 2022 - 06:15 PM
Kentucky Defeats LSU, Advances to Second Round of SEC Tournament
GAINESVILLE, Fla. – The Kentucky women's tennis team saved one of its best performances of the season for when it mattered most, taking down LSU in the opening round of the 2022 Southeastern Conference Tournament in Gainesville, Florida. The 14th-seeded Wildcats won four straight singles matches with a clinch from Maialen Morante to knock off the No. 11 Tigers, 4-2.
Following the win, Kentucky now advances to the second round and will face No. 6 South Carolina on Thursday at the Alfred A. Ring Tennis Complex. First serve against the Gamecocks is set for 3 p.m. ET.
LSU gave itself a one-point advantage at the start of the match by securing the doubles point. Ena Babic and Rania Azziz first defeated Carla Girbau and Lidia Gonzalez, 6-2, on the second court before Safiya Carrington and Taylor Bridges bested the 36th-ranked duo of Fiona Arrese and Ellie Eades, 6-3, for the deciding point.
The Tigers then extended their lead to two by taking the first singles match on court four when Bridges knocked off Eades in a 6-4, 6-1 outcome. LSU's edge over the Wildcats didn't last long, as Kentucky soon picked up three straight points to take over the lead and found the clinch soon after.
Carlota Molina began to cut away at UK's deficit with a big win on the second court, taking down Nina Geissler in a 6-4, 6-2 outcome. Urrutia then evened the score at two apiece when she bested No. 104 Carrington 7-6(7-3), 6-3 for her first singles victory over a ranked opponent this year.
Moments later, Girbau put the Wildcats up 3-2 with a clutch showing on court three. After Babic got the best of Girbau in doubles, the UK senior held on for a 7-5 win in the first set before handling her opponent, 6-3, in the second frame.
Despite trailing 3-6 to begin her singles match, Morante had a pair of dominant 6-2, 6-3 comeback sets over Azziz on court six. Her victory was enough to secure the clinch for the Wildcats, improving their overall record to 13-14 on the season.
Kentucky now turns its attention to tomorrow when it plays South Carolina. Ranked 28th nationally, the Gamecocks – who earned a first-round bye and enter the tournament as the sixth seed – are 13-9 on the year and 8-5 in league play.
The two teams last played one another on April 3 in Lexington with the visiting team posting a 4-2 victory. Arrese and Eades teamed up to defeat the then-38th-ranked duo of Sarah Hamner and Megan Davies in doubles in an impressive 7-6(8-6) showing. Morante secured UK's lone point in singles after topping Gracie Mulville in a 6-3, 6-4 outcome.
More information, including stats and live stream, can be found on the tournament central page here.
SEC Tournament First Round
Kentucky 4, LSU 2
Singles
1. Florencia Urrutia (UK) def. No. 104 Safiya Carrington (LSU) 7-6(7-3), 6-3
2. Carlota Molina (UK) def. Nina Geissler (LSU) 6-4, 6-2
3. Carla Girbau (UK) def. Ena Babic (LSU) 7-5, 6-3
4. Taylor Bridges (LSU) def. Ellie Eades (UK) 6-4, 6-1
5. Lidia Gonzalez (UK) vs. Mia Rabinowitz (LSU) Unfinished
6. Maialen Morante (UK) def. Rania Azziz (LSU) 3-6, 6-2, 6-3
Order of finish: 4, 2, 1, 3, 6*
Doubles
1. Safiya Carrington/Taylor Bridges (LSU) def. No. 36 Fiona Arrese/Ellie Eades (UK) 6-3
2.  Ena Babic/Rania Azziz (LSU) def. Carla Girbau/Lidia Gonzalez (UK) 6-2
3. Carlota Molina/Florencia Urrutia (UK) vs. Nina Geissler/Mia Rabinowitz (LSU) Unfinished
Order of finish: 2, 1*
For the latest on the Kentucky women's tennis program, follow @UKWomensTennis on Twitter and Instagram, on Facebook, and on the web at UKathletics.com.