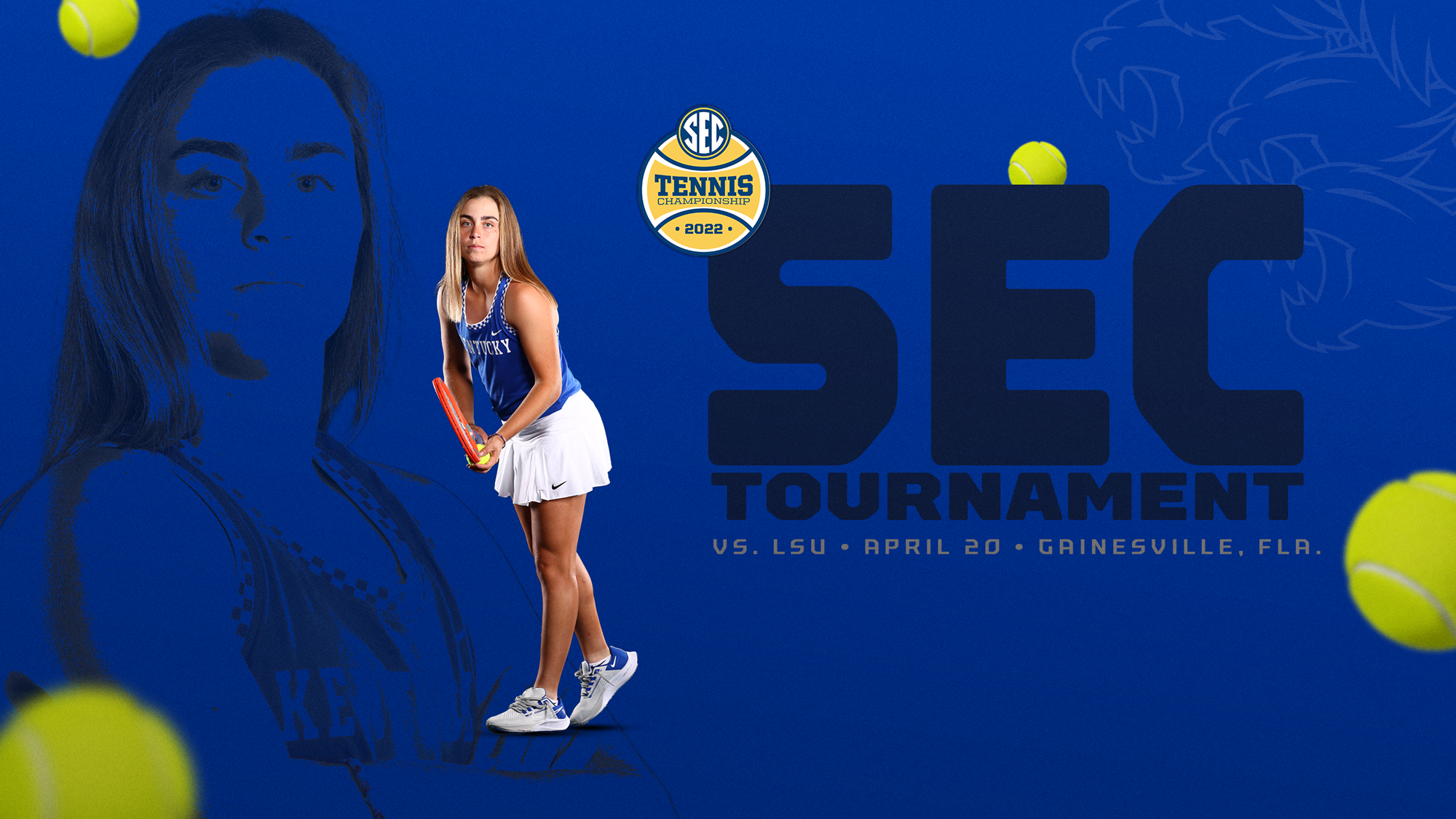 April 19, 2022 - 10:15 AM
Kentucky Plays LSU to Open SEC Tournament on Wednesday
LEXINGTON, Ky. – The Kentucky women's tennis team begins postseason play on Wednesday, April 20 in the 2022 Southeastern Conference Tournament at the Alfred A. Ring Tennis Complex in Gainesville, Florida. The 14th-seeded Wildcats will face No. 11 LSU in the first round at 3 p.m. ET. 
More information, including stats and live stream, can be found on the tournament central page here.
Kentucky, which clocked in at No. 61 in the most recent Intercollegiate Tennis Association poll, enters the SEC Tournament with a 12-14 record on the season and are 0-13 in league action. In their last outing, the Wildcats dropped a 4-1 decision to Mississippi State in the regular season finale with the lone point coming from a decisive 6-4, 6-0 win on court two from Carlota Molina. 
In total, UK has won 15 out of the 26 opening points for a 34-27 ledger in doubles, also sporting a 51-72 singles record. Florencia Urrutia paces the Wildcats with a 13-9 mark as an individual followed by Fiona Arrese who will arrive in Gainesville having gone 11-9 in singles thus far.
The dynamic duo of Arrese and Ellie Eades landed at No. 36 in the ITA doubles poll with a 4-2 record together. They knocked off No. 38 Sarah Hamner and Megan Davies of South Carolina before defeating the 15th-ranked Lady Vol pair in Daria Kuczer and Tenika McGiffin to first earn a spot in the rankings on April 13 at No. 27. 
Ranked 66th nationally as a team, LSU currently has an overall record of 5-13 with a 4-9 mark in league play. The Tigers, who have one ranked player in No. 104 Safiya Carrington, fell in a 7-0 result to Arkansas in their latest appearance. 
Kentucky and LSU last faced one another on March 18 in Baton Rouge, with the home team securing a 4-1 win and Arrese winning her singles match against Taylor Bridges. The Tigers hold a narrow 22-19 lead over the Wildcats in the all-time series.
Last year, Kentucky advanced to the quarterfinals of the 2021 SEC Tournament where the program fell to eventual champion Georgia. After a first-round bye, the Wildcats won their match in the second round versus Ole Miss by a 4-2 score thanks to Carla Girbau's clinch.
For the latest on the Kentucky women's tennis program, follow @UKWomensTennis on Twitter and Instagram, on Facebook, and on the web at UKathletics.com.