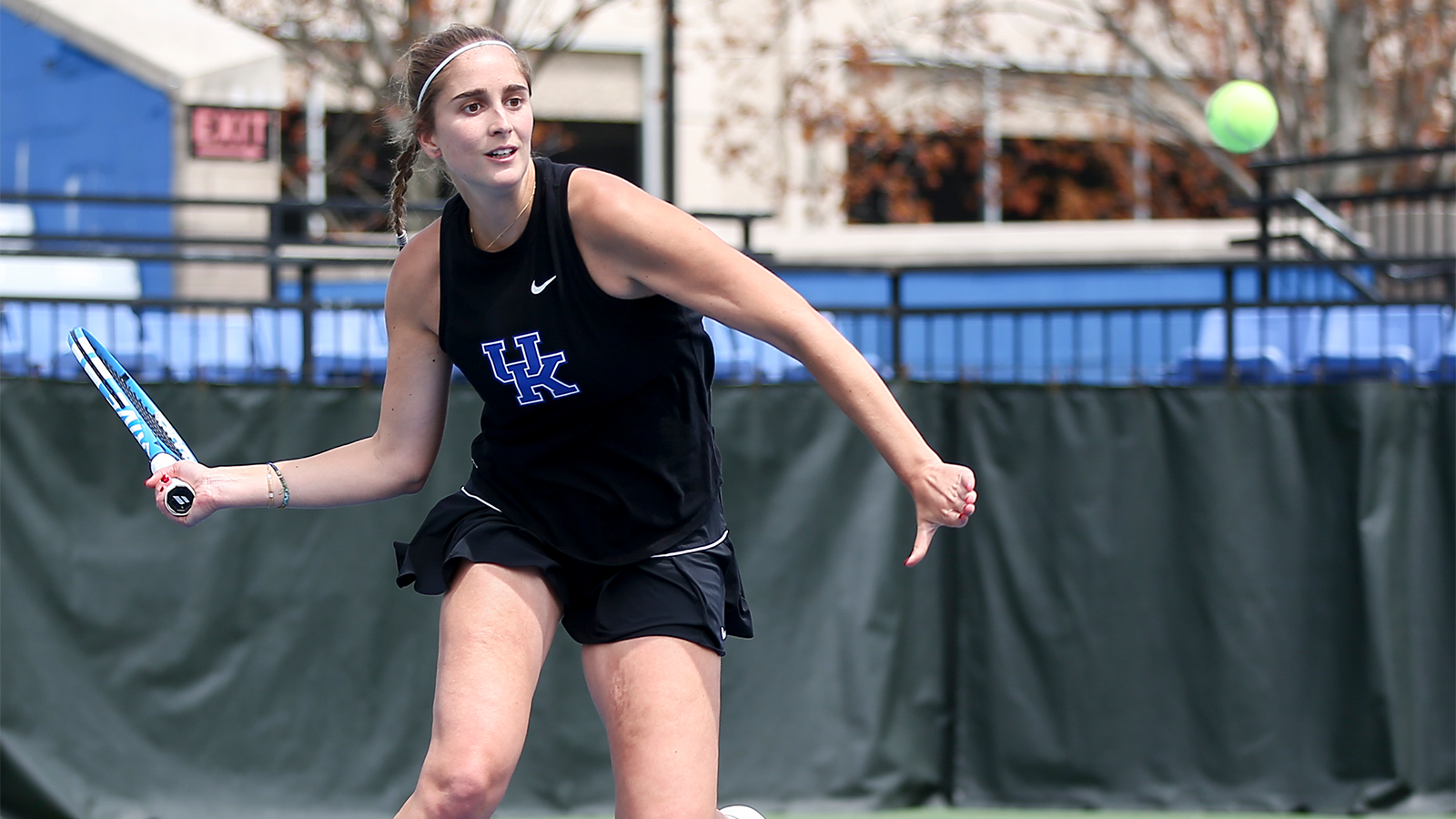 April 17, 2022 - 03:20 PM
Kentucky Falls to Mississippi State in Regular Season Finale
LEXINGTON, Ky. – The 58th-ranked Kentucky women's tennis team came up short in its regular season finale on Sunday afternoon at the Hilary J. Boone Tennis Center, falling 4-1 to No. 67 Mississippi State. The Wildcats drop to 12-14 on the year and 0-13 in Southeastern Conference action.
Prior to the start of the match, Kentucky honored its lone senior in Carla Girbau as well as athletic training student Cassie Hacker during the Senior Day ceremony.
The Bulldogs claimed the opening point in dramatic fashion, but not without a fight from the Wildcats. The 27th-ranked duo of Fiona Arrese and Ellie Eades defeated Tamara Racine and Magda Adaloglou, 7-5, on court one before Mississippi State evened things when Chloe Cirotte and Alexandra Mikhailuk knocked off Carlota Molina and Florencia Urrutia, 6-3, in the third spot.
The deciding point came down to a back-and-forth battle on the second court between Emma Antonaki and Marta Falceto and Girbau and Lidia Gonzalez. After forcing a tiebreaker following both pairs taking six sets, the Bulldogs pulled away to clinch the point in a 7-6(12-10) outcome.
Despite heading into singles trailing by one, Molina soon leveled the score at one apiece when she posted a decisive 6-4, 6-0 victory over Adaloglou on court two. However, Mississippi State then won three consecutive contests on courts four, one and six to take the match and improve to 11-14 on the season with a 2-11 mark in league play.
The Wildcats now head to Gainesville, Florida, for the SEC Tournament hosted by the Gators at the Alfred A. Ring Tennis Complex. The bracket for the tournament, which will take place April 20-24, will be released at a later date.
No. 67 Mississippi State 4, No. 58 Kentucky 1
Singles
1. Emma Antonaki (MS) def. Florencia Urrutia (UK) 7-6(7-4), 6-3
2. Carlota Molina (UK) def. Magda Adaloglou (MS) 6-4, 6-0
3. Carla Girbau (UK) vs. Tamara Racine (MS) Unfinished
4. Chloe Cirotte (MS) def. Fiona Arrese (UK) 6-1, 2-6, 6-1
5. Ellie Eades (UK) vs. Alexandra Mikhailuk (MS) Unfinished 
6. Marta Falceto (MS) def. Maialen Morante (UK) 6-1, 1-6, 6-2
Order of finish: 2, 4, 1, 6*
Doubles
1. No. 27 Fiona Arrese/Ellie Eades (UK) def. Tamara Racine/Magda Adakoglou (MS) 7-5
2. Emma Antonaki/Marta Falceto (MS) def. Carla Girbau/Lidia Gonzalez (UK) 7-6(12-10)
3. Chloe Cirotte/Alexandra Mikhailuk (MS) def. Carlota Molina/Florencia Urrutia (UK) 6-3
Order of finish: 1, 3, 2*
For the latest on the Kentucky women's tennis program, follow @UKWomensTennis on Twitter and Instagram, on Facebook, and on the web at UKathletics.com.