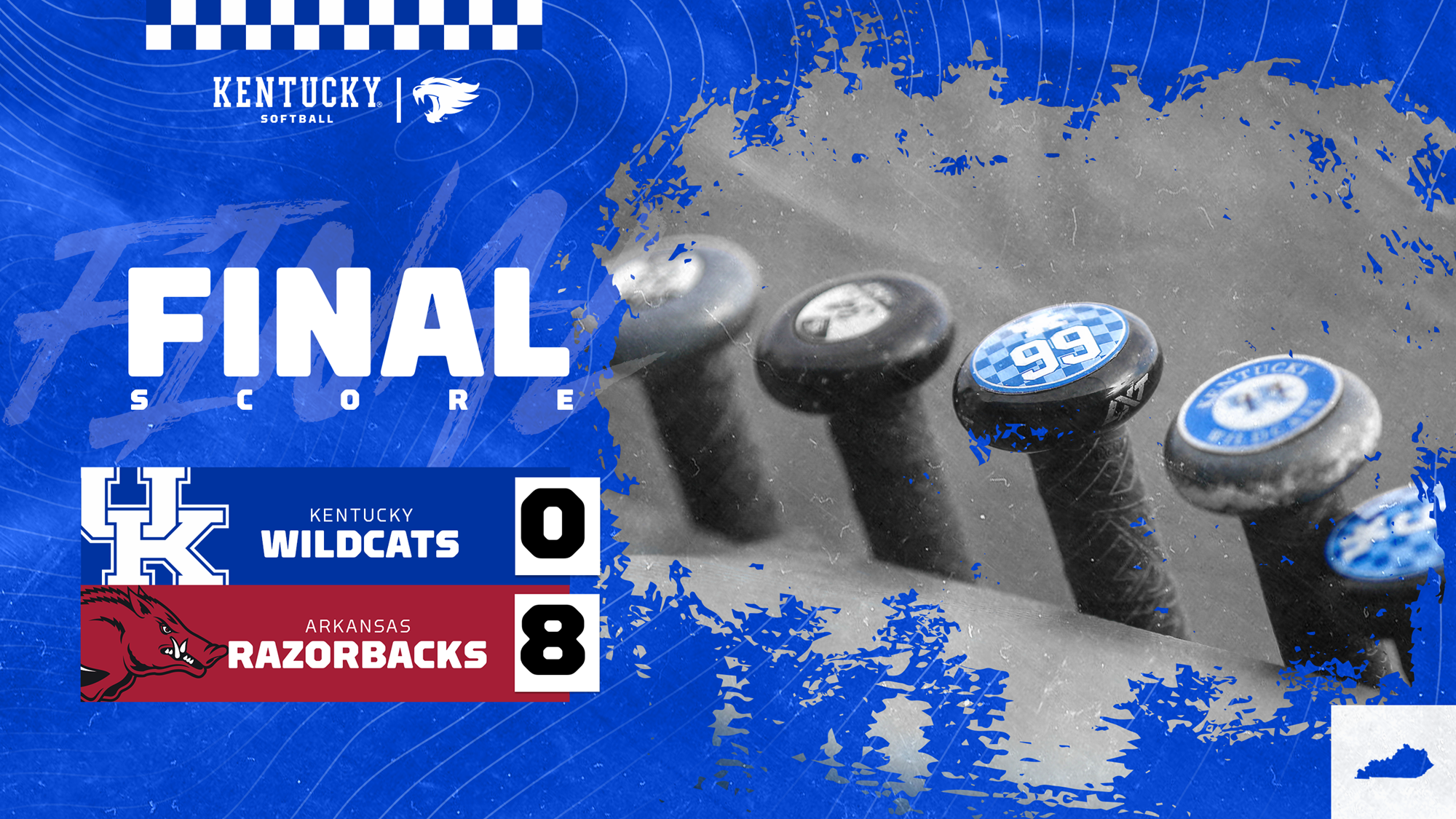 FAYETTEVILLE, Ark. – The No. 6 Arkansas Razorbacks defeated the No. 8 Kentucky Wildcats on Sunday afternoon at Bogle Park to take the series two games to one with an 8-0 win.
 
The Razorbacks scored runs in each of the first four innings and tallied a pair in the sixth to run rule the Wildcats. Sunday was the first shutout loss for Kentucky in Southeastern Conference play since a 1-0 loss at Arkansas in March of 2019 during the teams' last meeting in Fayetteville.
 
Kentucky was held to just four hits in the game with Tatum Spangler notching two of them and Kayla Kowalik and Erin Coffel each recording one. It was Kentucky's lowest hit total of the SEC season in a game.
 
Kentucky falls to 29-11 on the year and is 9-6 in the SEC. Arkansas improves to 32-8.
 
The next UK game is Wednesday night at 6 p.m. ET against the Eastern Kentucky Colonels. The game will be streamed live on ESPN+ and the ESPN app from Hood Field in Richmond, Kentucky.
 
Key Play
Linnie Malkin's three-run home run in the bottom of the third inning was the key play in the game as it extended Arkansas' 2-0 lead to 5-0.
 
Key Player
Tatum Spangler was the key player, as she recorded half of Kentucky's offensive output with two hits in the game, including a lead-off single in the top of the third.
 
Key Stat
0-9. Kentucky was 0-for-9 with runners on base in the game, and 2-for-25 on the weekend against Arkansas pitcher Chenise Delce in games one and three combined.
 
Run Recap
Arkansas got a run in the first on a solo HR from Taylor Ellsworth. ARK 1, UK 0
 
In the bottom of the second, an RBI single by Audrie LaValley sent the Hogs ahead by two. ARK 2, UK 0
 
In the bottom of the third, a three-run HR by Malkin gave Arkansas a five-run lead. ARK 5, UK 0
 
In the bottom of the fourth, KB Sides hit the first of her two home runs in the game. ARK 6, UK 0
 
Sides homered in the bottom of the fifth inning and a walk-off single by Danielle Gibson ended the game via a run rule. FINAL – Arkansas 8, Kentucky 0
 
For the latest on UK Softball, follow the Wildcats on Twitter and Instagram at @UKSoftball.