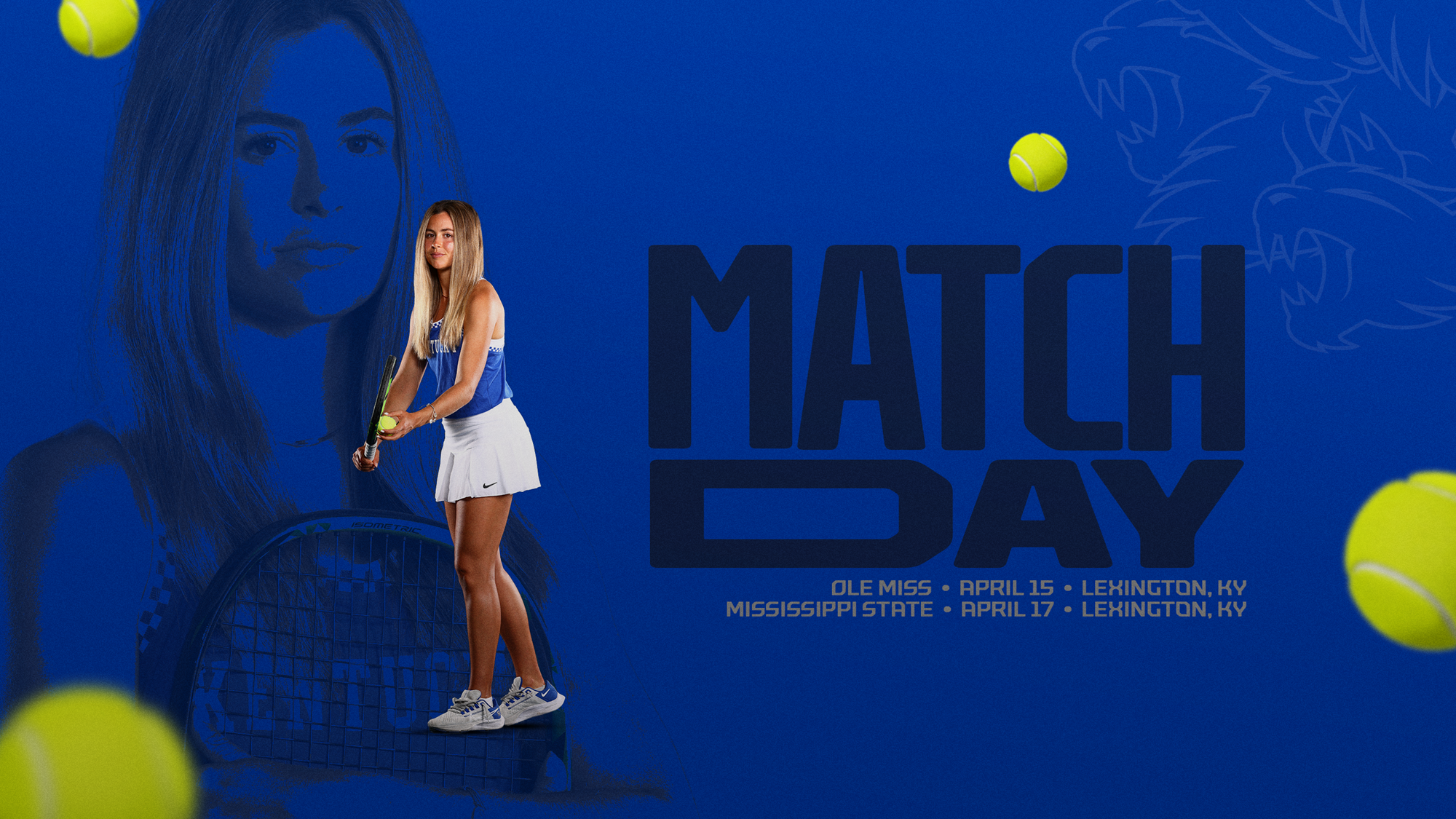 April 14, 2022 - 10:30 AM
Kentucky Hosts Ole Miss, Mississippi State for Regular Season Finale
LEXINGTON, Ky. – The 58th-ranked Kentucky women's tennis team is set to host a pair of matches this weekend at the Hilary J. Boone Tennis Complex, first welcoming No. 47 Ole Miss for a 12 p.m. ET contest on Friday, April 15. The Wildcats will then conclude the regular season on Sunday against No. 67 Mississippi State with first serve once again slated for noon. 
Sunday will also act as Senior Day with Kentucky honoring its lone senior in Carla Girbau prior to the start of the match.
The Wildcats, who own a 12-12 record on the season with a 0-11 mark in league play, are seeking their first Southeastern Conference win this week. Last weekend, Kentucky dropped back-to-back 4-0 decisions to No. 11 Georgia and No. 29 Tennessee on the road. 
In total, UK has won 15 out of the 24 opening points for a 34-23 ledger in doubles, also sporting a 50-66 singles record. Florencia Urrutia paces the Wildcats with a 13-7 mark in singles action followed by Fiona Arrese at 11-8. Arrese and Ellie Eades are 3-1 as a pair and have two top-40 doubles wins under their belt.
The dynamic duo of Arrese and Eades landed at No. 27 in the most recent Intercollegiate Tennis Association doubles poll. They knocked off No. 38 Sarah Hamner and Megan Davies of South Carolina before defeating the 15th-ranked Lady Vol pair in Daria Kuczer and Tenika McGiffin to earn a spot in the rankings. 
Ole Miss checked in at No. 47 in the latest ITA poll with a 10-9 overall record and a 4-7 mark in SEC play. The Wildcats and Rebels saw each other twice last season with UK besting them in a 4-2 outcome in the second round of the SEC Tournament. Kentucky holds a narrow 25-24 lead in the all-time series.
No. 67 Mississippi State will arrive in Lexington with overall and league records of 10-3 and 1-10, respectively. The Wildcats topped the Bulldogs, 4-3, a season ago thanks to a clinch from Maialen Morante. Kentucky, which owns the series at 38-6, will look to put yet another tally in the win column.
Admission to all home tennis matches is free for the 2022 season. Free parking options include the three small E-lots adjacent to the facility 90 minutes prior to the first match. Spectators may also pay to park in the Sports Center Garage (PS No. 7) on the corner of Complex Drive and Sports Center Drive. The cost of parking is $2 per hour with a $16 maximum.
For the latest on the Kentucky women's tennis program, follow @UKWomensTennis on Twitter and Instagram, on Facebook, and on the web at UKathletics.com.