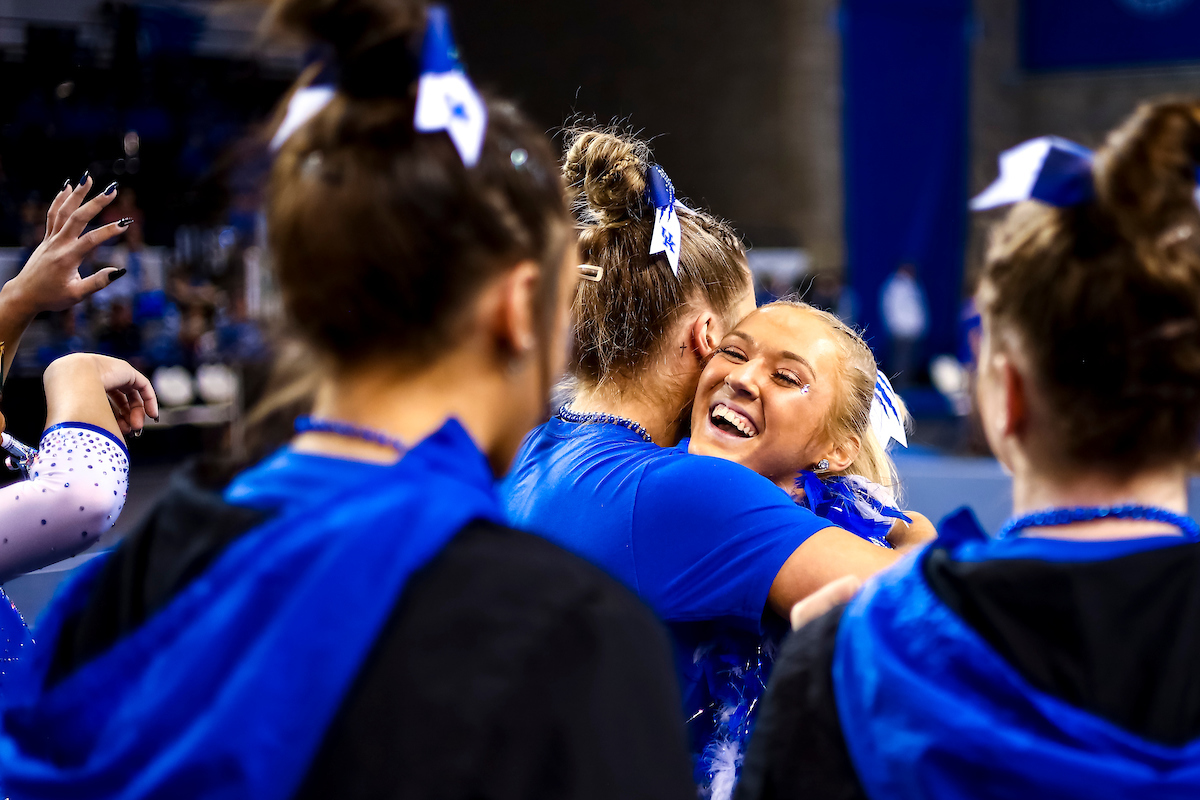 April 14, 2022 - 10:04 PM
Team 48 Wraps Up 2022 Season Represented by Trio of Wildcats
FORT WORTH, Texas – A trio of Wildcats represented the Kentucky gymnastics program on Thursday at Dickies Arena in Fort Worth.
Raena Worley, Cally Nixon and Hailey Davis all competed in the individual component of the 2022 NCAA Championships looking to medal in individual events. All three gymnasts competed in the second session of the semifinals.
Rotating with the Florida Gators, Worley tallied an overall all-around score of 39.4875. She showed off her skills and strong ability to stick her landings throughout each rotation of the competition. The junior competed in Olympic order first seeing a 9.825 on the vault apparatus. She hit a mark of 9.850 on both the uneven parallel bars and balance beam which she stuck flawlessly. Her final rotation, the floor exercise, earned her highest score of the night – 9.9125.
On the individual leaderboard for each event in session II, Worley found herself in the top 10 on floor placing in the top 20 overall. She ranked in the top 15 on bars and beam, as well as the top 20 on vault. Once both sessions were combined, the Virginia native placed 12th in the all-around category. Her performance on bars (24) and beam (30) placed her in the top 30 while her vault tally sat the gymnast in 37th.
Senior Cally Nixon took on the uneven parallel bars for her last event as a Kentucky Wildcat. The gymnast completed the final rotation of her career earning a 9.825. On the individual leaderboard for session II, Nixon tied for 18th with Missouri's Sienna Schreiber tying the Tiger for 38th overall.
Hailey Davis made her NCAA Championships debut on the floor exercise. Her 9.850 placed the sophomore in 23rd, just shy of the top 20. She ranked in the top-50 with her overall placement of 45. Both Nixon and Davis rotated for their individual events with the Auburn Tigers.
At the conclusion of the evening, Team 48 was well represented as Kentucky Gymnastics has seen its most successful season to date.
On the team front, Florida, Auburn, Oklahoma, and Utah all advanced to the NCAA Championship Finals on Saturday. The Sooners hold the top team standing following their 198.1125 scored in session I. However, the Gators sit in a close second after scoring 197.9750 in session II. Trinity Thomas topped the overall all-around leaderboard with a combined 39.8125.
Saturday's final round will be televised live on ABC beginning at 1 p.m. ET with live stats available.
Follow along with Kentucky Gymnastics on Twitter, Facebook and Instagram, and on the web at UKathletics.com.