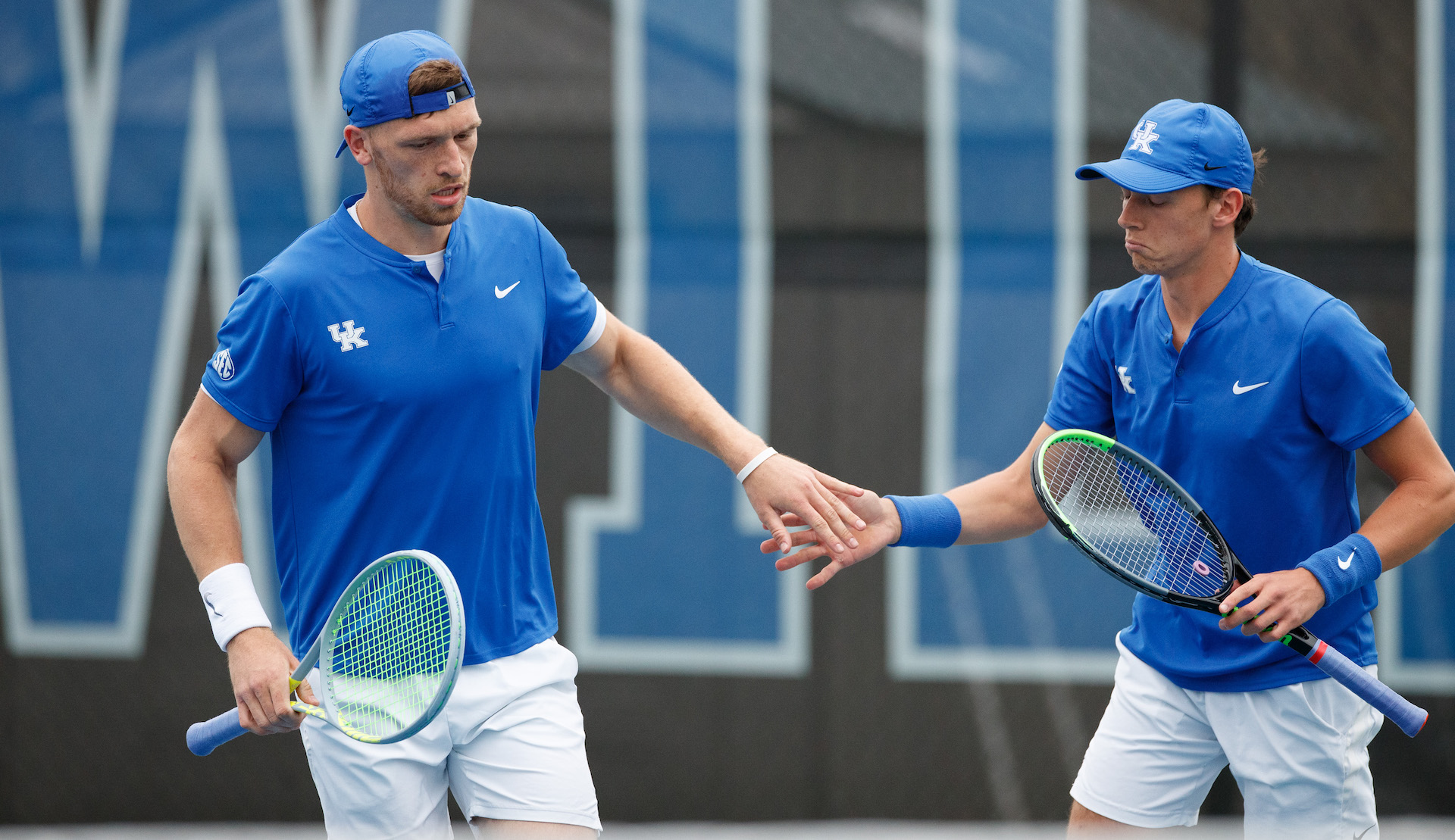 Kentucky Men's Tennis to Close Out Home Schedule This Weekend
LEXINGTON, Ky. – The No. 12 Kentucky Wildcats will host their final two regular season matches at the Hilary J. Boone Center this weekend, hosting the No. 5 Tennessee Volunteers on Friday at 5 p.m. ET and the No. 10 Georgia Bulldogs on Senior Day Sunday at 1 p.m. ET. 
 
Senior day festivities will begin five minutes prior to the match. Fans are encouraged to arrive around 12:45 p.m. to see the ceremony.
 
UK will have played in four-straight matches against top-10 opponents when the weekend concludes, after squaring off against No. 8 Virginia and No. 10 South Carolina last week. 
 
Admission to all home matches for Kentucky Tennis is free of charge to the public. Doors to the Boone Tennis Complex will open one hour prior to the start of each match.
 
Senior Day
Kentucky men's tennis will honor its two student-athletes who are coming to a close of their collegiate tennis careers in fifth year captain Millen Hurrion and graduate student Francois Musitelli. While both have transferred from other schools, their impact on UK's program has been immeasurable.
 
Hurrion came to Lexington after competing at Gardner-Webb for his freshman and sophomore seasons.  A native of Weymouth, England, Hurrion was named to the All-Big South First Team in both singles and doubles in his second season, going 14-3 in singles and 15-1 in doubles. The two-year captain currently holds a 70-35 overall record in singles and 58-33 in doubles. 
 
Hurrion chose UK due to the coaching staff and team culture aligning with his values as an individual. Hurrion feels he was able to contribute to the ambition of the program, helping develop UK men's tennis to one of the best programs in the SEC. He will graduate in May with a degree in business management.
 
Musitelli came to UK after stops at Grand Canyon University and Old Dominion, compiling an 87-36 career record in singles along the way. As a freshman at GCU, the Dijon, France native was named First Team All-Western Athletic Conference in singles. During his time at ODU, Musitelli made First Team All-Conference USA in doubles all three years, first team for singles twice and second team once. 
 
The graduate student came to Kentucky to compete into the SEC and against the best teams in college and be pushed against top players in practice. In 2019, Musitelli got to represent his home country and play for the French team in an international competition. He will receive a master's in science of business administration and marketing in the fall of 2023. 
 
#UKRising in the rankings
The Wildcats stayed at No. 12 for the third-straight week after dropping back-to-back close contests. No. 16 Gabriel Diallo remains as the highest-ranked Kentucky player in singles, going 3-1 in the last two weeks.
 
No. 30 Liam Draxl was the week's highest riser in singles, jumping up 64 spots after taking down two top-40 opponents. The reigning Intercollegiate Tennis Association Player of the Year is now 10-4 on the season, playing all his matches at the one spot. 
 
The 84th-ranked singles player, Joshua Lapadat, jumped up 11 spots, now with the second-most wins on the team in singles at 23-6. Rounding out the ranked UK athletes in singles is No. 95 Musitelli with a 22-11 record. No. 56 Draxl and Hurrion stayed in the doubles rankings despite not playing together in recent matches but stand 5-2 together overall. 
 
Scouting the Volunteers
Tennessee stayed put at No. 5 following a 6-1 victory over No. 52 Arkansas on April 1 during its lone match of the week. The team stands at 17-5 (5-3 SEC), previously peaking as the top team in the country for five weeks this season.
 
The Volunteers have three players ranked in singles, all of which are in the top 50. No. 5 Johannus Monday is their top-ranked player, moving into the top five this week. No. 19 Emile Hudd and
Shunsuke Mitsui are the highest of the two tandems ranked in doubles, standing at 20-8 together.
 
Tennessee is 5-1 on the road, including a 4-0 mark in SEC play. 
 
Scouting the Bulldogs
No. 10 Georgia is currently second in the SEC standings, now with a 15-5 record overall and a 7-2 record in conference. Last week, UGA went 2-0 in their matches against No. 24 Texas A&M and No. 43 Ole Miss, sweeping them both in a 4-0 result. 
 
Hamish Stewart leads the way for the Bulldogs in singles as the highest-ranked player on the team at No. 11, including a 10-4 record at the one spot. Rounding out UGA's ranked singles athletes are No. 56 Tristan McCormick, No. 64 Philip Henning and No. 97 Trent Bryde. 
 
Georgia also has four appearances in the doubles rankings as well. No. 14 Bryde and Henning hold down its top two spots with a 10-4 record, while No. 40 McCormick and Stewart stand with a 10-8 record and a 6-5 mark on court one. 
 
Last time out
The Wildcats went 0-2 last week after falling to No. 8 Virginia and No. 10 South Carolina in close matches. 
 
Kentucky managed to win the doubles point against UVA after a dramatic finish by Draxl and Alexandre Leblanc. However, only Draxl picked up a singles win, taking down No. 29 Inkai Montes 2-6, 6-2, 7-5.  
 
Against South Carolina, Diallo, Lapadat and JJ Mercer picked up the three points for UK as the team lost, 4-3. 
 
Up next
Following the two matches this week, Kentucky will play in its last two regular-season matches on the road. 
 
The Wildcats will travel to Baton Rouge, Louisiana, to take on No. 38 LSU on Friday, April 15 at 6 p.m. Afterwards, UK returns to Rula Tennis Pavillion as No. 30 Mississippi State hosts the Wildcats once again on Sunday, April 17, at 2 p.m. The schools previously faced off in Starkville, Mississippi, during the ITA Kickoff Weekend, which saw Kentucky win, 4-2, on January 30. 
 
For the latest on the Kentucky men's tennis team, follow @UKMensTennis on Twitter and Facebook, @kentuckymenstennis on Instagram, and on the web at UKAthletics.com.
 
– GO CATS –
For more information contact:
Ryan Cullinane (rrcu222@uky.edu) – (859) 257-8309