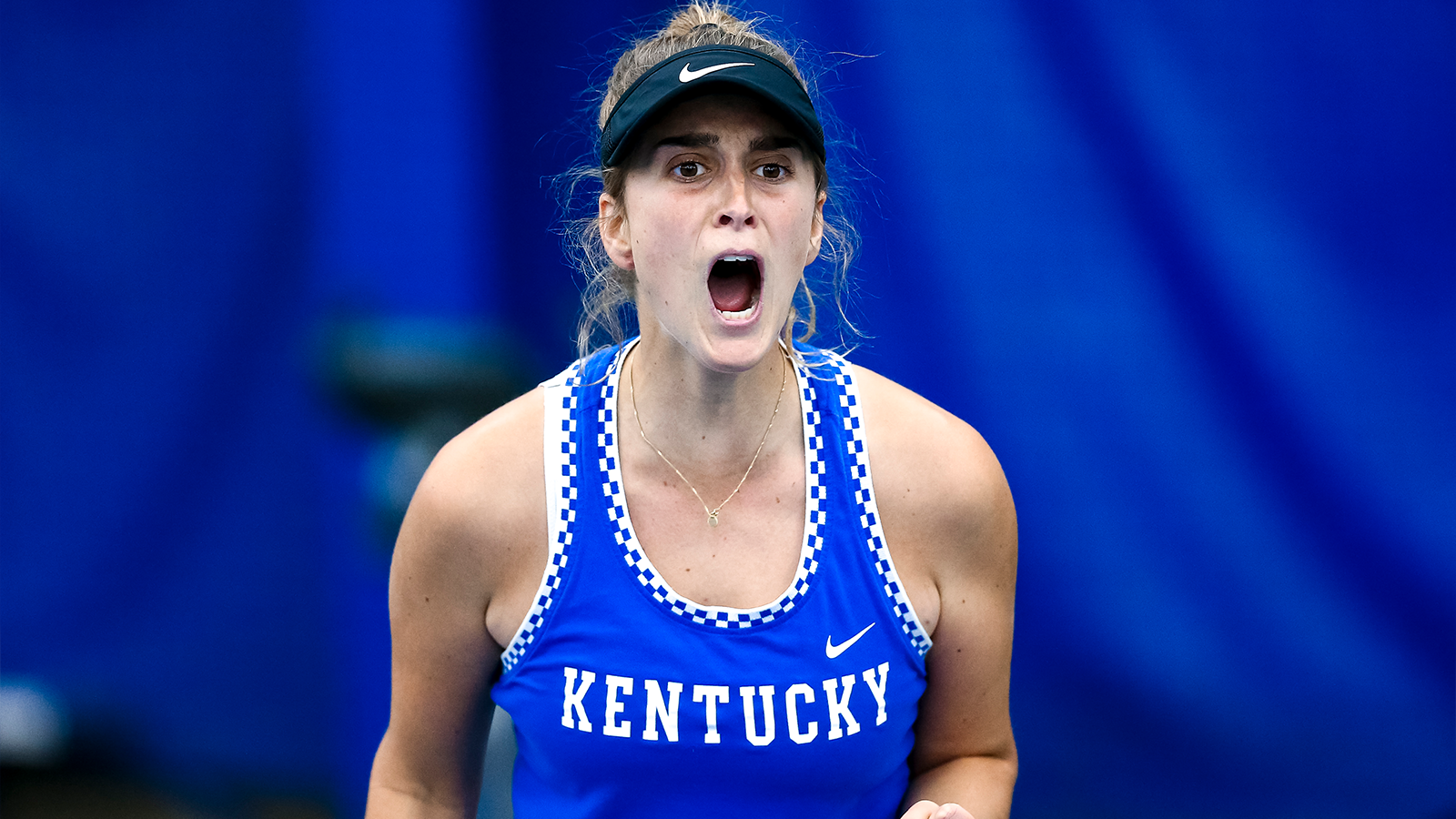 Molina Earns Ranked Win in Kentucky's Loss to No. 16 Florida
LEXINGTON, Ky. – Despite claiming the doubles point and Carlota Molina earning a ranked win in singles, the No. 63 Kentucky women's tennis team dropped a 5-2 decision to No. 16 Florida on Friday at the Hilary J. Boone Tennis Center. The Wildcats are now 12-9 overall on the year and 0-8 in Southeastern Conference play while the Gators improve to 15-4 (7-2).
Kentucky began the match by securing the doubles point for the 14th time this season and third time in SEC action. Playing together for the first time, Fiona Arrese and Ellie Eades took down McCartney Kessler and Marlee Zein in a 6-4 decision on the first court. However, the Gators soon leveled things up when the 34th-ranked duo of Alicia Dudeney and Bente Spee defeated Carla Girbau and Lidia Gonzalez, 6-3, on the second court.
The clinch for the home team came from a resilient effort in the third position by Molina and Florencia Urrutia, who forced Emma Shelton and Carly Briggs into a tiebreaker after being locked at six sets each. Trailing by four at the start of the deciding round, the Wildcats stormed back for a final 7-6(9-7) outcome in their favor. 
Florida then took the lead after back-to-back wins on courts one and four, respectively. Although there was a strong comeback attempt, Kessler, the No. 22 singles player in the country, posted a 6-0, 7-5 victory over Urrutia before Alicia Dudeney bested Arrese, 6-4, 6-1.
Molina then evened the score on court two after topping Zein, who's ranked 58th in the nation, by a score of 6-4, 3-6, 6-2 for her second ranked win of the season. Briggs' 3-6, 6-2, 6-4 win over Girbau in the third spot gave the Gators a one-point advantage, then Sara Dahlstrom clinched it for Florida after her 6-1, 6-3 victory against Eades in the fifth position.
The Wildcats take to the court once again on Sunday, April 3 as they welcome No. 34 South Carolina to Lexington for a 12 p.m. ET match. 
No. 16 Florida 5, No. 63 Kentucky 2
Singles
1. No. 22 McCartney Kessler (UF) def. Florencia Urrutia (UK) 6-0, 7-5
2. Carlota Molina (UK) def. No. 58 Marlee Zein (UF) 6-4, 3-6, 6-2
3. Carly Briggs (UF) def. Carla Girbau (UK) 3-6, 6-2, 6-4
4. Alicia Dudeney (UF) def. Fiona Arrese (UK) 6-4, 6-1
5. Sara Dahlstrom (UF) def. Ellie Eades (UK) 6-1, 6-3
6. Emma Shelton (UF) def. Maialen Morante (UK) 6-7(1-7), 6-4, 10-6
Order of finish: 1, 4, 2, 3, 5*, 6
Doubles
1. Fiona Arrese/Ellie Eades (UK) def. McCartney Kessler/Marlee Zein (UF) 6-4
2. No. 34 Alicia Dudeney/Bente Spee (UF) def. Carla Girbau/Lidia Gonzalez (UK) 6-3
3. Carlota Molina/Florencia Urrutia (UK) def. Emma Shelton/Carly Briggs (UF) 7-6(9-7)
Order of finish: 1, 2, 3*
For the latest on the Kentucky women's tennis program, follow @UKWomensTennis on Twitter and Instagram, on Facebook, and on the web at UKathletics.com.