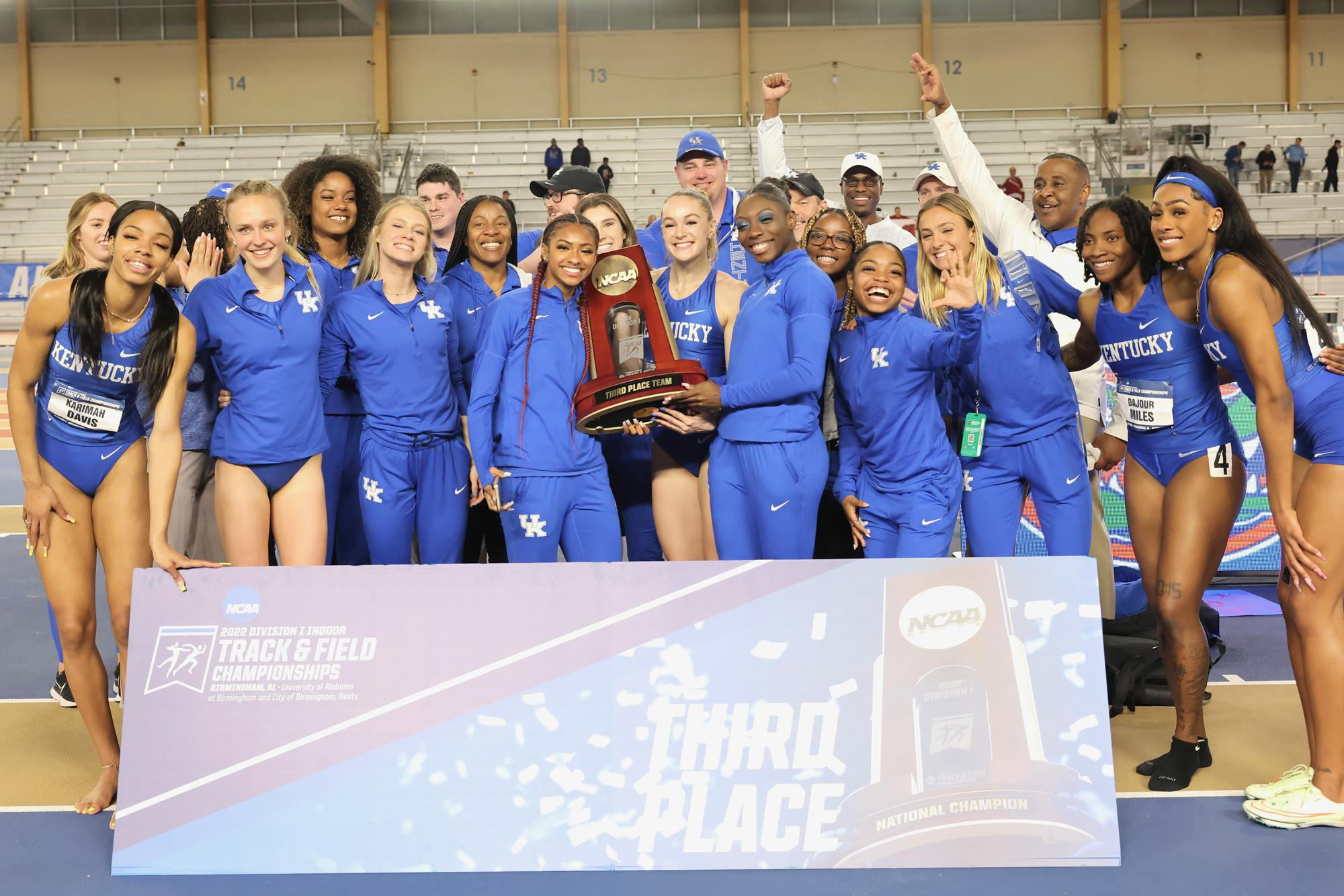 March 13, 2022 - 01:33 AM
UKTF Women's Team Third at NCAA Indoors, Steiner Defends 200M Title
BIRMINGHAM, Ala. — Abby Steiner defended her 200-meter National Championship, breaking her meet record in the process, and leading the Kentucky women's track and field team to a school-record 44 points and third place as a team at the 2022 NCAA Indoor Track and Field Championships, equaling the best team finish at the competition in school history.
UK's men's team finished tied for 21st with 10 points.
"I'm glad we're one of those teams that brought home a trophy. The best is yet to come for us. The key for us right now is just to stay healthy as we go into the outdoor season and then navigate through to Eugene," Head Coach Lonnie Greene said.
Steiner won gold in the 200m, a silver in the 60m, and Masai Russell took silver in the 60m hurdles. UK's women's 4x400m relay of Alexis Holmes, Steiner, Davis and Miles, plus the men's 4×4 of Dwight St. Hillaire, Lance Lang, Brian Faust and Jacob Smith each took bronze medals.
Steiner won the 200m in 22.16, breaking the meet record she tied last year (broke the tie with Harvard's Gabby Thomas – now a two-time Olympic medalist) en route to the title a year ago.
"It's so surreal [winning her second NCAA title], especially because this is the track I started my NCAA indoor career at. I was here freshman year and didn't even make finals, so just seeing the growth at this place has been incredible," Steiner said.
Her run was also the second fastest collegiate run ever, trailing her own collegiate and American record by only .07 that was set at 2022 SEC Championships.
Steiner scored 10 points in the 200m, and another eight in the 60m, followed by being part of the bronze 4x400m relay that scored six points.
Steiner claimed the 60m silver with a school record and personal best time of 7.10.
Russell earned her first individual NCAA medal, a silver, in the 60m hurdles with a time of 7.95.
Kentucky's women's 4x400m relay ran 3:28.77 to earn bronze in the meet-concluding race, clinching the third place for the team.
Holmes scored five points with a fourth-place finish in the women's 400m (51.50) . She tied her best NCAA Championship finish from when she finished fourth in the same race as a freshman at Penn State.
Davis added three points to the 10 Steiner scored in the 200m, running 23.23 for her highest finish at NCAA Championships in her career.
The Kentucky track and field women's distance medley relay of Jenna Gearing, Megan Moss, Jenna Schwinghamer and Tori Herman scored four points, placing fifth with a time of 11:02.41 to highlight UK's first night of the NCAA Indoor Championships.
The DMR earned the Wildcats' best NCAA finish in the event since 2013. The team ran their third fastest time this season and second fastest when not taking conversions into account.
Tori Herman made her 3000m NCAA Championship debut with a 9:13.70 run in finals for 16th place.
"We will be better outdoors. I'll go on record and say that. We will be better outdoors. We will have a part of this conversation outdoors. I'm excited for what the future holds."
Men's Team Report 
Lance Lang placed fifth in the men's 200m with a 20.87 time to score four points.
UK's men's 4x400m of Dwight St. Hillaire, Lang, Brian Faust and Jacob Smith earned six points with a bronze-medal run that clocked in at 3:04.64.
Field athletes Keaton Daniel and Luke Brown placed 12th and 16th in the pole vault () and triple jump (), respectively.
The men's team finished 21st overall with 10 points scored.
Kentucky NCAA Indoor Championship History 
At 2021 NCAA Indoor Championships, the Kentucky women placed 13th with a total of 17 points while the men tied for 14th with 12 points.
The women's team's best finish in UKTF history was third in 2018 when they scored 34 points featuring now-Olympic gold medalists Sydney McLaughlin and Jasmine Camacho-Quinn.
The men's finish in 2021 was the highest team finish in 25 years after the men placed seventh with 22 points in 1996.
Nine of the 19 Wildcats that qualified for this year's indoor championship meet also competed in last year's indoor NCAAs, which featured five podium finishes in the men's 200m, men's 400m, men's 4x400m, women's 200m and women's 4x400m.
Lance Lang finished sixth in the 200m, Dwight St. Hillaire placed eighth in the 400m, and both ran in the NCAA silver medal-winning 4x400m relay alongside Kennedy Lightner and Jacob Smith.
Abby Steiner won the 200m with a then-collegiate record-tying time of 22.38 and the women's 4x400m relay of Steiner, Megan Moss, Dajour Miles and Masai Russell placed fifth.
Six Wildcats will be making their NCAA Indoor Championships debut on Friday and Saturday, including Jenna Gearing, Jenna Schwinghamer, DeAnna Martin, Bryanna Lucas, Keaton Daniel, Luke Brown, and Karimah Davis.
Follow Kentucky Track and Field and Cross Country on Facebook, Instagram, Twitter and at UKathletics.com.