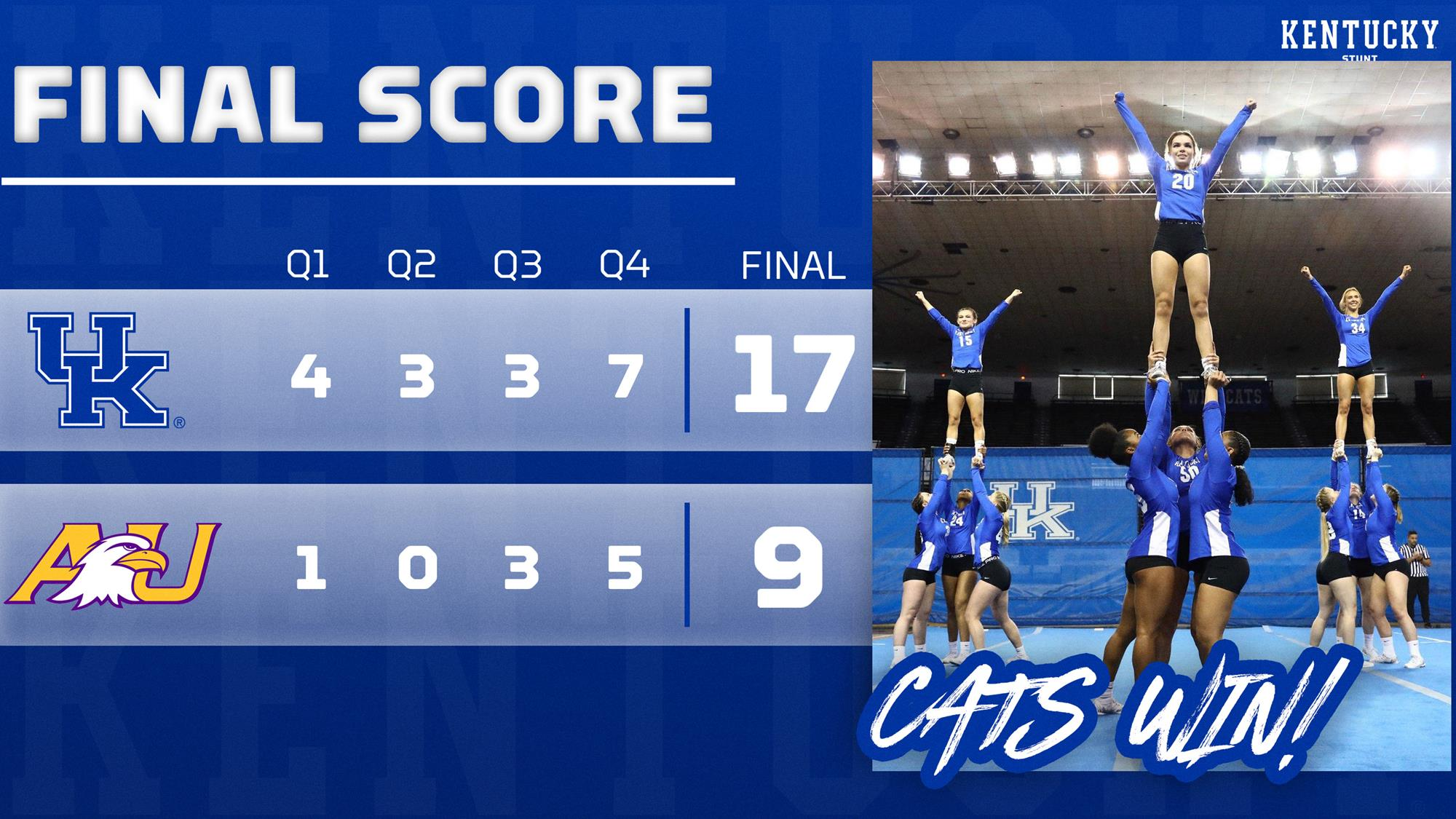 LEXINGTON, Ky. – The Kentucky STUNT team earned the first two victories in program history on Saturday, topping Ashland University 17-9 and 17-7 in a doubleheader sweep inside Memorial Coliseum.
In game one, Kentucky took the lead on the first routine and kept the advantage for the entire game. Kentucky took the first quarter 4-1, then built a 7-1 lead at the half.
The third quarter was even, with both teams earning three points, giving UK a 10-4 advantage with one quarter remaining. In the final stanza, Kentucky earned seven points while Ashland earned five, resulting in the 17-9 Kentucky victory.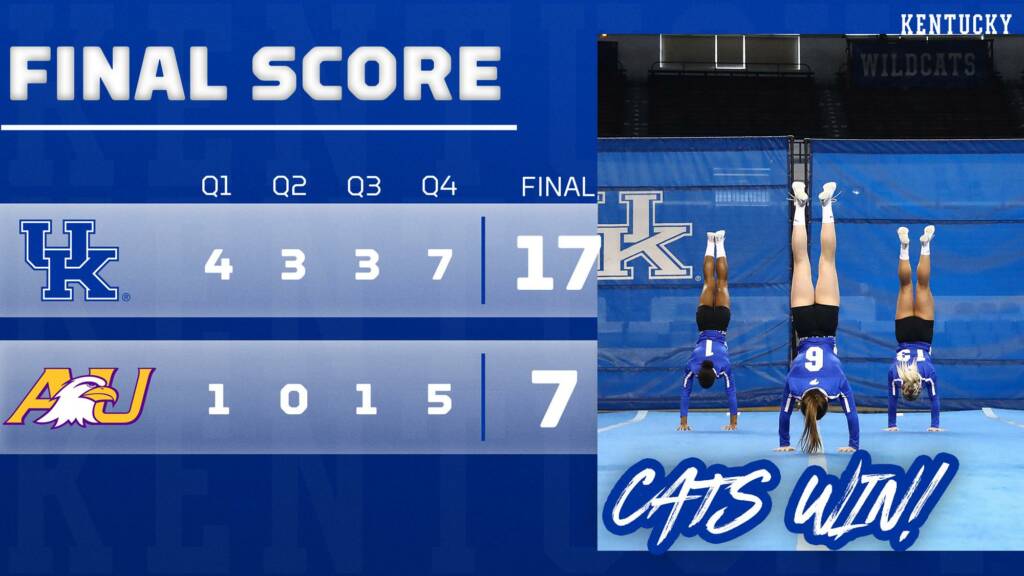 Game two of the doubleheader started out much the same, with Kentucky taking a point on the first routine. After a tie on the second routine of the first period, Kentucky won the final two points of the period to lead 4-1.
In the second quarter, Kentucky extended the lead, winning each of the first three routines to grab a 7-1 advantage. That would be the score at the half.
Kentucky took complete control of the game in the third period, winning three of four points to take a 10-2 lead into the final quarter.
The Cats would score seven points in the final period to seal the win, and the doubleheader sweep, 17-7.
"Wins feel great, but I feel like there's still room for improvement on what we can do," said UK head coach Blair Bergmann. "We knew Ashland was going to be solid in certain areas, so the main thing for us was execution, controlling what we can control."
Kentucky returns to action in two weeks in the Ann Arbor Classic in Michigan.
Game 1 Scoring
Quarter 1
Routine 2 – Kentucky (UK 1, AU 0)
Routine 1 – Tie (UK 2, AU 1)
Routine 3 – Kentucky (UK 3, AU 1)
Routine 4 – Kentucky (UK 4, AU 1)
 
Quarter 2
Routine 3 – Kentucky (UK 5, AU 1)
Routine 1 – Kentucky (UK 6, AU 1)
Routine 2 – Kentucky (UK 7, AU 1)
Routine 6 – No points (UK 7, AU 1)
 
Quarter 3
Routine 1 – Kentucky (UK 8, AU 1)
Routine 2 – Ashland (UK 8, AU 2)
Routine 4 – Tie (UK 9, AU 3)
Routine 6 – Tie (UK 10, AU 4)
 
Quarter 4
Routine 2 – Tie, Kentucky, Ashland (UK 12, AU 6)
Routine 1 – Tie, Kentucky, Ashland (UK 14, AU 8)
Routine 3 – Kentucky, Kentucky, Tie (UK 17, AU 9)
Game 2 Scoring
Quarter 1
Routine 1 – Kentucky (UK 1, AU 0)
Routine 2 – Tie (UK 2, AU 1)
Routine 4 – Kentucky (UK 3, AU 1)
Routine 3 – Kentucky (UK 4, AU 1)
 
Quarter 2
Routine 2 – Kentucky (UK 5, AU 1)
Routine 1 – Kentucky (UK 6, AU 1)
Routine 3 – Kentucky (UK 7, AU 1)
Routine 5 – No points (UK 7, AU 1)
 
Quarter 3
Routine 2 – Ashland (UK 7, AU 2)
Routine 5 – Kentucky (UK 8, AU 2)
Routine 1 – Kentucky (UK 9, AU 2)
Routine 6 – Kentucky (UK 10, AU 2)
 
Quarter 4
Routine 1 – Tie, Kentucky, Kentucky (UK 13, AU 3)
Routine 2 – Tie, Ashland, Kentucky (UK 15, AU 5)
Routine 3 – Kentucky, Ashland, Tie (UK 17, AU 7)