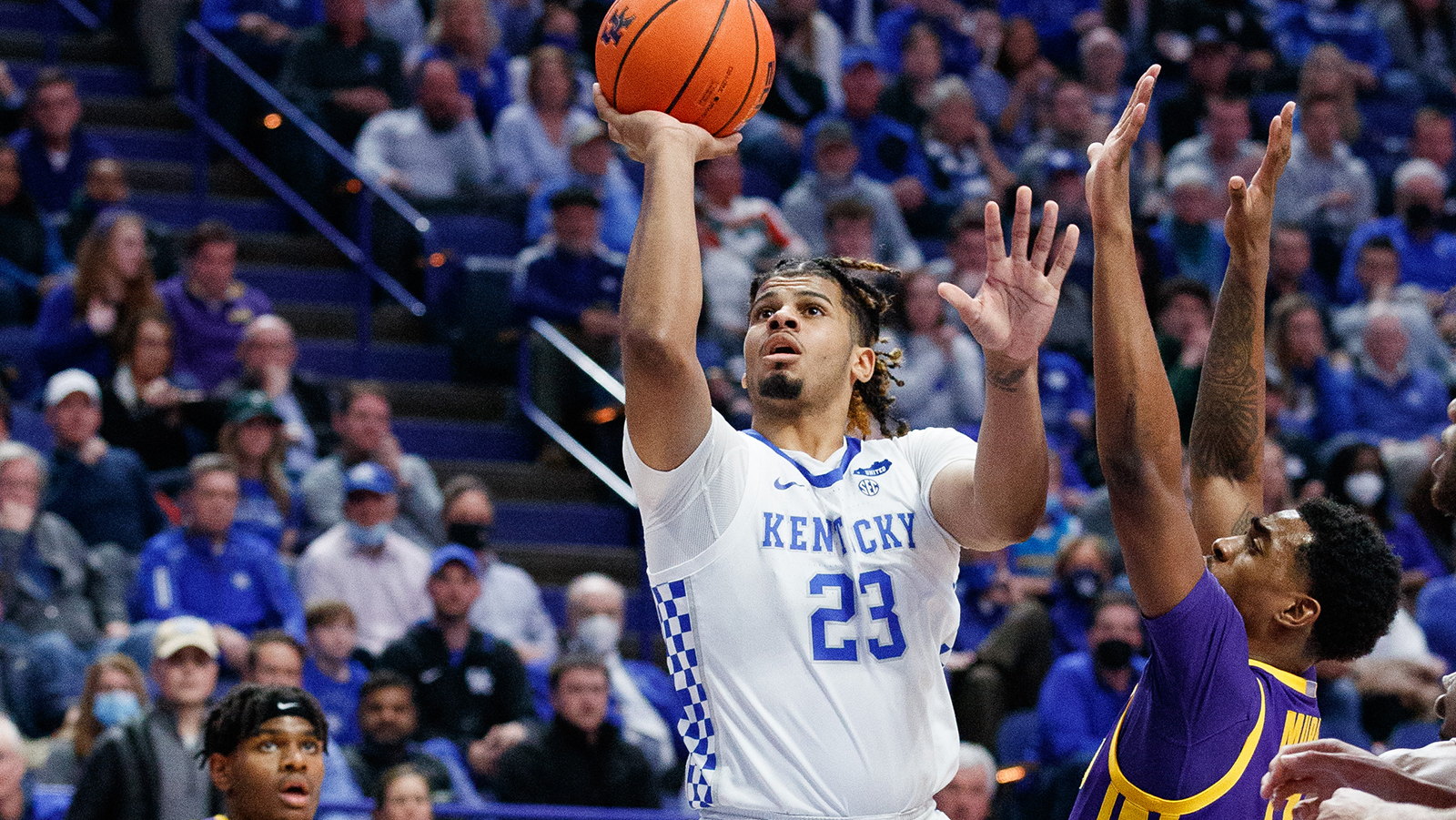 February 24, 2022 - 12:48 AM
Hopkins Makes Most of Opportunity on Wednesday
Kentucky freshman Bryce Hopkins has had limited opportunities during his initial campaign in Lexington. But when the Illinois native was called on in Wednesday's win over LSU, he delivered in a big way.
Hopkins, who came to Kentucky as a Top 50 recruit in the nation out of high school, showed a glimpse of that promise with a career-high 13 points, all in the second half, as Kentucky rallied to win 71-66 at Rupp Arena.
Hopkins was at the center of an 11-0 run that sent the Cats from an eight-point deficit into a three-point lead early in the second half. Hopkins scored nine of UK's 11 points in the stretch, which saw the Cats take a lead that they would never relinquish.
Prior to Wednesday's game, Hopkins had scored just 47 points, total, this season in 24 games played. His previous career high was seven points against both North Florida and Ohio in November. He had not scored in Kentucky's last seven games. In three of those games, Hopkins did not play.
The most points Hopkins has scored in the 2022 calendar year was three against Tennessee on Jan. 15. Prior to Wednesday, he had scored just eight points since Jan. 1. So this was not something that many saw coming.
To his credit, Hopkins knew what his team needed on Wednesday, and he delivered.
"I think I played a good game today. I saw in the first half that we were kind of playing a little slow," Hopkins said. "So, in the second half, coach was saying that we needed a little more energy, so that's what I tried to do when I came into the game, just tried to bring energy and just contribute however I could."
And the Cats needed the contribution from Hopkins on this night. For the second consecutive game, UK was without starting guards TyTy Washington Jr. and Sahvir Wheeler.
UK head coach John Calipari was pleased that Hopkins was finally able to make a big contribution to his team.
"What he did today is he rebounded and he went to the offensive glass, he tried to guard, he was involved in everything, made a stick back, makes a 15-footer," Calipari said. "But there was nothing like crazy-crazy, but we're all talking about him because he did what the team needed him to do."
Calipari liked how Hopkins responded to the coach's call to play harder.
"He did it because I said I'm playing guys that are going to fight," Calipari said. "If you're not fighting, I'm not playing you. And I went with him. The team was so happy for him and so was I."
Hopkins had continued to work and was waiting for his chance to be a contributor. He got that chance on Wednesday and was pleased with how he responded.
"Well, that's one thing coach always tells us is just to wait for our opportunity," Hopkins said. "Today was mine and I just took advantage of that. I was staying in the gym, just kept on working on my game and today was the day I finally broke through."
Hopkins' contributions on this night give Calipari yet another option as the Cats get ready for what they hope will be a memorable March.