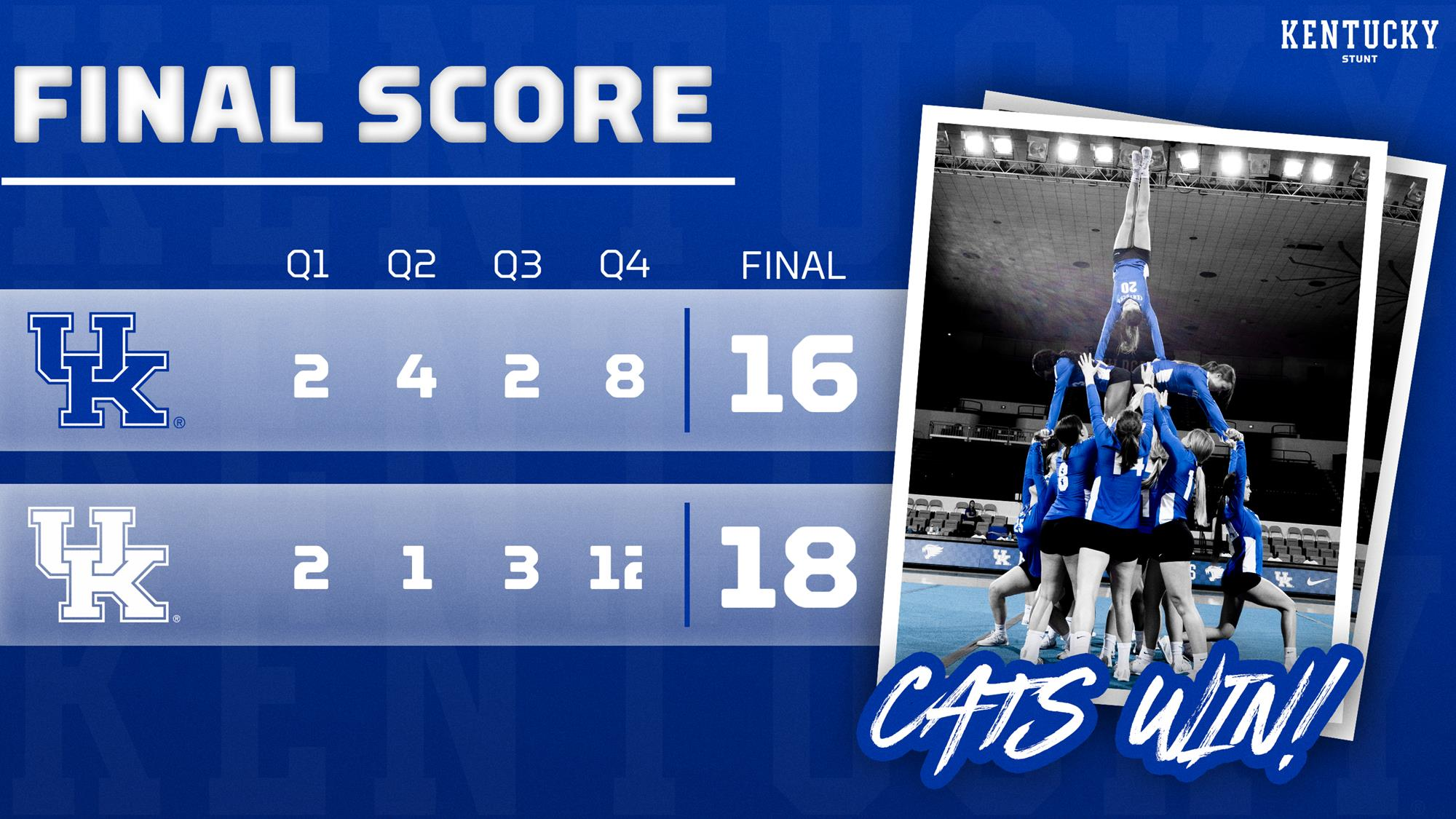 LEXINGTON, Ky. – The White team rallied past the Blue team 18-16, in overtime, in the Kentucky Blue/White STUNT scrimmage on Saturday at Memorial Coliseum.
The White team grabbed the first point of the game in the first quarter, but the Blue quickly tied the game at 1-1. After each team won another point, the first quarter ended in a 2-2 tie.
In the second quarter, the Blue team appeared to take command of the game. Out of the four routines in the quarter, the Blue team won three and earned a tie in the fourth. That gave the Blue team a 6-3 advantage at the halfway point of the game.
In the third quarter, the White team started their rally from behind. The teams tied the first routine of the third period but the White team won two of the next three to cut the deficit to 8-6 with the all-important fourth quarter yet to play.
The fourth quarter started evenly, with both teams earning two points on the first routine. In the second routine, the Blue team earned three points and took a 13-9 lead overall with just two routines left.
Needing something special to happen, the White team was able to do just that. The White squad took the point in partner stuns, jumps and tumbling and pyramids and tosses in the third routine of the fourth quarter. That pulled the White within one, 13-12, with one routine remaining.
In that final routine, the White squad earned three points to two for the Blue, tying the match at 15-15 and sending it to sudden death overtime.
There, the White squad earned three points on the first routine and pulled out the two-point victory.
Interim head coach Blair Bergmann was pleased with what his team accomplished on Saturday.
"We wanted to be able to perform routines one through four and we did that," Bergmann said. "And we wanted to introduce the sport, which we also were able to do."
Kentucky begins its regular season on Feb. 18 in the Dallas Baptist Tournament.