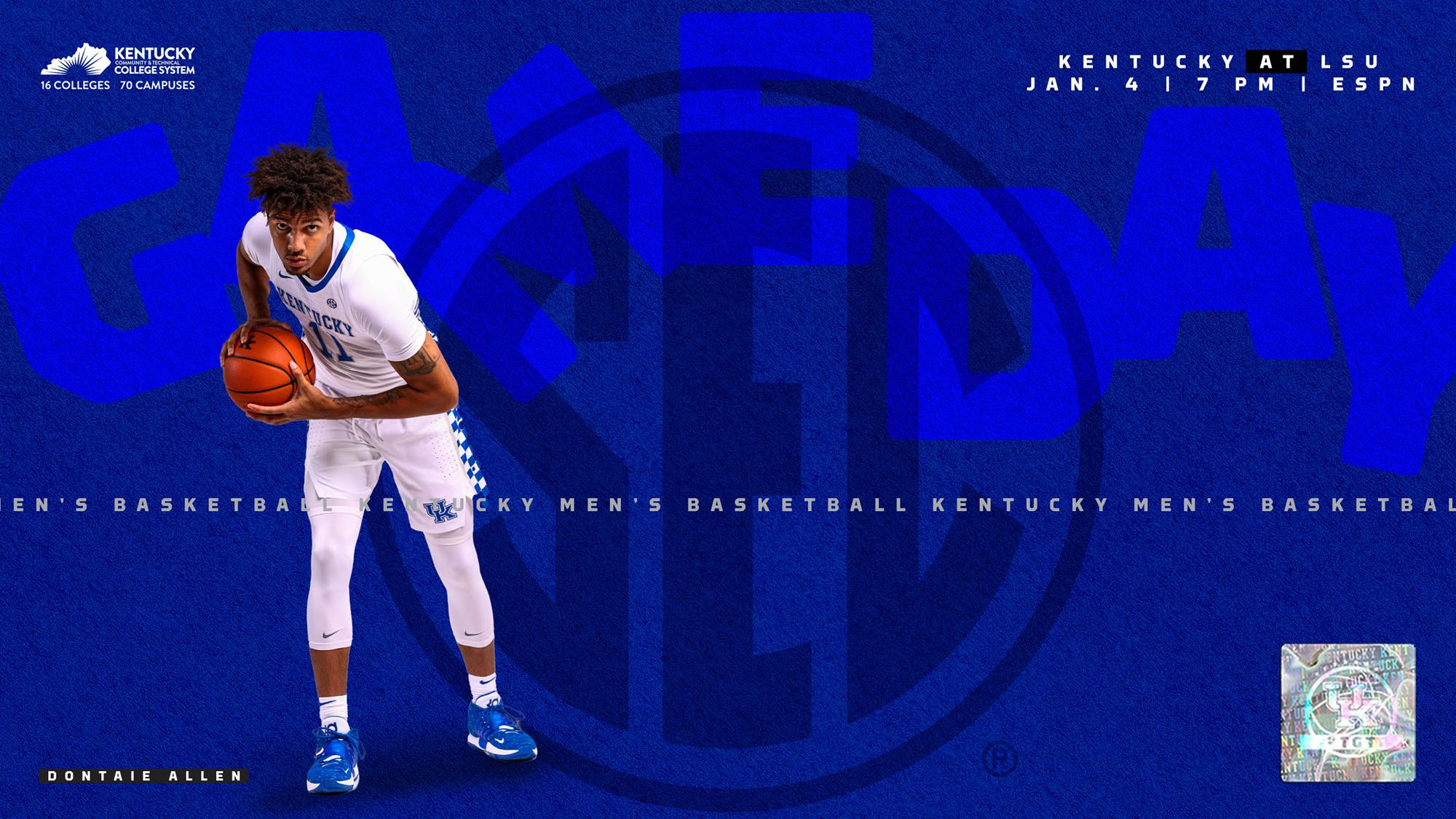 January 3, 2022 - 03:57 PM
Cats Prepared for Another Road Challenge, Visiting LSU
Kentucky has played a true road game just one time this season. And it did not turn out well. The Cats struggled offensively, hitting just two of 19 (10.5 percent) from behind the arc, in a 66-62 loss at Notre Dame on Dec. 11.
UK, ranked 16th in this week's Associated Press poll, will face another true road game on Tuesday night, as the Cats visit the Pete Maravich Assembly Center in Baton Rouge to face No. 21 LSU. Kentucky is hoping to learn from its first experience playing in front of a hostile crowd this season.
"That was our first true road game with a new team who had never been in that situation before," said assistant coach Chin Coleman. "Now, we have that experience and experience is the best teacher. From now on, we know that our job is to go on the road with a different mentality and to play with a swagger."
Guard Davion Mintz thinks the experience at Notre Dame can prove to be beneficial.
 
Kentucky at LSU

Tues., Jan. 4 – 7:00 p.m. ET
Pete Maravich Assembly Center
Baton Rouge, La.
Game Notes: UK | LSU
UK Athletics App

Coverage

TV: ESPN
Radio: UK Sports Network
Watch
Listen
Live Stats

UK
Stats
LSU
11-2
Record
12-1
1-0
Conference Record
0-1
83.9
PPG
77.7
60.5
Opp PPG
55.3
.497
FG%
.448
.380
Opp FG%
.345
44.8
RPG
41.8
.336
3PT FG%
.310
.272
Opp 3PT FG%
.262
17.6
APG
13.2
7.0
SPG
12.5
5.2
BPG
4.9

"Just to know how it feels, especially with a crowd," Mintz said. "Going in, obviously the other team is super excited. They're really looking forward to having us there. They're doing something special just because we're there. It's an attraction when we play in the arena."
That "something special" on Tuesday will be LSU naming its playing floor after long-time head coach Dale Brown. For Kentucky, it should be nothing new.
"It's what Coach Calipari talks about all the time with our team," said Coleman. "When you play at Kentucky, you're everybody's biggest game. If you lose, there's going to be a scrum, there's going to be the court rushing. I think we understand that target that's on our back."
Mintz knows that this is what he and his teammates signed up to do.
"This is Kentucky. This is why you come here," Mintz said. "What else do you want? You want to be the main scene. We're used to it at this point. This is why we come here and this is why we are UK."
Mintz calls Tuesday's game against nationally-ranked LSU a statement game.
"Just another statement game, try to get a really big road win," Mintz said. "Obviously, they are a really good team and they play well at home. Just to go somewhere and win and prove that we can bounce back on the road, that would be big for us."
As far as what statement Kentucky wants to make on Tuesday, Mintz was clear.
"That we're road warriors," Mintz said. "We can come in your house and we can dominate, the same way we do here. We want to prove that there's no layoff, that we're a legitimate top 10, top five team in the country, no matter if we're playing at home or away."
Kentucky has had some success playing at the PMAC, winning three of its last four in Baton Rouge. But the Cats will be facing a nationally-ranked LSU team that's coming off its first loss of the season. Still, Coleman likes where the Cats are at this point in the campaign.
"We're trending in the right direction right now," Coleman said. "And we want to continue to do that with the way that we're playing on both ends of the floor."
The Cats hope that trending in a positive direction, along with the lessons learned at Notre Dame earlier this season, can be enough to get a tough road win on Tuesday.
Wildcats Cruise Past High Point Behind Grady's Seven 3-Pointers
Tubby Smith returned to Kentucky, and Kellan Grady stole the show.
Grady spoiled Smith's trip to Rupp Arena, making seven 3-pointers to lead No. 18 Kentucky to a 92-48 victory over High Point on Friday.
Smith coached Kentucky for 10 years from 1997-2007, winning the NCAA title in 1998. The High Point alum was hired to coach the Panthers in March 2018. Kentucky raised a jersey in Rupp to honor Smith. But after the pregame ceremony, it was all Wildcats.
Kentucky shot 58% from the field in the first half and led 43-25 at the break. High Point closed to 47-34 on Zach Austin's 3-pointer with 17:14 left, but Grady responded with three more 3s during an impressive burst.
"(Coach John Calipari) mentioned during starting lineups he was going to run a couple sets to give me the opportunity to get a couple shots," said Grady, who finished with 23 points.
TyTy Washington Jr. had 15 points and nine assists for the Wildcats (11-2), and Oscar Tshiebwe finished with 15 points and eight rebounds.
Austin and John-Michael Wright each had 12 points and six rebounds for High Point (6-8).
Fans packed Rupp Arena early to witness the unveiling of Smith's jersey before the game. As the former Kentucky coach made his way to the floor during warmups, the crowd applauded and chanted "Tubby! Tubby!"
"You want to enjoy the moments and savor these opportunities. When you do your job and do it the best of your ability, people respect that," Smith said. "And I think that is a testament to the values we tried to instill in our players and family."
Thanks to the large margin, Kentucky's starters left the game with about 10 minutes to play.
The Wildcats got valuable minutes from their reserves, including Lance Ware, who had five rebounds and two blocked shots in eight minutes of play, and Jacob Toppin, who had six points and six rebounds in nine minutes.
Kentucky went 18 for 31 from 3-point range. Grady was 7 for 10, and Washington went 3 for 5. The Wildcats were very efficient on offense, shooting 59% for the game and finishing with 23 assists on 39 field goals.
"When we make shots like we made today we are going to beat people and there will be a big margins," Calipari said.
• Kentucky limited High Point to 48 points, the fewest points the Wildcats have allowed since holding Morehead State to 45 points in the 2020-21 season opener on Nov. 25, 2020
• The Wildcats were 39 of 66 from the field Friday afternoon, a season-high 59.1%. That's their best shooting mark since making 64.2% of their attempts vs. Alabama on March 10, 2018, in the SEC Tournament
• UK held High Point to 19 of 61 from the floor, 31.1%. That's the Wildcats' best defensive field-goal percentage of the season and the best since Kansas shot 29.9% on Dec. 1, 2020, in last season's Champions Classic
Offense Heating Up
Kentucky has won four straight games by at least 27 points for the first time since winning by 31 or more in four straight wins from Nov. 20 through Nov. 28, 2016. That team featured the likes of future NBA Lottery selections in De'Aaron Fox, Malik Monk and Bam Adebayo.
Since a four-point loss at Notre Dame, the Wildcats have been dominating in all phases of the game but particularly on the offensive end.
In those four wins, UK is averaging 92.0 points per game, shooting 53.1% from the field and 41.0% from 3-point range. The Wildcats are draining an average of eight 3-pointers per game, led by Kellan Grady's 20-of-31 (64.5%) over the last four games.
Kentucky is sharing the ball with an average of 20.5 assists per game. Sahvir Wheeler (8.0) and TyTy Washington Jr. (5.3) are leading the way in assists per game. Five players are averaging double figures (Grady – 18.0, Washington – 14.5, Oscar Tshiebwe – 14.5, Wheeler – 11.3 and Keion Brooks Jr. – 10.3).
The Wildcats are generating 16.0 second-chance points and 18.8 fast-break points per game during the stretch.