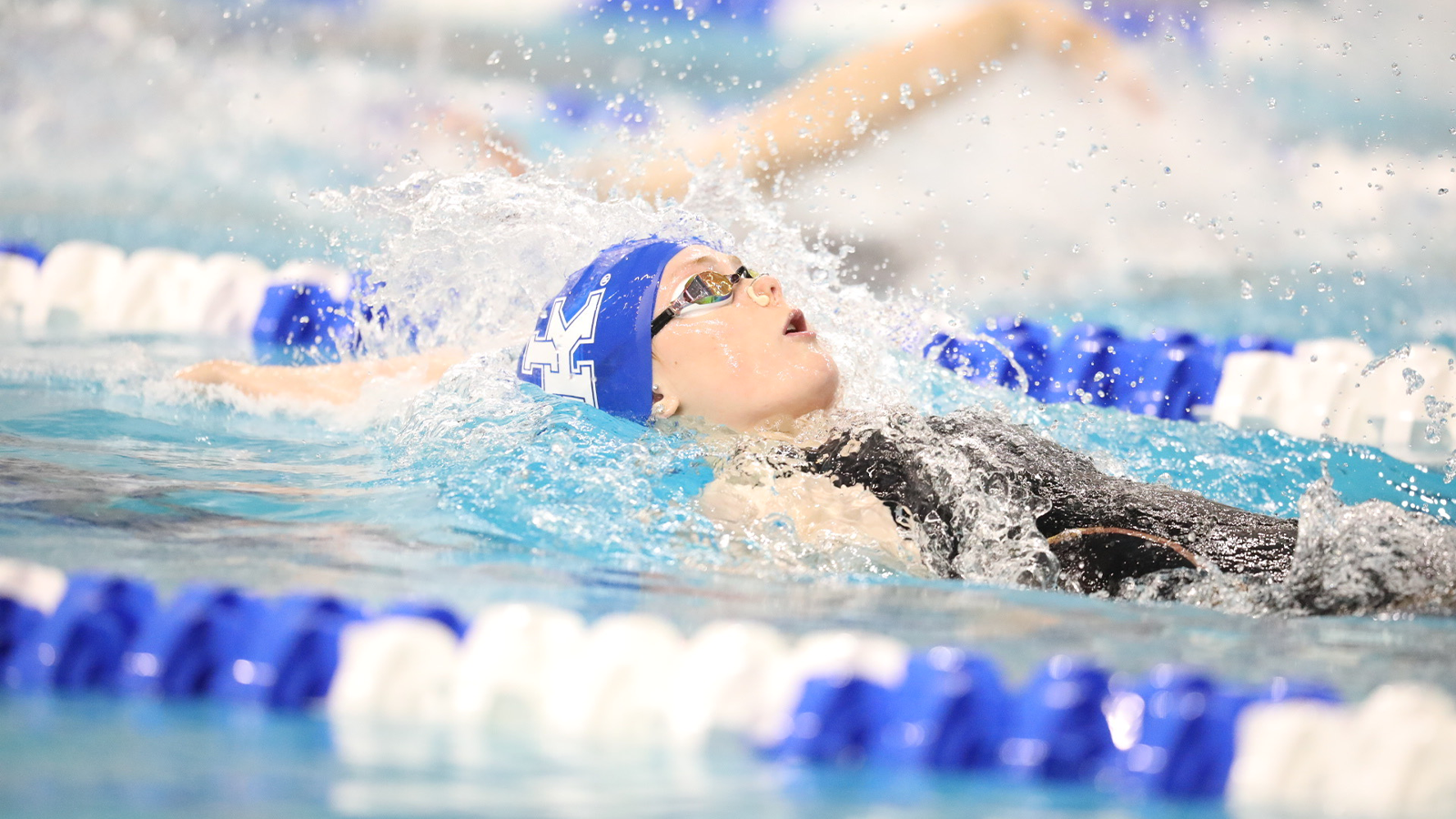 November 20, 2021 - 09:30 PM
Gaines, Knight, Sorenson Earn Victories on Final Night of Ohio State Invitational
COLUMBUS, Ohio – Riley Gaines, Kyndal Knight, and Sophie Sorenson earned wins and the Wildcats achieved 20 more NCAA B cuts as the No. 13 University of Kentucky men's and women's swimming and diving team concluded the Ohio State Invitational in Columbus.
The women's team finished second in the team standings with 2,198 points behind Ohio State (2,258) and ahead of Indiana (2,023). The men placed fifth with a final score of 1,222. 
"Overall, I thought it was a really good meet and that both the men's and women's teams fought hard throughout the weekend," said head coach Lars Jorgensen. "We need to get better in a lot of areas heading into SECs and NCAAs next semester, but I know we're on the right path."
Knight kicked off the final day of competition by winning the women's platform with a score of 297.40 as Morgan Southall earned a personal best of 225.85 for 10th. On the men's board, Danny Zhang was the runner-up in 396.70 with Rodrigo Romero diving to seventh in 342.05.
In the pool, Beth McNeese (16:23.08) and Kaylee Williams (16:25.71) both achieved the NCAA B standard in the women's 1650 free with respective fifth and eighth place finishes. Also earning the B cut in the men's mile was Jakob Clark (15:12.75) and Zane Rosely (15:16.35) who placed sixth and eighth, respectively. 
UK claimed the top two spots in the women's 200 back, led by Sorenson with a winning time of 1:52.18 and Caitlin Brooks taking second in 1:53.07. Also finishing in the top-12 was Lauren Poole (5th, 1:55.77), Parker Herren (7th, 1:55.95), and Torie Buerger (11th, 1:56.26) as all five Wildcats met the NCAA B cut. 
Jackson Mussler earned the B standard in the men's 200 back, posting a lifetime best of 1:44.98 to finish sixth overall. Also achieving the qualifying time was Gaines in the women's 100 free after taking second in 48.43, just off her personal best of 48.21.
Kentucky was well-represented in the women's 200 breast with five swimmers picking up a B cut time. Bailey Bonnett was the top finisher in 2:09.24 for fourth with Gillian Davey taking fifth in 2:09.51, while Poole (9th, 2:11.93), Olivia Mendenhall (13th, 2:13.38), and Bridget Engel (14th, 2:13.70) followed.
Gaines was back in the pool soon after to win the women's 200 fly in a personal best time of 1:54.85. Izzy Gati (1:56.58) and Anna Havens Rice (1:58.81) also notched their B cuts after finishing fourth and sixth, respectively, while Kristyn Sabol (10th, 2:00.70) competed in the championship final as well.
Mason Wilby dropped over a second off his prelims time to finish third in the men's 200 fly in 1:43.79, with his time well under the B qualifying standard of 1:46.69. The team of Gati, Gaines, Sorenson, and Kaitlynn Wheeler concluded the meet by finishing third in the 400 relay in 3:18.08.
"In terms of comparing this to last year, I think we're in a really good spot," said Gaines. "We have a lot of work to do and a lot of ground to cover before February and March, but it was a good progress report for us to see where we are compared to other schools."
"I thought it was a great weekend, and it was really cool to have a three-day meet format and have all the guys suit up," said Wilby. "A special shout out to the freshmen for their first invite meet. It will be nice to have a big training block before we're back here for a meet with Ohio State and Texas."
Women's Final Team Scores:
Ohio State – 2,258
Kentucky – 2,198
Indiana – 2,023
Notre Dame – 1,429
UCLA – 1,355
Virginia Tech – 938
Pitt – 834
Navy – 789
Cincinnati – 193
Miami – 158
Men's Final Team Scores:
Indiana – 2,830
Ohio State – 2,283
Virginia Tech – 1,663.5
Notre Dame – 1,515
Kentucky – 1,222
Pitt – 1,219
Cincinnati – 700
Miami – 158
Kenyon – 34
Navy – 9.5
A select number of qualified UK swimmers will compete at the Toyota U.S. Open on Dec. 1-4 in Greensboro, North Carolina. The Wildcats officially return to competition on Jan. 14-15, 2021, as they travel back to Columbus to face Ohio State and Texas in a tri-meet at the McCorkle Aquatic Pavilion. 
For the latest on the Kentucky swimming and diving program, follow @UKSwimDive on Twitter and on Instagram, on Facebook and on the web at UKathletics.com.