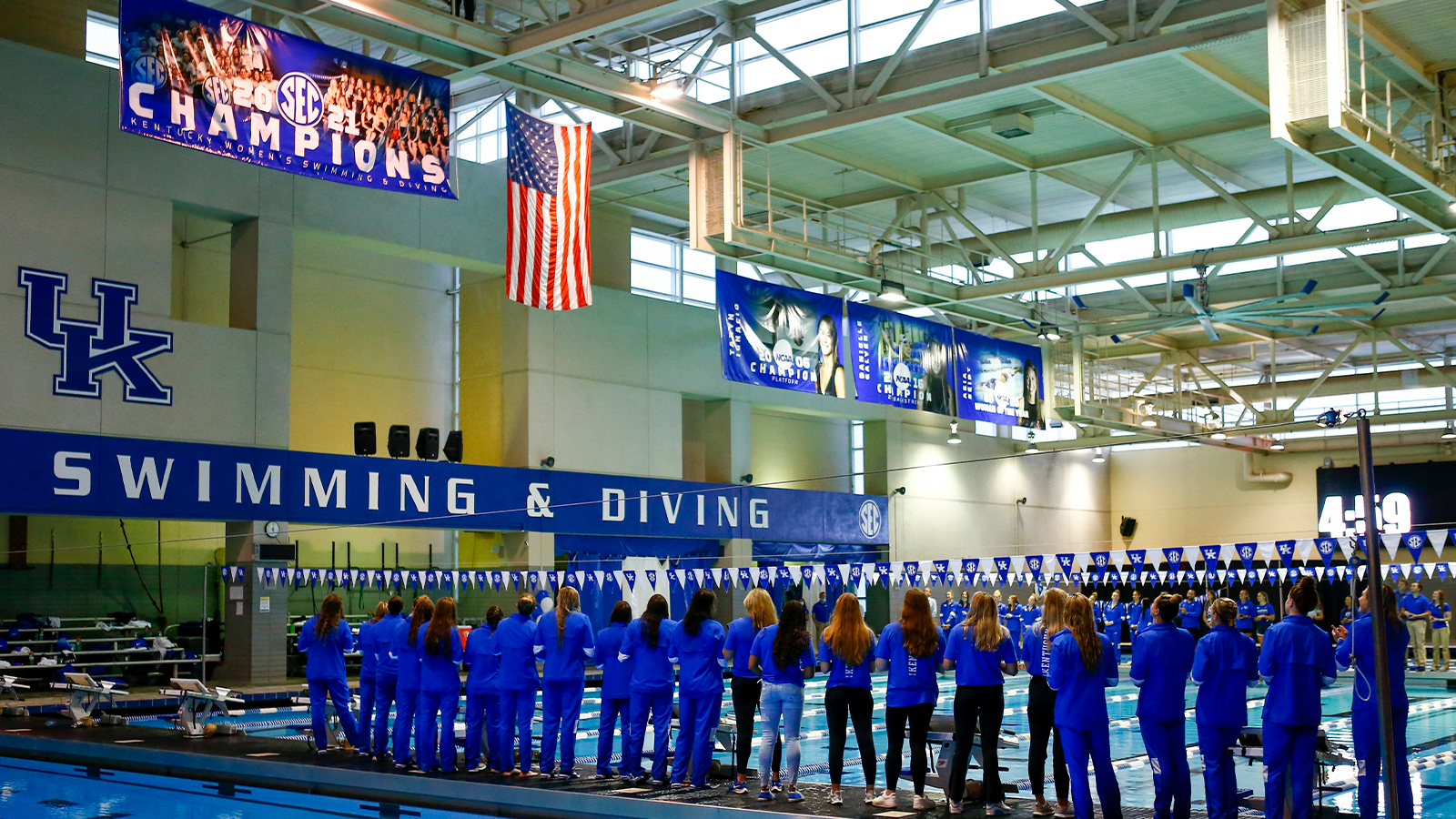 October 15, 2021 - 07:20 PM
No. 12 UK Women's Swimming & Diving Tops Ohio on Friday
LEXINGTON, Ky. – A night full of celebration was capped off by the No. 12 University of Kentucky women's swimming and diving team posting a 190-102 victory over Ohio on Friday at the Lancaster Aquatic Center. 
Prior to the start of the meet, the Wildcats unveiled their 2021 Southeastern Conference championship banner while the team was presented their commemorative rings.
"The energy at the pool tonight was great, and it was wonderful to have so many alumni come back and support us as we celebrated our 2021 SEC championship," said head coach Lars Jorgensen. "Ohio is a well-coached team who swam great, and I'm thankful they came down and competed against us."
The meet started off on a high note as Lauren Poole (55.04), Bridget Engel (1:04.03), Izzy Gati (54.22), and Megan Drumm (52.20) won the opening 400 medley relay in a combined time of 3:45.49.
The Wildcats took the top two spots in a number of events, including the 1000 free behind a first-place effort from Beth McNeese (10:12.83) and a runner-up finish from Caroline Benda (10:20.78). Caitlin Brooks (2:00.31) and Leah Luckett (2:02.91) also went 1-2 in the 200 back.
Bridget Engel was a double-event winner for UK, taking first in both the 100 breast (1:03.77) and 200 breast (2:18.25). She led a sweep in the longer of the two distances as Anna Havens Rice (2:20.22) and Olivia Mendenhall (2:20.23) followed right behind, while Mendenhall was the runner-up in the 100 breast (1:04.03).
Claiming the sprint events was Kaitlynn Wheeler after winning both the 50 free (23.58) and 100 free (51.30). Kaelan Daly raced to second in those events with times of 23.81 and 52.18 with Kristyn Sabol making it a sweep in the 100 by taking third in 52.24.
Gati also won a pair of events for the Wildcats, first taking the 200 free (1:49.67) before winning the 500 free (4:56.64). Megan Drumm (5:00.65) and Kelly Rodriguez (5:02.20) finished second and third, respectively, in the 500 free while Riley Gaines (1:57.94), Bailey Bonnett (2:00.25), and Poole (2:02.49) swept the 200 fly.
Kyndal Knight led a UK sweep on the 3-meter with a score of 361.50 followed by Morgan Southall (318.08) and Abby Devereaux (306.68). The same trio of Knight (299.10), Southall (290.03), and Devereaux (262.88) also took the top three spots on the 1-meter. All three UK divers earned a personal best on 3-meter with Devereaux and Southall notching lifetime bests on both boards.
Additionally, Knight and Southall got their Zone cuts on both boards while Devereaux secured her Zone qualifying score on the 3-meter.
"It was so fun to have all the alumni and Big Blue Nation showing up to support us," said co-captain Bonnett. "We had great energy today for a fun meet, and we can't wait to see what's next for us."
Both the men's and women's teams are back in action for a two-day competition against SEC foe Auburn and ACC powerhouse NC State on Oct. 22-23. The tri-meet will take place at the James E. Martin Aquatics Center in Auburn, Alabama. 
For the latest on the Kentucky swimming and diving program, follow @UKSwimDive on Twitter and on Instagram, on Facebook and on the web at UKathletics.com.