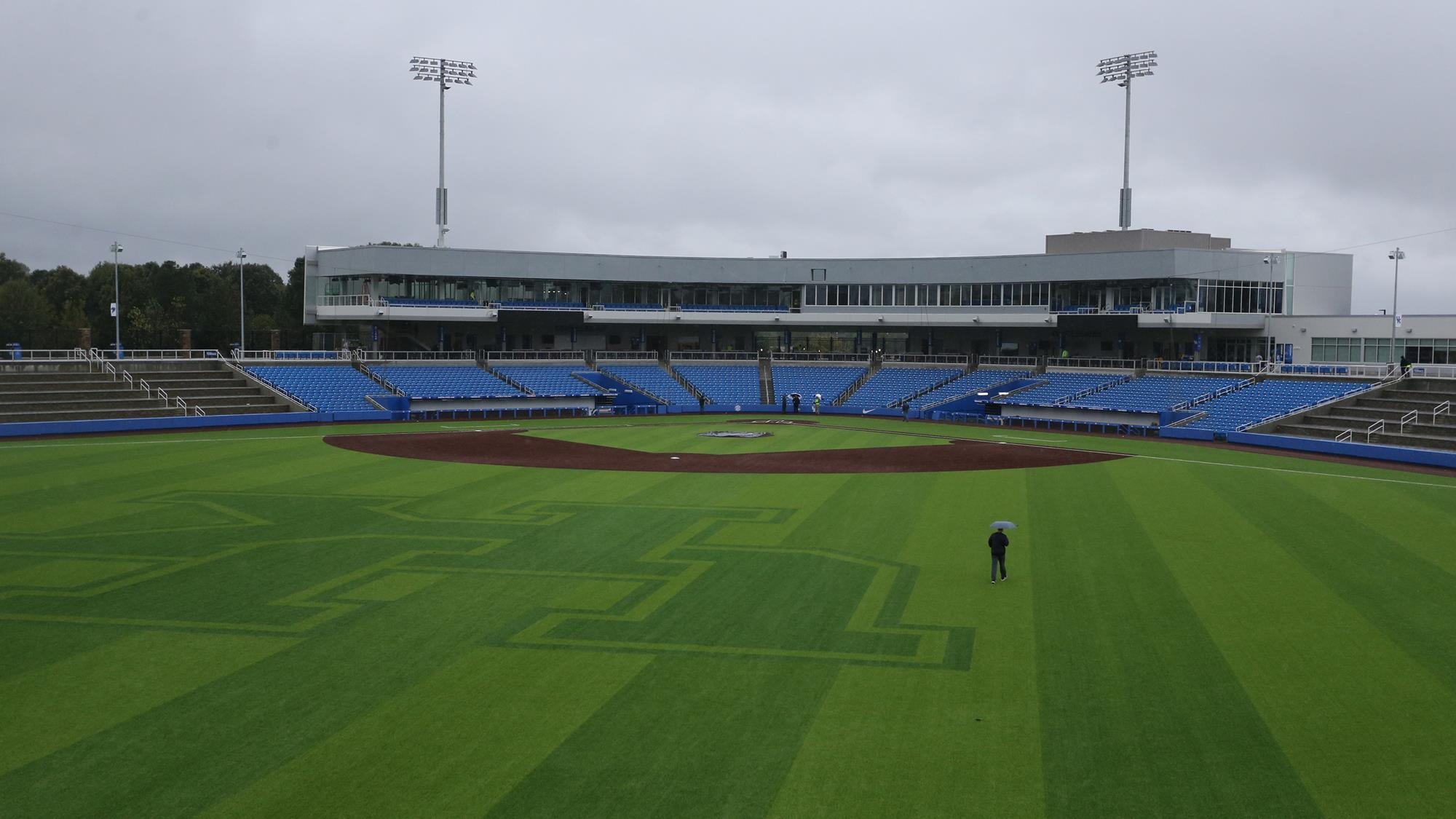 WILDCAT BASEBALL FALL ELITE PROSPECT CAMP
October 17, 2021
9:00 – 11:30am
$100
 
 
Masks and physical distancing requirements for all persons will be followed in accordance with campus and state regulations at the time of the camp.
 
FALL ELITE PROSPECT CAMP
UK Baseball's Prospect Camps are designed for advanced evaluation and instruction by the Wildcat coaching staff for players who aspire to compete at the NCAA Division I level. We offer the high school player an opportunity to showcase his skills in a pro-style workout and receive expert instruction from the University of Kentucky Baseball coaching staff. Campers will be grouped by position and will have the chance to work out at their primary position. The camp utilizes state-of-the-art training tools, such as HitTrax. Participants must be between grades 8-12 and 2nd year junior college student-athlete. Each participant will receive a T-shirt when they arrive.
 
Camp Details
Age Group: grades 8-12 and 2nd year junior college students.
Time: 9:00 – 11:30am
Check-in: 8:15 – 9am
Kentucky Proud Park, 510 Wildcat Court, Lexington, KY 40506
Walk-up registration: $125
Non-refundable deposit: $50
 
 
Discounts/Specials
 
 
GENERAL INFORMATION
CHECK-IN: 45 minutes prior to the start of camp.
DISCOUNT: Employee discount is 20% off total cost of camp.
REQUIRED DOCUMENTS FOR ALL UK ATHLETICS CAMPS: – For the child to participate in camp please upload the following documents to your Active Network Camp Account through the link in your confirmation email.

A copy of a physical that was signed by a physician within the last 12 months
Front and back copies of your medical insurance card(s)
The camper will not be able to participate in camp until we have received these forms. For all camps, disabilities will be accommodated with advanced notifications.
WHAT TO BRING: Each camper should bring baseball equipment, including a glove, bat, hat, batting helmet, and turf/running shoes (no cleats).  No sunflower seeds, No gum
COMMUNICATIONS: After you complete your registration you will receive a confirmation email. A few days before the camp you will receive another email with more details and instructions about the camp. Please double check that your email address is correct in your Active Network Camp Account as that will be our only method of communication with campers.
REFUND POLICY: Refunds can be requested 7 days prior to the start of camp by emailing kentuckybaseball@uky.edu. Refunds that are approved will be less your $50 non-refundable deposit.  COVID-19 specific refund policy is at the bottom of this information page.
 
 
WILDCATS HEAD COACH NICK MINGIONE
From his first meetings with the players, Wildcats Head Coach Nick Mingione brought a very clear and specific vision to the program: they would be a family, they would focus on developing the "Student, Person, Player" and they would do things that had never been done before. Mingione, his staff and the team did just that in 2017. In his first season at the helm, Mingione's Cats shined on the field, winning a NCAA Region championship in front of the largest crowd in school history and advancing to a Super-Regional. After the Wildcats posted the most wins by a first-year head coach, Mingione was recognized as the Southeastern Conference Coach of the Year and the Rawlings/Perfect Game National Coach of the Year. Six Wildcats were drafted in the top 10 rounds of the Major League Baseball amateur draft. The unprecedented success on the field was matched by the team's academic achievements, earning a 3.35 GPA during the fall and 3.25 GPA during the spring season. In Coach Mingione's second campaign, a record 13 Wildcats were drafted, the most in the country. After the 2018 season, senior catcher/first baseman Troy Squires was recognized as the national recipient of the prestigious Senior Class Award, which honors student-athletes who excel in four areas:  community, classroom, character, and competitor. In four seasons, the Cats have had 120 players earn All-SEC academic honors, including a league-high of 34 in 2020. In the fall of 2020, the baseball team earned a cumulative 3.6 grade point average, the programs highest in school history, besting all other sports on campus. Coach Mingione continues to lead the Wildcats to unprecedented heights, moving into their new $50 million-dollar stadium, Kentucky Proud Park in October 2019.
 
 
NCAA rules prohibit payment of camp expenses (camp tuition, transportation, spending money, etc…) for prospects (9th grade and above) by University of Kentucky donors. NCAA rules also prohibit free or reduced camp admissions for prospects. If you have any questions, notify camp officials prior to attending camp.  
The University of Kentucky's camps and clinics are open to any and all entrants (limited only by number, age, grade level and/or gender).
Disabilities accommodated, prior notification is appreciated.
 
FAQ
I'm having trouble registering online can I just call the baseball office and register over the phone?
No, registrations cannot be taken over the phone or in person. All registrations must be made online and paid for using a credit card. Please email kentuckybaseball@uky.edu or call 859-257-8052 if you are having any registration problems.
 
I need to cancel my registration; can I get a refund?
If you need to cancel your registration, please email kentuckybaseball@uky.edu to request a refund.  Refunds that are approved will be less your $50 non-refundable deposit.  You can request a credit (for full amount) towards a future camp by emailing kentuckybaseball@uky.edu
 
I'm an UK Employee how do I get my discount?
Yes. It's 20% off total registration. At the end of the registration process you will be asked a series of questions to confirm your employment at UK, at which point the discount will be applied to your total.
 
Is there a multi-kid discount?
No. There is not a sibling discount for this camp.
 
Does my physical form have to be on the form provided, because I have a physical, but it's on a different form?
No. You don't have to use the medical form provided.  If your medical form states that you are physically able to participate in the camp and signed by a medical doctor and less than 12 months old that will work.
 
My son's physical expires right before the camp, but I don't have an appointment to get a new physical until after the camp, and my insurance won't allow me to get a physical any sooner, what should I do?
Call your doctors office and explain the situation, often they will be able to help you.
Physicals are performed at the Little Clinics at Kroger for only $35 (without insurance approval).
Call your insurance and ask if you got a physical before the 12-month mark if they will still cover it. Often insurances have a grace period.
 
What do we need to bring with us to camp?
The week prior to the camp you will receive an email with more details about what to bring to camp and more. No sunflower seeds, No gum
 
Will the campers be fed during camp?
No, the campers will not be fed during camp.  However, campers can bring snacks with them to keep their energy up during the camp.
 
Are parents allowed to stay and watch?
Yes. Parents can remain in the grandstand or on the concourse during the summer camps. Parents must follow campus guidelines as it pertains to masks and social distancing. Parents won't be allowed on the field or inside the facility.
 
COVID-19 specific refund policy
If a camp is cancelled due to COVID-19, participants will be contacted to choose one of the following options:

Transfer to a future camp within the same sport (if available)
Full refund (excludes any Active Network customer processing fees)

If a portion of the camp is cancelled due to COVID-19, participants will be refunded based on the percentage of camp that was not completed. This includes portions of camp that are cancelled due to inclement weather, where an indoor facility is not available to accommodate proper social distancing. **NCAA requires payment be retained for portions of camp that participants completed.
If a camper, or a member of their household, is experiencing COVID-19 symptoms (see COVID-19 Symptom Check below) within 24 hours of camp check-in please email kentuckybaseball@uky.edu to choose one of the following options:

Transfer to a future camp within the same sport (if available)
Full refund (excludes any Active Network customer processing fees)
COVID-19 Symptom Check
Fever of 100.0 or greater
New cough (not associated with seasonal allergies)
New muscle aches/pain
New shortness of breath
New sore throat (not associated with seasonal allergies)
Vomiting or diarrhea
Loss of taste or smell
Been in close contact with a confirmed or suspected case of COVID-19